'Diego Maradona' is the newest documentary by Oscar-winning director Asif Kapadia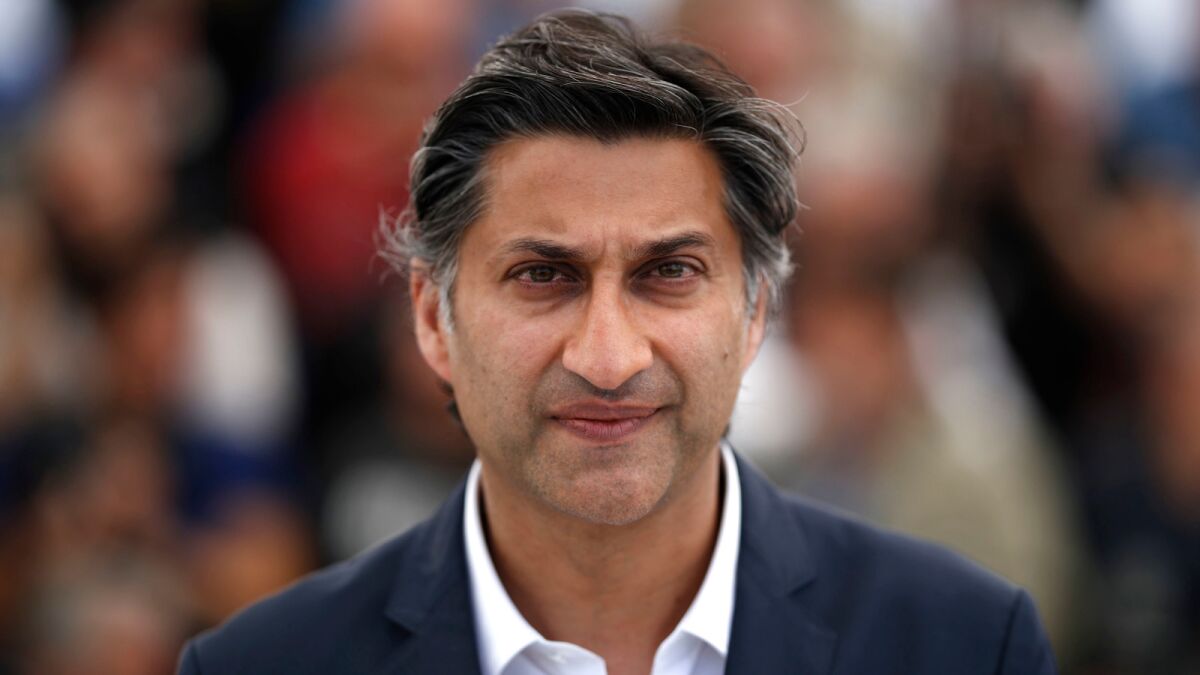 Film Critic
Reporting from Cannes, France —
It's not as if master documentarian Asif Kapadia, whose films have profiled Formula One legend Ayrton Senna and revered singer Amy Winehouse, is unfamiliar with famous folk. But there is fame, and there is Diego Maradona.
In his prime the greatest, most celebrated and most controversial player in the world's most popular sport, someone whose off-the-field excesses were as well known as his soccer wizardry gaining the 1986 World Cup for Argentina, Maradona has been both worshiped and attacked to an astonishing degree.
"How can you be treated like a god," Kapadia asks, considering it in a quiet corner of a beachside restaurant, "and not go crazy?"
"Diego Maradona," which premiered out of competition at the Cannes Film Festival this week and has been acquired by HBO, is a bracingly candid, completely involving examination of an on-field magician who inevitably stumbled off it.
When Maradona says in voice-over that he loves the game precisely because "on the field, problems go away, everything goes away," you end up knowing just what he's referring to.
But Maradona's singular combination of fame and infamy isn't what drew Kapadia to his subject. It was that, unlike Senna and Winehouse, Maradona did not die young and, periodic rumors of his death notwithstanding, is still very much alive at age 58.
"What happens to a child star when you grow up, lose your gift, have to face challenges like family," the director explains. "Family stuff is personal stuff, messy and heavy. Amy and Senna never got to the point in their lives where they had to deal with that."
Kapadia also was intrigued by the notion that though Maradona's life is well known in broad outline, "There is a lot of his story that has never been seen."
Specifically, there's the seven tumultuous years Maradona played for SSC Napoli in the Italian league, the improbable combination, someone says in the film, of "the most expensive player in the world and the poorest city in Italy."
"There was a cycle in Maradona's life that kept repeating, a cycle of success, death, then resurrection, and the biggest cycle was in Naples," Kapadia explains.
"During these years he wins the World Cup for Argentina and leads Naples to their first Italian league titles. But also, he publicly denies paternity of a son he had with a girlfriend, and that was the moment everything began to change."
It wasn't only that these activities weren't televised widely outside of Italy that attracted Kapadia. He was told about, and gained access to, 500 hours of previously unseen personal footage shot by two men hired by Maradona's first agent; for years they filmed the star during practices, at home and at key game moments.
"Without that footage I would not have thought to make the film," the director says. And even though "Diego Maradona" also features newsreel and TV footage of crucial events such as the player's famous "hand of God" goal in the 1986 World Cup, Kapadia says his favorite clip in the entire film comes from those private moments.
"There's a shot of him training and just playing with the ball, keeping it on his foot, the simplicity and beauty of him and the ball, his best friend," the director says. "Even today, if you threw an orange at him he could keep it in the air forever."
The central concept of "Diego Maradona" comes from the man who was essential to that training, physiotherapist Fernando Signorini, who theorizes, as Kapadia explains, that he was dealing with two people.
"There was Diego, the innocent guy, fun to be around, just great. Then there was Maradona, edgy, violent, deceitful.
"But Diego would say of Maradona, 'If it wasn't for that guy I'd still be in the ghetto,'" referring to the favela of Villa Fiorita outside of Buenos Aires, which remains such a dangerous area that fearful local cab drivers flatly refused to take the director there.
Kapadia not only saw that unseen footage, he interviewed people who had not spoken on camera before, including Cristiana Sinagra, the mother of Maradona's son, and the player's ex-wife, Claudia Villafañe.
When it came to interviewing the subject himself, that was a different story. "The hardest part of making the film was waiting for Diego," Kapadia remembers with a sigh.
"Meet[ing with him] was complicated, never straightforward. You are always dealing with the people around him," says the director, who brought an entire crew from Britain to Maradona's then-home in Dubai, expecting an interview, only to go home with just a five-minute meet-and-greet.
Helping him gain access was Maradona's passion for Ayrton Senna ("He once put flowers on Senna's grave, and if his second child had been a son he would have named him Ayrton") and his pleasure when Kapadia's "Amy" won the best documentary Oscar while negotiations were going on.
Returning to Dubai with just a small team (Kapadia recorded the sound himself) made a difference, but the director still had to ask Maradona very difficult questions about his cocaine use, the extent of his connection with Naples crime syndicate the Camorra, and that messy personal life.
"The first time I asked him about his ex-wife, he said, 'Never mention her again,'" Kapadia recalls. "They were suing each other at the time. His relationships with everyone close to him have gone sour."
But Kapadia persisted ("If I don't ask him directly, how can I put this in the film?"), to the point where Maradona "gave me a pretty tough look and said, 'I'll say one thing, you've got nerve to ask me about that to my face.' Then he added, 'For that I respect you.'"
One of the hallmarks of Kapadia's documentaries is that the interviews he does never appear as talking heads but are used behind footage shot while the events were taking place.
"There's something I love about seeing people in their prime," he explains. "I want audiences to forget the present and be invested in the moment. You don't need to see their faces today, it just weakens it dramatically."
Having made that trio of documentaries, Kapadia, a graduate of London's Royal College of Art, says he had "a light bulb moment" about his work when he attended a London exhibit of classic Pop Art.
"With Andy Warhol's Marilyn Monroe silkscreen or Roy Lichtenstein's comic strip images, those pictures already existed," the director explains. "Taking footage and reinterpreting it, giving it back, I realized that's what I do."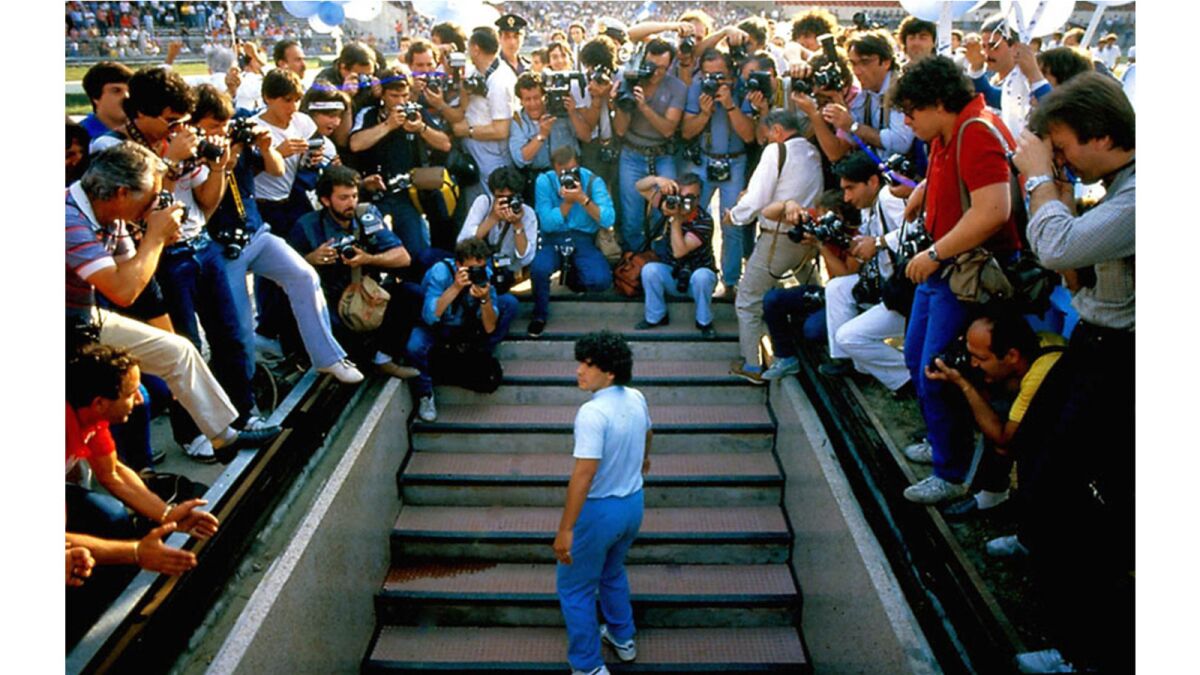 ---
Get the Indie Focus newsletter, Mark Olsen's weekly guide to the world of cinema.
You may occasionally receive promotional content from the Los Angeles Times.