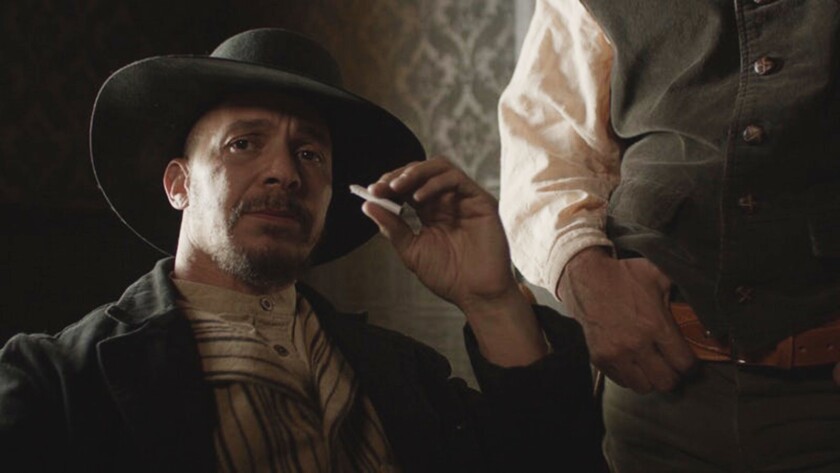 The words, "Revenge has a new name" may appear on the poster, but it's all old hat where "Justice" is concerned. A corny oater about a proverbial stranger who rides into an Old West town looking for the bad hombres who killed his brother, Richard Gabai's film is too preoccupied corralling all the genre clichés to come up with anything original or compelling.
James McCord (Nathan Parsons) is the righteous dude in question — a U.S. Marshal who has arrived too late to come to the aid of his preacher brother, Thomas (Jackson Rathbone). His presence doesn't please the corrupt Mayor Pierce (Stephen Lang) and an outlaw band of rogue elements from the Confederacy led by the sadistic Reb (John Lewis), who torment the town's black folk even though the Civil War ended three years earlier.
It somehow took no less than four screenwriters to round up all the usual suspects, which would also include the pure of heart, Bible-reading Melissa (Jamie-Lynn Sigler) and her hospitable parents, played by Robert Carradine and a blink-and-you-miss-her Lesley-Anne Down.
While Lang, who's well-versed in both westerns and villains (see "Tombstone," "Avatar"), happily mines his role for all its worth, Parsons has the conviction down pat but little of the requisite grit.
By the time he rides off into the sunset, weary viewers will have likely beaten him to it.
-------------
'Justice'
Rating: R, for violence and a brief sexual assault
Running time: 1 hour, 30 minutes
Playing: Regency Plant 16, Van Nuys; also on VOD
See the most-read stories in Entertainment this hour »
---