Here's why Carrie Fisher won't get Trump's star on Walk of Fame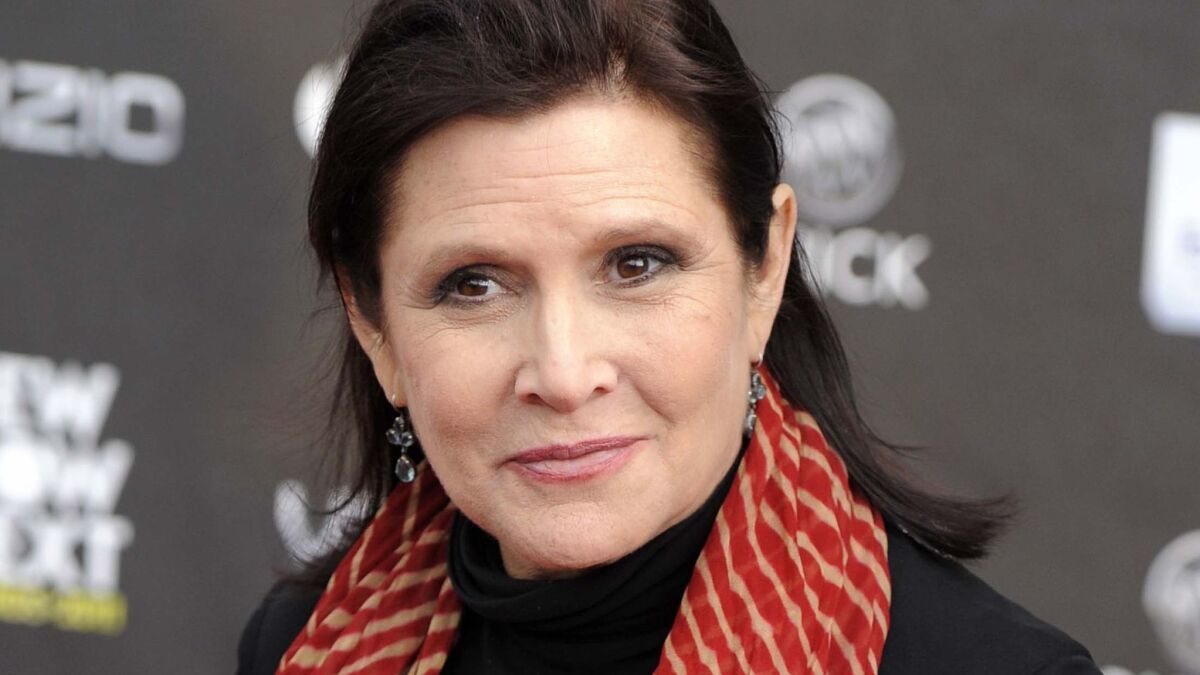 "Star Wars" icon Mark Hamill has renewed interest in a Hollywood Walk of Fame star for his late costar Carrie Fisher. And he has an idea for whose star she should take.
On Wednesday, the actor tweeted an old news story calling for the removal of President Trump's star on the famed sidewalk.
"Good riddance!" Hamill tweeted, linking to the August 2018 story. "(and I know just who should replace him....) #AStarForCarrie"
And with that, #AStarForCarrie was born.
Carrie Fisher doesn't have a star on the Hollywood Walk of Fame, so fans made her one »
Last summer, the West Hollywood City Council voted to approve a proposal to urge the Los Angeles City Council and Hollywood Chamber of Commerce to remove Trump's often-vandalized star. But the Hollywood Chamber of Commerce has refused to take action. Here's why:
The city of West Hollywood has nothing to do with the Walk of Fame, which is administered by the Hollywood Chamber of Commerce, an entity that operates in a different city — Los Angeles. So, despite the vote, nothing's changing for now, Ana Martinez, a spokeswoman for the chamber, told The Times on Wednesday.
"We don't remove stars," she said. "The stars are part of the history of the Walk of Fame."
Trump received his star in 2007 as a producer for his work on the beauty pageants that he owned. In recent years, his sidewalk plaque has become a battleground for political debate in Los Angeles, often being spat upon or written on, and in 2016 was bashed with a sledgehammer and later destroyed with a pickax in 2018. Other stars for fallen icons such as comedian Bill Cosby and Michael Jackson have also endured bouts of vandalism.
However, the stars also serve as makeshift shrines to departed celebrities. When Jackson and Prince died, fans placed flowers, candles and cards around the stars to pay their respects. When Fisher died in late 2016, a shrine was erected on an empty star, and the chamber allowed it so that fans could have a place to grieve, Martinez said.
"We want them to express themselves," she said.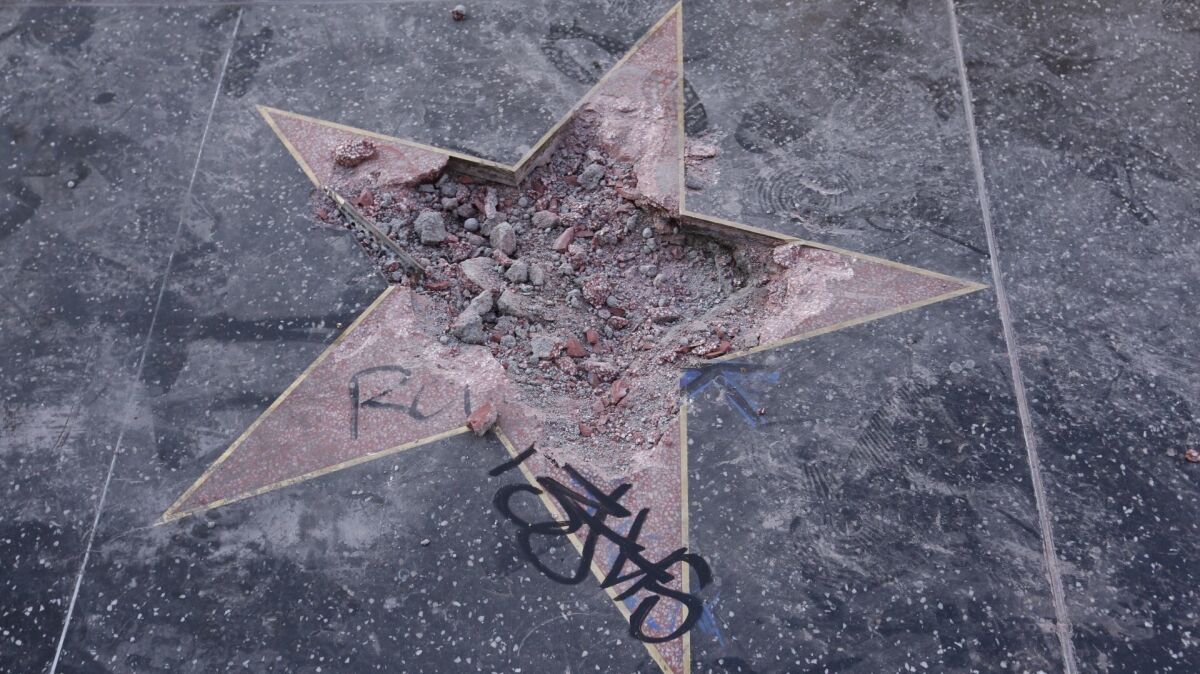 Regarding a real star for Fisher, the chamber welcomes a petition for the Princess Leia actress, but there are a few caveats.
"We would love for Carrie Fisher to have a star, but the application has to be submitted on the fifth anniversary of her death," Martinez said.
It wouldn't be fair for the committee to be pressured into bending the rules for the actress, nor would it be fair to the families who have followed the chamber's protocol, she added.
"Also, how do we know that Carrie Fisher wanted one?" Martinez asked, referring to the chamber's rule for a written agreement from the honoree to sign off on the honor. "We don't know if she ever was interested. She was never submitted for a star. We have to have something in writing from the person — they have to sign off. [In this case,] Her family would have to do that. We'll gladly take the application on the fifth anniversary."
Leo Robin never got his Walk of Fame star. Now his grandson is fighting for it »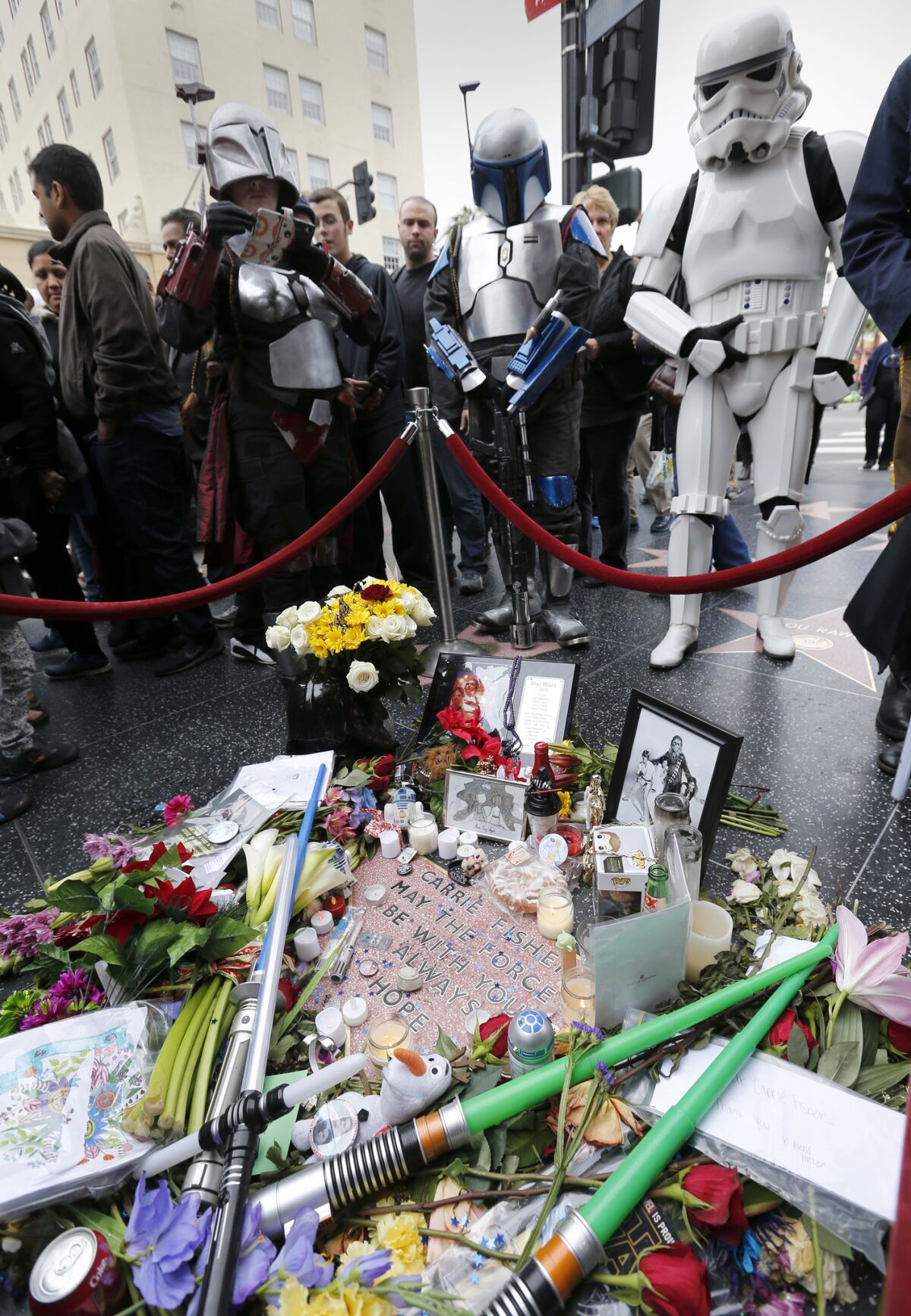 Fisher's family or estate would then have to pay $50,000 to cover the making and installation of Fisher's star, the maintenance of all the stars through the Hollywood Historic Trust and a replica plaque for the honoree.
A dedication ceremony would also be included in that fee, along with the city permits, security staff, barricades, rain tents, livestreaming capabilities and other equipment involved in such an event.
(Fisher's mother, the late screen icon Debbie Reynolds, has two stars on the Walk of Fame: one for motion pictures and another for live performance.)
Hamill received the 2,630th star on the Walk of Fame in March 2018, and Harrison Ford, who also costarred in George Lucas' original "Star Wars" trilogy, paid tribute to Fisher during that ceremony.
Follow me: @NardineSaad
Get our L.A. Goes Out newsletter, with the week's best events, to help you explore and experience our city.
You may occasionally receive promotional content from the Los Angeles Times.