Leo Robin never got his Walk of Fame star. Now his grandson is fighting for it
Scott Ora was 8 years old when he first visited the Hollywood Walk of Fame in 1965. After watching a matinee with his grandfather at Grauman's Chinese Theatre, he and his brother ran outside onto the Hollywood Boulevard sidewalk and began to read off each name.
"Do you know who this is?" he repeatedly asked his grandfather, who couldn't be stumped. It helped that he was asking the legendary Broadway and Hollywood lyricist Leo Robin, best known for the 1938 song "Thanks for the Memory." At every coral terrazzo star they found, Robin shared an anecdote about the person, punctuating each story with the same compliment: "She is great." ... "He is great." Ora grew up knowing that his grandfather was also one of the greats. What he didn't know is that years later he'd be tangled in a still-unresolved back-and-forth with the Walk of Fame to get it set in stone.
The song "Thanks for the Memory," written for "The Big Broadcast of 1938," the fourth and last in a series of Paramount Pictures variety-show movies, is a nuanced number, encompassing an estranged couple's enduring love. Six writers had tried and failed at the assignment before director Mitchell Leisen gave it to in-house lyricist Robin and composer Ralph Rainger.
"I said, 'It'll never be a hit. It's not a song, it's a piece of material,'" Robin told writer Max Wilk in 1971. But the Bob Hope-Shirley Ross duet went on win the Academy Award for original song, and it became Hope's signature tune. Now more than 80 years old, "Thanks for the Memory" has been covered by Frank Sinatra, Ella Fitzgerald, Bing Crosby, Sarah Vaughan, Anita O'Day, Rosemary Clooney, Harry Nilsson, Rod Stewart and many more.
Throughout his 30-year career in Hollywood — which spanned hits like "For Every Man There's a Woman," "In Love in Vain," "June in January," "Zing a Little Zong" and "Diamonds Are a Girl's Best Friend" — Robin earned 10 Oscar nominations, and was inducted into the Songwriters Hall of Fame. The notoriously modest wordsmith often downplayed his accomplishments, attributing whatever success he happened to have to any of his collaborators. But others continue to sing praises for his work.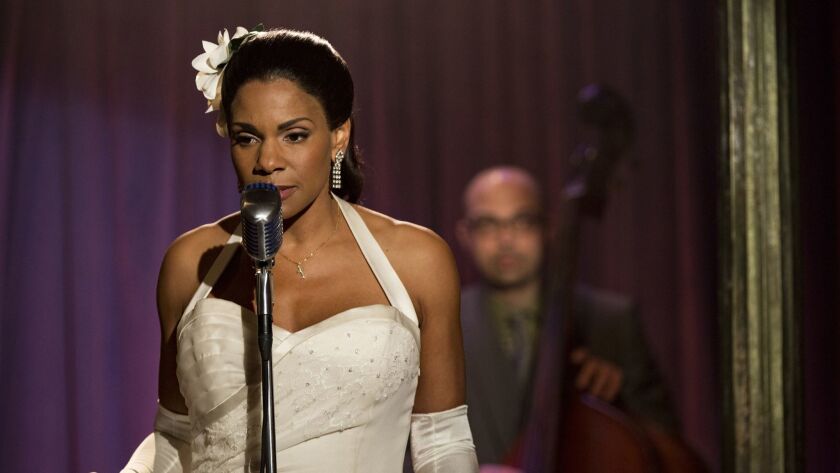 Take "Easy Living," the jazz standard made famous by Billie Holiday. Audra McDonald performed the ballad in the 2014 Broadway play "Lady Day at Emerson's Bar & Grill," which recounted the not-so-easy life of the singer, and noticed a new layer in the lyrics.
"It's deceptive, in that it's simple but very deep at the same time," she told The Times recently. "The audience knows that song as being about someone in the glory of love, and that there's no other reason to live except for that love. But on the other hand, if you don't have that love, you have nothing to live for."
Actress and singer Megan Hilty ("Wicked," "Smash") called Robin's lyrics "so powerfully witty and clever." She got to know his songs well when she starred in City Center Encores! 2012 production of "Gentlemen Prefer Blondes," the 1949 Broadway show for which Robin wrote the lyrics to Jule Styne's music.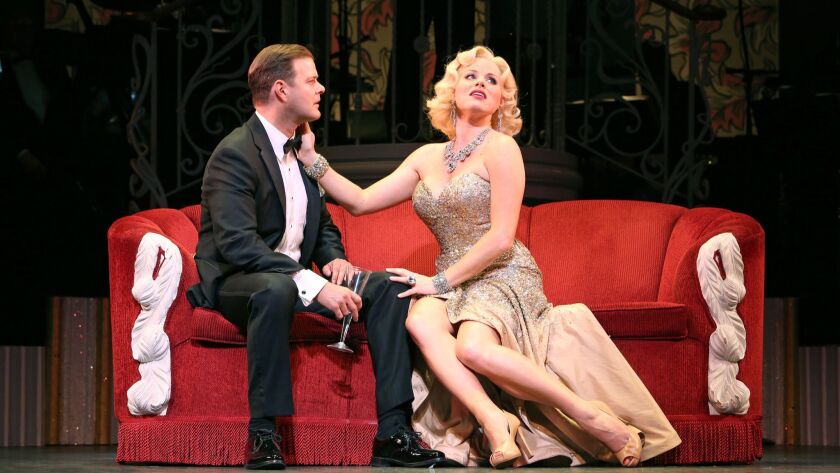 "People assume 'Diamonds Are a Girl's Best Friend' is about a money-hungry woman, because that's how it is in the film with Marilyn Monroe," she said. "But the original stage version makes it this power anthem for women of that time: Who you think is this stereotypical dumb blond is telling the audience about how she's working a system and taking control.
"Lyricists are unsung heroes because for those of us who make a living by singing those lyrics, they're everything," she continued. "If you don't connect to what the song is saying, it's nothing, it's hollow. We want to move people when we perform, and we can't do that without brilliant lyrics."
In 1989, nearly five years after his death, Robin was named as a recipient of a posthumous star on the Hollywood Walk of Fame. Thirty years later, the star has yet to be installed. To quote Robin's Oscar-winning song, "And how are all those little dreams that never did come true?"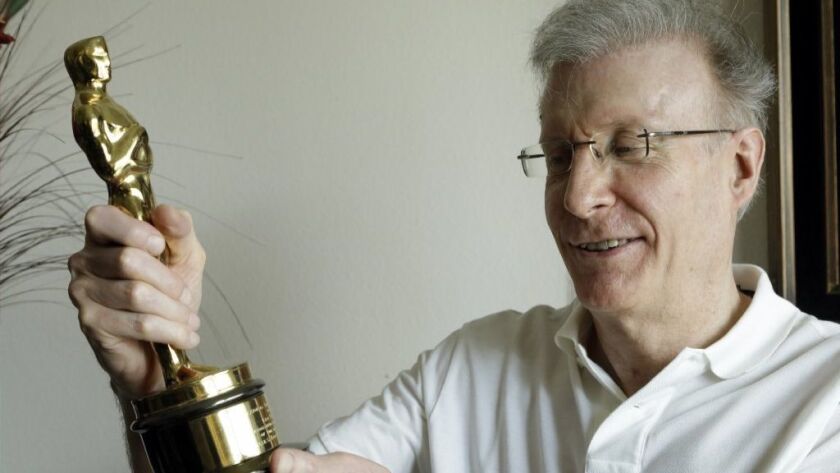 For many years, few in Robin's family knew that a star was supposed to be placed for the lyricist on the Hollywood Walk of Fame. That includes Ora, who became Robin's trustee in 2013 and inherited a few of his grandfather's possessions. His gold dress watch and weathered leather band. His dark mahogany credenzas. The coffee table where his burning pipe rested regularly. And, of course, the Academy Award.
"Oscar and I are living the bachelor life," Ora joked of the statuette to The Times. Afflicted with cauda equina syndrome, which affects the lower-back region, the 61-year-old public accountant keeps a reclusive routine in his Sherman Oaks apartment. Among his regular tasks is maintaining the official Leo Robin website, requiring him to stay up to date on the genres his grandfather influenced.
One summer day in 2017, Ora googled Tito Puente, who had been newly inducted into the Ertegun Jazz Hall of Fame, an entity he knew little about. After a few clicks, he not only learned that the Ertegun Jazz Hall of Fame was launched in 2004 by Wynton Marsalis and Jazz at Lincoln Center, he discovered a Puente biography on Google Books which said the musician had been awarded a star on the Hollywood Walk of Fame in the same year as Woody Woodpecker, Vivian Vance, Sam Cooke, Arsenio Hall, Robin Williams, B.B. King … and Leo Robin.
"I was in disbelief," Ora recalled. "I had to reread it a number of times, because I thought I knew everything major that there was to know about my grandfather."
To double-check this — "because with the web, you can never trust things," he said — Ora called the Hollywood Chamber of Commerce, which first proposed the idea for the Walk of Fame in 1953. The effort has since transformed the city's sidewalks into a coral-and-charcoal checkerboard, applauding achievements in five areas of the entertainment industry: film, television, music, theater and radio.
"It's the only award that a celebrity can truly share with their fans," Ana Martinez, the Chamber's longtime vice president of media relations and Walk of Fame producer, told The Times. "The Oscar, the Tony, the Emmy, the Grammy, they're all on someone's mantle or wherever. But the star is for the public — they can touch it, sit next to it, even lay next to it. And if they can go to the ceremony, they've hit the jackpot."
Martinez confirmed to Ora that, yes, Robin had indeed been awarded a posthumous star in the motion pictures category, as a lyricist of songs in over 50 films. It was never installed because no one responded to the award notification letter, which requests that an honoree set an induction ceremony date and pay a sponsorship fee. That crucial piece of correspondence is sent to nearly two dozen recipients each year in June, after the committee makes its final selections.
Robin's wife, Cherie Redmond, who applied for her late husband's star, never saw the letter that arrived on June 18, 1990; she had passed away on May 28, weeks before it was mailed. The envelope was returned to its sender and has since remained in the Chamber of Commerce's records.
"I do think it was meant to be," said Ora of discovering the star. "It's important to me because it was important to my grandmother to pay tribute to Leo's career in this way. And she took the time, she followed all the rules. My grandmother did everything right except live long enough."
It's been decades since Robin was named to the Walk of Fame. Was it too late to get his name in a star? And if not, what would it take to get the star installed? Martinez explained that Robin would need to be reinstated by the current committee at the next annual meeting. She didn't anticipate problems with that part of the process. But there were two final steps that would need to be done by someone representing the estate: set an induction ceremony date and pay the sponsorship fee.
That fee? In 2017, when Ora first made his inquiries, was $40,000 — 10 times what it was in 1989 when Robin was first approved for inclusion.
"I almost feel like we're talking about real estate," said Ora. "If that's how this is done — and they're just going to, in my opinion, arbitrarily charge 40 [thousand dollars] — what do they have if the award is just based on money? If it's not based on merit, I think it loses some of its meaning."
That $40,000 actually covers a lot of ground, explained Martinez, who has spearheaded the Walk of Fame proceedings for over 30 years. The making and installation of the star, the indefinite maintenance of all the stars through the Hollywood Historic Trust, a replica plaque for the honoree. Then there's the ceremony's production costs, including city permits, security staff, barricades, rain tents, live-streaming capabilities and other equipment.
Throughout the Walk of Fame's history, this bill hasn't necessarily always been paid by individual recipients or their families, but film studios, television networks, record labels, foundations or other business entities. The induction ceremony has remained a notable publicity opportunity and ceremonies are often timed to coincide with the release of a star's latest film or TV show.
STAR WALK: A guide to the thousands of stars on the Hollywood Walk of Fame »
At one point, it was suggested that Robin's star be installed without the expensive fanfare, which would bring the cost closer to $10,000. But Ora says he feels Robin deserves the usual ceremony — celebrating a star on the Walk of Fame is as much a part of the honor as the star itself. Since none of the lyricist's living relatives were ever informed of the star when it was awarded 30 years ago, Ora believes the family should only be required to pay the 1989 fee of $4,000.
"[The Hollywood Chamber of Commerce] are the ones that made this 30-year-old mistake, and I feel strongly that whoever makes a mistake should take responsibility," argued Ora, passionately pounding his fist on his desk to punctuate his point. "Why should we pay for a mistake that they made? I want them to acknowledge their mistake. They screwed up."
A mistake it was not, noted Martinez to The Times. Back in 1989, before the ease of email and cellphones, honorees were not as repeatedly and actively pursued to secure their star as they are today. That means no follow-up letters and no calls to co-signers, even if Robin's application was co-signed by Hope, who has four stars on the Walk.
In fact, a number of Walk of Fame stars awarded posthumously (Whitney Houston, Neil Simon, Tupac Shakur) or otherwise (George Clooney, Clint Eastwood, Al Pacino) have also not been installed. If any of these previously announced accolades were to be installed today, they would be executed at the current cost.
For honorees inducted in 2020 (applications for which are due on May 31), the sponsorship fee has risen to $50,000. Even so, Martinez told The Times, "We would keep it at the $40,000 for [Ora], because we've had that discussion. We're not gonna raise it, we would never do that to him."
Still, Ora has made up his mind about how much Robin's star should cost. Last year, he brazenly sent a $4,000 check to the Chamber of Commerce to move things along. Martinez immediately returned it; the Walk of Fame has never self-funded or subsidized the cost of a star.
"I feel bad, I do," lamented Martinez of Robin's uninstalled star. "The man deserves it. It should've happened in 1990, but of course, sad circumstances happened. The fact that [Ora] wants us to place the star and do the ceremony, we just can't do it. We want to work with him, but he's gotta work with us."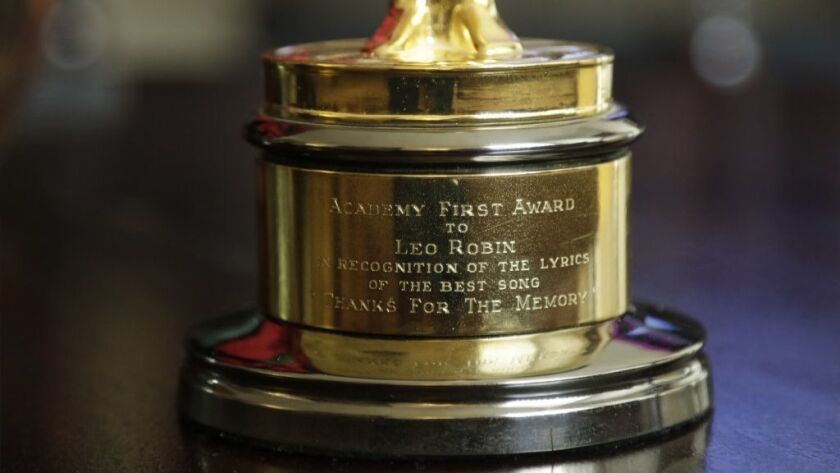 What began for Ora as a serendipitous discovery has evolved into an impassioned mission, one that's stuck at a $36,000 impasse — and one that, Martinez offered, can be moved if Ora were to pursue corporate sponsors or crowdfunding.
"I don't like it," said Ora, strongly shaking his head at these suggestions, especially the idea of launching a GoFundMe campaign. "I can already hear people in my family saying, 'Scott, are you crazy?' but if I had that money, I'd say, 'Let's give it to children. Let's give it to a worthy cause.' If I'm not willing to pay for the star, why would I ask other people to pay for it? It just seems very inappropriate."
Yet if his grandfather's star is ever to see the light of day, Ora hopes it might somehow snag a spot in front of the Roosevelt Hotel, where Robin first stayed when he arrived in 1928 as an up-and-coming lyricist. It was there where he and composer Dick Whiting wrote "Louise," the tune sung by Maurice Chevalier in 1929's "Innocents of Paris" with the famous line "Every little breeze seems to whisper 'Louise.'"
How lovely that would've been. "That's prime real estate," said Martinez. "It's a major landmark, and we already doubled up the rows on those sidewalks. There are no spots left."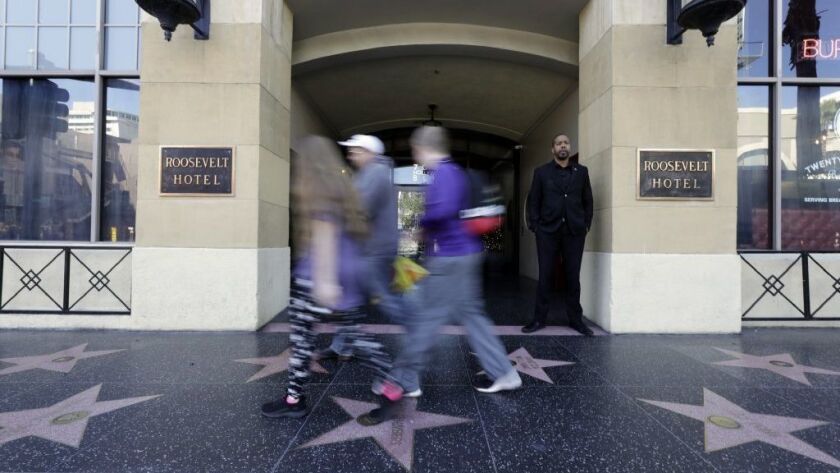 Twitter: @cashleelee
---
Inside the business of entertainment
The Wide Shot brings you news, analysis and insights on everything from streaming wars to production — and what it all means for the future.
You may occasionally receive promotional content from the Los Angeles Times.