Universal reveals 'Cats' musical will be shot from 'cats' perspective'
Reporting from Las Vegas, Nevada —
It's been less than a week since Tom Hooper's big-screen adaptation of the Broadway musical "Cats" wrapped production. So it came as little surprise to the crowd at CinemaCon — the annual Las Vegas convention of movie theater owners — that Universal Studios had no footage to tease from the highly anticipated December release.
Donna Langley, chairman of the studio's filmed entertainment group, said she "really wished" she had some footage to show the crowd, but explained that the film will require such "extraordinary visual effects" in post-production that nothing is ready yet for public consumption. Instead, the executive offered up a behind-the-scenes look at the London set of the film, which stars the likes of Taylor Swift, Jennifer Hudson, Judi Dench and Idris Elba.
In the reel, most of the actors were in rehearsal mode — Hudson wasn't wearing any makeup, Swift was running through some choreography, Elba was outfitted in a motion-capture suit. Hooper, the Oscar-winning director of "The King's Speech" who last tried his hand at the musical genre with 2012's box office smash "Les Misérables," recalled how he first saw "Cats" when he was 10 years old.
"I have such a vivid memory of what an extraordinary experience it was," the filmmaker said. "This is 'Cats' on a much bigger scale than you could possibly imagine."
Swift didn't say much in the clip — save for the fact that she was "honored" to be a part of the film and that musical theater initially inspired her to become a performer. Hooper did most of the talking, outlining how the film will be shot from the "cats' perspective," taking place on sets three-to-four times as large as the animals.
"It's like Alice in Wonderland," noted Dench. "It's a massive experience."
The filmmaker added that he wanted to adapt the Andrew Lloyd Webber musical — which opened on Broadway in 1982 — for the modern day, with "digital fur technology to create the most perfect covering of fur."
"At the center of this incredibly entertaining, comedic, fantastic musical is a timely story about inclusion and community and forgiveness and redemption," he said, highlighting the diverse styles of dance that will be featured including hip-hop, tap and ballet.
With the release of "Cats," Universal is hoping to continue one of its "proudest traditions" in "keeping the musical alive," said Langley, pointing to past studio releases such as "Pitch Perfect," "8 Mile" and "Mamma Mia." Indeed, during Universal's presentation at CinemaCon last year, Cher closed out the show to perform a rendition of "Fernando" to promote the "Mamma Mia" sequel. This year, it was Hudson's turn, delivering a far more somber — albeit arguably more powerful — take on "Memory" from "Cats."
Newcomer Himesh Patel, the young star from the what-if-the-Beatles-never-existed flick "Yesterday," also took the stage earlier in the presentation to sing his version of the titular single. Meanwhile, director Paul Feig disclosed that his romantic holiday release "Last Christmas," starring Emilia Clarke and Henry Golding, will feature a score from George Michael. The film, based on the 1984 seasonal hit by Wham!, will include at least 11 songs by the late singer — one of which will be new, Feig said.
Despite the flashy musical reveals, however, not even a Grammy-winning singer like Hudson was able to get as much attention as a trio of cute animals. Dennis Quaid brought his dog, Peaches, on stage as he talked about "A Dog's Journey," and Tiffany Haddish and Kevin Hart held real-life versions of their animated characters in the summer release "The Secret Life of Pets 2" — a Shih Tzu and a bunny.
"This dog came stumbling out of the casino at six this morning, and the dog was drunk and broke," Haddish said on stage at Caesars Palace.
Hart's animal counterpart was not as well-trained. As he attempted to cuddle the rabbit to his chest, it attempted to squirm over his shoulder.
"This is my nightmare," he said, gritting his teeth as he smiled.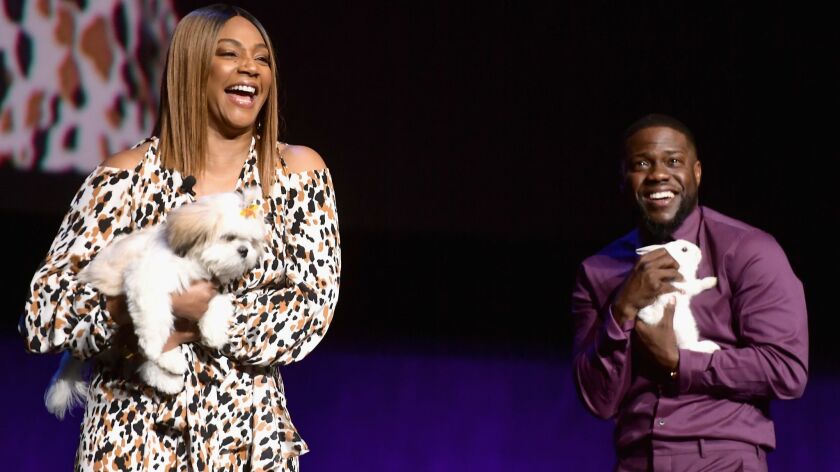 Follow me on Twitter @AmyKinLA
---
Inside the business of entertainment
The Wide Shot brings you news, analysis and insights on everything from streaming wars to production — and what it all means for the future.
You may occasionally receive promotional content from the Los Angeles Times.