Q&A: Charles Burnett was 'surprised and shocked' about his honorary Oscar, offers advice to other filmmakers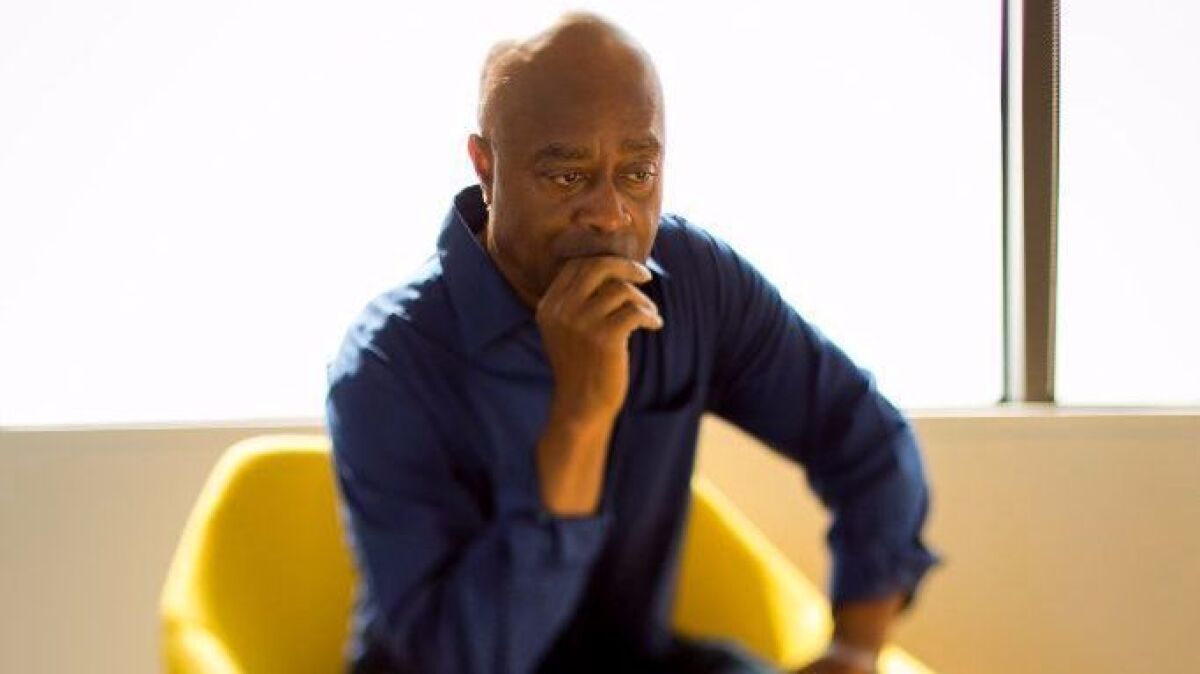 The last time Charles Burnett was on the film promotion trail was in 2007 when "Namibia: The Struggle for Liberation" premiered at the Los Angeles Film Festival. As such, he wasn't expecting the call from Academy of Motion Picture Arts and Sciences president John Bailey informing him he'd be one of four people to receive honorary Oscars this fall. In fact, he was on the other line with his producer and co-director working on edits of his next documentary, tentatively titled "The Power to Heal."
"'Mr. Burnett, do you know what I'm calling you about,'" he recalled Bailey asking. "I said, 'No, I don't, but I'm right in the middle of an edit. Can you call me back?'"
Later that evening, the two spoke.
"I was quite surprised and shocked," said Burnett, laughing. "I'm still in shock about it... I still can't believe it. Until I actually get it in my hand, then I'll know it's real."
Burnett's debut "Killer of Sheep," about a slaughterhouse worker in Watts, opened in 1977. The film, his thesis from UCLA's MFA filmmaking program, became a foundational work of black cinema and set off a decades-long career that's produced other pictures including "My Brother's Wedding," "To Sleep With Anger," "The Glass Shield" and the aforementioned "Namibia." A number of today's top filmmakers — from Barry Jenkins to Ava DuVernay — count him as an inspiration and influence.
Ahead of the Governors Awards on Nov. 11, The Times spoke with Burnett about his career, being a member of the L.A. Rebellion and advice for emerging filmmakers.
It's been said that we are experiencing a moment of stellar black creativity across the film, television, music and art worlds. Every time I speak to one of those creators, your name is on the tip of their tongues. How does it feel to be an inspiration to them?
I'm very happy about that. The work wasn't done with that intention. You just make a film and hope people like it and you make your money back. The rest of it is kind of hard to explain… but I'm always surprised, especially because there are a lot of great filmmakers out there. I'm just glad that I do have an impact to some extent. Film is very expensive and so the redeeming part about it is that it can change someone's life in the process or inspire them. That's the real meaning behind it all.
You are one of the notable filmmakers who were part of the L.A. Rebellion, a group of black filmmakers who came out of UCLA and made films that were alternative to classic Hollywood productions. Talk to me about that time period.
Well most of us grew up during the civil rights movement. We were affected by it and were concerned about the images Hollywood was perpetuating. We were reacting to those images and had an idea about what filmmaking should be about, and what it shouldn't be about. We spent long hours at UCLA and the restaurants around Westwood talking about stuff many nights, spending long hours arguing about filmmaking. From all those conversations, we knew what we wanted to do and we did it.
Who are the newer filmmakers who have caught your eye?
There are so many. I don't want to mention anyone's name because I don't want to not mention anyone's name. But I think all the young filmmakers, and even some of the older ones who are still making films, will always be inspirations. I hope they all have an opportunity to continue working, and I hope this award allows me to land more jobs and make the kind of films I want to.
Tell me a little bit more about the documentary you're working on.
Barbara Berney is serving as producer and co-director. It's about integrating hospitals. It's a part of the civil rights movement people don't know about, because one of the most difficult things to explain and imagine is the fact that people of color weren't treated fairly or equally in general hospital care. A lot of people died because they couldn't get into the hospital because of their skin color. It took a long struggle.
So, it's about that part of the movement that needs to be told. We're hoping to get it out at the start of next year and that it might make some people aware of where this country comes from so we don't go back there.
You've been in this industry for a number of decades…
That sounds about right, and struggling… [laughs]
But you've continued going and are still making films. What words of advice do you have for filmmakers coming into the industry now?
Learn your craft. Read as much as you can. See as many films as you can as a student and get a minor that you can use to support yourself. Because there can be a lot of time in between films without work. But learn your craft, and try to say something.
Editor's note: The Times will profile each of this year's four honorary Oscar winners — Charles Burnett, Owen Roizman, Donald Sutherland and Agnès Varda — leading up to the Governors Awards on the evening of Nov. 11.
Get your life! Follow me on Twitter (@TrevellAnderson) or email me: trevell.anderson@latimes.com.
Get our L.A. Goes Out newsletter, with the week's best events, to help you explore and experience our city.
You may occasionally receive promotional content from the Los Angeles Times.