Sony film head's fighting words for Netflix show he's bullish on 'Blade Runner,' 'Jumanji' and 'Spider-Man'
Reporting from Las Vegas —
"Netflix, my ass."
Those were the fighting words Sony Pictures Film Chairman Tom Rothman threw out in front of hundreds of movie theater owners here Monday night, boasting about the studio's upcoming slate.
While Sony unveiled footage from a handful of blockbuster hopefuls — an adaptation of Stephen King's "Dark Tower," a reboot of the kids' flick "Jumanji" and the new "Spider-Man" flick — the executive was most bullish about this summer's "Blade Runner 2049."
Rothman made his Netflix diss after footage from the new Denis Villeneuve film played, insinuating that the movie's theatrical experience will exceed anything offered on the streaming site. (Sony, by the way, is only releasing "Blade Runner 2049" internationally; Warner Bros. is handling the domestic opening.)
A sequel to Ridley Scott's 1982 sci-fi classic, this time directed by Villeneuve, the film stars Harrison Ford and "an electrifying young star" — Rothman's words — in Ryan Gosling. Dressed in a hoodie and jean jacket, Gosling came out onstage to talk about his experience filming the movie in Budapest last year.
"The craftsmanship on this film is really on another level," the "La La Land" star said. "Every location was real. Every set was there. Every prop was functional. It was a fully functioning, living, breathing world and it made it so easy for us in the end to focus on the internal world of these characters because the external world was so fully realized and rich with detail."
The footage that played — which Gosling teased by advising the crowd to "prepare to start going steady with the edge of your seats" — didn't reveal any major plot points. There were plenty of bleak landscapes: a rock-strewn desert, a billboard-heavy city, an icy tundra. But it wasn't clear why Gosling was in any of those locations, and why he always looked dirty in them. (He had mud or blood on his face in nearly every scene.)
The new trailer for "Spider-Man: Homecoming," however, was a bit more straightforward. Replacing Andrew Garfield as the web-slinger, 20-year-old Brit Tom Holland stars as a high-school-aged Peter Parker. He's just returned from "one heck of a summer vacation in Germany with the Avengers," Marvel President Kevin Feige explained to the crowd, and he's having trouble adjusting back to the average life of a teenager.
At school, his friends are enchanted by his exotic time off: "Can you summon an army of spiders?" his lab partner asks him during science class.
Parker, not surprisingly, finds himself distracted during school and tries to persuade Tony Stark — played, of course, by Robert Downey Jr. — to let him rejoin the Avengers. But Iron Man isn't having it. Especially after he has to come help Spidey rescue a sinking ferry.
"What if somebody died?" Stark asks after the near-disaster.
"I was just trying to be like you," Parker responds.
"You need to be better," Stark says.
"But I'm nothing without the suit," says Spider-Man.
"If you're nothing without the suit," Iron Man responds, "then you shouldn't have it."
Exhibitors seemed to respond warmly to the footage, even though it didn't get the final push of the night.
That went to "Jumanji: Welcome to the Jungle," a new take on the 1995 classic that originally starred Robin Williams. The studio brought out star Dwayne Johnson to hype up the film, and the actor told a story about how he'd actually met the late comedian years prior at CinemaCon.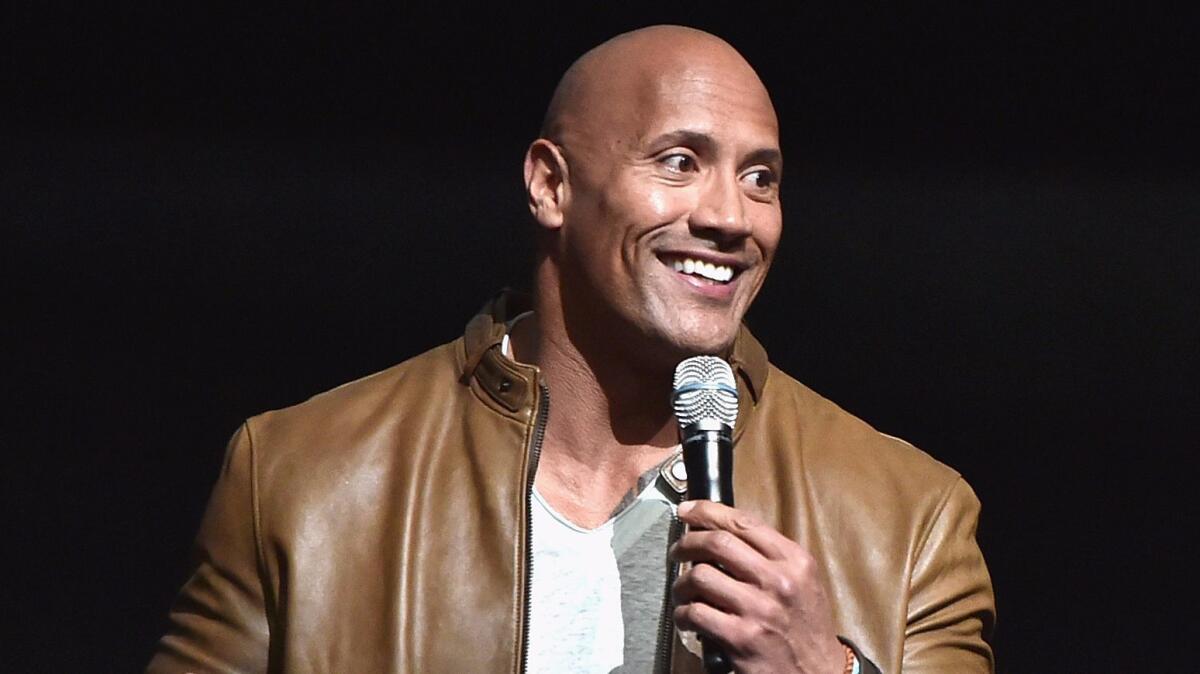 "Meeting one of my heroes was so special," Johnson said. "I thought, well, how do we pay homage to the original [film] and still make it global, still make it big, still make it fun?"
The answer? Instead of playing a mysterious board game called Jumanji, this time a bunch of high schoolers start playing the video game "Jumanji." Moments after they press play, they're transported into the game — and physically transformed into wildly different adventurers. A scrawny, Claritin-addicted dweeb becomes the muscle-bound Johnson, while a bulky athlete is horrified that he's become a pipsqueak in Kevin Hart. Even worse? The hot popular girl turns into "an overweight, middle-aged man": Jack Black.
Black was the hit of the presentation, joking about how filming the movie in Hawaii was horrific. "People make a big deal about how awesome it was that Leonardo DiCaprio braved the ice-cold tundra in 'The Revenant,'" Black said. "I don't want to hear his whining. I had centipedes at the sack. You deal with that, DiCap."
Follow me on Twitter @AmyKinLA
ALSO
Disney film executive delivers sobering message at CinemaCon to theater owners on the 'changing lives of our consumers'
STX will adapt 'Joseph and the Amazing Technicolor Dreamcoat' with Elton John
In new 'Spider-Man: Homecoming' trailer, our little Spidey's growing up -- or trying to
Get the Indie Focus newsletter, Mark Olsen's weekly guide to the world of cinema.
You may occasionally receive promotional content from the Los Angeles Times.