STX will adapt 'Joseph and the Amazing Technicolor Dreamcoat' with Elton John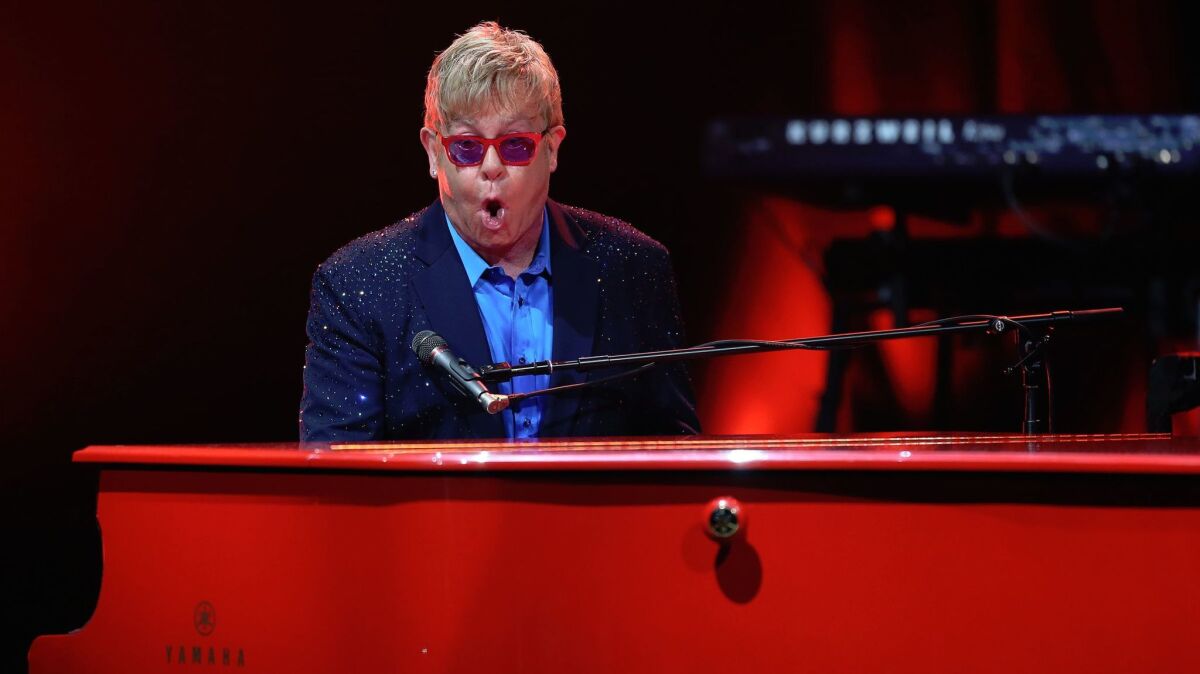 Reporting from Las Vegas —
Caesar's Palace Colosseum -- the sizable auditorium that has been home to Celine Dion, Elton John and Rod Stewart -- is the place where major film studios come every spring to unveil their splashiest titles to movie theater owners. Last year, STX Entertainment, then a 2-year-old upstart, infiltrated the space in a bid to prove its box office bankability to exhibitors.
The fledgling studio returned on Tuesday, but Chairman Adam Fogelson made it clear he still sees the company as an underdog.
"There are 90 of us, not 1,900," he emphasized. "But we can still compete and win like a major."
In 2016, STX's biggest hit was "Bad Moms," the R-rated Mila Kunis comedy that grossed $179 million. While that's a strong figure for a mid-budget comedy, that's about as much as any STX film can hope to make -- the only real tentpole hopeful touted during the presentation was Luc Besson's sci-fi thriller "Valerian."
Based on the popular graphic novel, the film stars Dane DeHaan and model-turned-actress Cara Delevingne as special operatives sent to an intergalactic city where their mission is to restore order to an alien landscape. After garnering some buzz at Comic-Con last summer, STX brought Besson and Delevingne here this week to promote the July release. It's a movie that "The Fifth Element" director said he's been wanting to make since he was 10 years old. But for years, he said, he thought the film was an impossible endeavor because it features two human leads and hundreds of computer-animated aliens.
"Technically, it's not possible," he recalled thinking. "But then this gentleman, this young director James Cameron made the [technology] possible after 'Avatar,' and thanks to him, imagination is the limit."
Despite STX's smaller list of blockbuster offerings, the company had just as much star power in Vegas as its competitors. Director Pete Berg and Mark Wahlberg arrived hoping to churn up a bit of hype around "Mile 22," which hasn't even begun filming. The movie, an action flick about a CIA operative and Indonesian cop who team up, is the kind of movie Wahlberg said he hopes defines his career.
"I still don't feel like I have the movie -- the role -- that defines me," he admitted. "I'm really hoping this is going to be the first thing you think about with Mark Wahlberg -- the 'Mile 22' franchise."
Kunis was also on hand to talk about "A Bad Moms Christmas," another movie yet to begin production. Fogelson said the holiday provided the perfect backdrop for the film's sequel because Christmas is the "Super Bowl for moms." Kunis responded that as a Russian refugee, her Christmases were "poor -- very poor," but she did enjoy getting together with her family and eating.
While the studio made a few splashy announcements -- Elton John, Andrew Lloyd Webber and Tim Rice teaming on an animated version of "Joseph and the Amazing Technicolor Dreamcoat," for example -- it was "Molly's Game" that seemed to go over best.
The film marks Aaron Sorkin's directorial debut and tells the true story of Molly Bloom, the young woman who organized some of the most exclusive, highest-stake poker games in Hollywood history. Sorkin said he had been waiting for years for the right project to direct, but had trouble finding a story that was "both cool and has a lot of heart."
In the trailer, we see Bloom -- played by Jessica Chastain -- suffer an injury during a mogul ski race. Unsure of what to do and how best to use her intellect -- she scored a 173 on the LSAT -- she starts organizing exclusive poker games that would go on to become tabloid legend.
"I liked that the movie explores female power and what that means in society," said Chastain, adding that she met with Bloom to prepare for the role. "That's something I'm very inspired by."
Follow me on Twitter @AmyKinLA
---
Get the Indie Focus newsletter, Mark Olsen's weekly guide to the world of cinema.
You may occasionally receive promotional content from the Los Angeles Times.