Classic Hollywood: TV and film veteran Mary Kay Place finds a connection in 'Diane'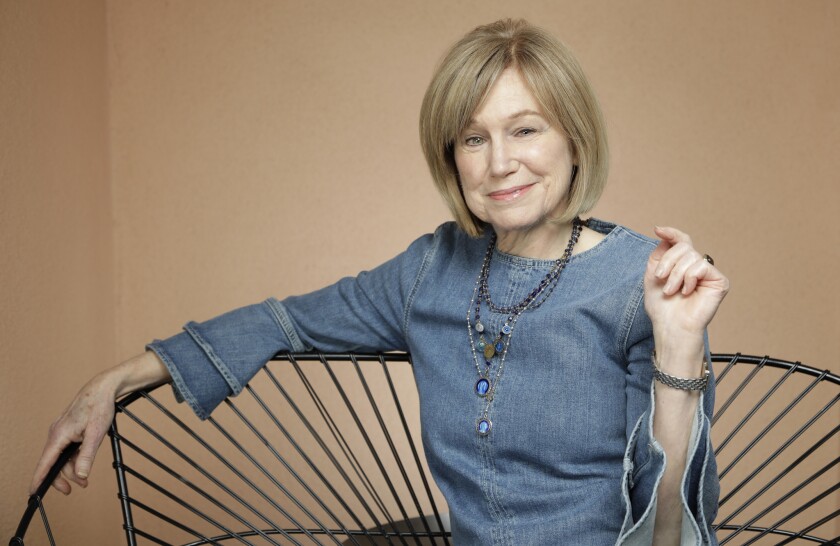 Like many aspiring actors, Mary Kay Place arrived in Hollywood with very little money and very high hopes. She graduated from the University of Tulsa in 1969 and eventually landed in California.
But unlike most actors, her dreams actually came true. The 71-year-old actress, musician and writer has been working steadily for more than four decades, won an Emmy award, recorded a hit album and hosted "Saturday Night Live."
She's as busy as ever, including a lead role in the independent film "Diane" opening Friday. Place is still thrilled by what's happened to her.
"So it's all been a total surprise and definitely has made life interesting and challenging," she said in a recent interview at a private Hollywood club. "Obviously I couldn't be more grateful for it."
An early influence on her career was legendary writer and producer Norman Lear, who had her perform her own song, "If Communism Comes Knocking at Your Door (Don't Answer It)," in a 1973 episode of "All in the Family." Lear then cast her in her Emmy Award-winning role as aspiring country-singer Loretta Haggers in the landmark 1976-77 comedy series "Mary Hartman, Mary Hartman."
She went on to record three country-western albums, scoring a top 10 hit with "Baby Boy." She's worked with such acclaimed film directors as Hal Ashby ("Bound for Glory"), Martin Scorsese ("New York, New York"), Lawrence Kasdan ("The Big Chill"), Francis Ford Coppola ("The Rainmaker") and Spike Jonze ("Being John Malkovich"), and was a regular on countless TV series including HBO's "Big Love" and Netflix's "Lady Dynamite."
And along the way, she also earned an Emmy nomination for co-writing the "Hot Lips and Empty Arms" episode of "MASH" and has directed episodic comedy series.
"I was hoping something like this would happen," the thoughtful Place explained. "But that this particular thing happened has been a shock each time. Like when Norman Lear said, 'Do you want to be on 'All in the Family' singing your song?' That was shocking. When I got the part of Loretta, that was shocking. When I got the Columbia Records contract to make three albums that was ridiculously shocking."
Her new film is a haunting drama, the first narrative feature by documentarian Kent Jones ("Hitchcock/Truffaut). Place stars as Diane, a 60-something woman who is generous to a fault. She helps sick friends and relatives, volunteers at the soup kitchen and desperately tries to save her drug-addled son (Jake Lacy).
But despite her Florence Nightingale ethos, Diane is tormented by mistakes she has made in her life. Andrea Martin, Estelle Parsons and Joyce Van Patten also star in the film, which won three prizes last year at the Tribeca Film Festival, including best narrative feature.
"Diane," executive produced by Scorsese, is Jones' valentine to Place. He wrote the part for her based on his mother and his aunts.
"I always liked her movies," noted the soft-spoken director. "I always looked forward to seeing her." But it was her performance as the mother of a dying boy in 1997's "The Rainmaker" that always remained with him.
Jones, who grew up in a strong matriarchal family, was taken by her performance in "Rainmaker" because "it just seemed completely in harmony with what I remember growing up. The same kind of sense of humor. The same stoicism. The same emotions under the surface. She's not on screen for a whole lot of time in the movie. But every second counts. There's not one false note."
Place and Jones met about six years ago when they were both on the jury of the Berkshire Film Festival. He told her then that he wanted to write a screenplay for her.
"I was really kind of blown away because I knew I wasn't a bankable name, so I thought 'They'll never get the money to make this movie.' But it's really nice to have somebody that you respect say that they would write a movie with you in mind."
Jones promised he wouldn't contact her until he had finished a draft. Then about 4 1/2 years later, Place discovered the script in her inbox.
"I was very nervous to read it because I thought, 'What if I don't like it or I don't relate to it or don't feel I can do it?'"
That wasn't the case. "I just whizzed through that script so quick," Place noted. "I didn't even know what hit me. What I really related to was the community, how the community interacted like in those towns of my grandparents where you took the casseroles over when someone was sick."'
She also connected to the addiction story line. "I think all families have addiction issues somewhere in their family tree," Place said. "I think we've all done things that we've regretted and said things we wish we hadn't said, had shame and carry some of that with us. I think Diane is an extreme case of that, but I think we can all relate to that part of the character."
As she does with each character she plays, Place drew up a back story. "I wrote for weeks about exactly, precisely what happened, Diane's whole history in the town, so I knew where I was coming from as a character."
She also worked closely with costume designer Carisa Kelly on Diane's frumpy look and dowdy clothes and dishwasher-dull dark hairstyle.
"I was really concerned that I look nothing like any other parts I had ever played," Place explained. "I wanted that dark wig. We had to find one where we weren't going to be arrested by the wig police."
Though the film was shot in just 20 days, Jones and Place talked about her character for a long time. "I revised the script a lot based on conversations we had," Jones said. "She's a dynamo. She has the temperament of an artist. She really got into the whole universe of the movie."
---
Inside the business of entertainment
The Wide Shot brings you news, analysis and insights on everything from streaming wars to production — and what it all means for the future.
You may occasionally receive promotional content from the Los Angeles Times.