As 'Crazy Rich Asians' soars, director Jon M. Chu sets his sights on Lin-Manuel Miranda's musical and the Thai cave rescue
Two weeks ago, before his watershed romantic comedy "Crazy Rich Asians" pushed beyond expectations to a $34-million, five-day opening, director Jon M. Chu was already feeling the electricity of what would become a historic moment in Hollywood.
"I want to say 50 theaters have been bought out already. People email me, 'What can we do?' Anyone can support in any way ... both Asian and not!" he said then, during an interview for a special L.A. Times series on the Warner Bros. release, hoping for a groundswell of support from within and outside of the Asian American community.

For the record:
12:50 p.m. Aug. 20, 2018An earlier version of this post said Jon M. Chu directed "Now You See Me." That film was directed by Louis Letterier.
Many more theaters were subsequently bought out across the country, by celebrities and non-celebs alike. Tech and digital influencers boosted the hashtag #GoldOpen and a cascade of social media support — from Ava DuVernay, Dwayne Johnson, Chris Pratt, Justin Bieber, Lin-Manuel Miranda, Lena Waithe, Olivia Munn and many others — poured in throughout opening weekend.
Now the little film with a modest $30-million budget, in a genre many thought was dead (the glossy rom-com), stands to send a message to the entire industry: diversity sells.
"There were no guarantees when we started this," Chu said earlier this month, feeling the love building. "And to see it pop, even beyond our own community, has been really incredible."
According to a USC Annenberg study of the top 100 films of 2017, only 4.8% featured a character of Asian descent with a speaking role. But the "Crazy Rich Asians" effect is real, according to industry creators. At a post-screening Q&A last week hosted by the L.A. chapter of the Asian American Journalists Assn., co-screenwriter Adele Lim relayed a recent meeting she'd had in which an exec noted they were waiting to see how "Crazy Rich Asians" performed before greenlighting similarly diverse projects.
On Twitter, "Sleepy Hollow" executive producer Albert Kim revealed that the wheels of progress are already in motion: "In the last week, two network pilots were sold that feature all-Asian casts. I also know of three cable projects, all in active development, that mostly feature Asian and Asian American characters. It's going to happen, the momentum is there."
Other distributors with rare Asian American-led projects synced up around the "Crazy Rich Asians" release for a frame atypically rich in Asian American leads.
Sony's Screen Gems will open director Aneesh Chaganty's Sundance prize-winning thriller "Searching," starring John Cho as a Silicon Valley father frantically searching for his missing daughter, in limited release Friday ahead of a nationwide release for Labor Day weekend.
Meanwhile, streaming giant Netflix continued its "Summer of Love" over the weekend by releasing YA rom-com adaptation "To All the Boys I've Loved Before," centered on an Asian American teen heroine played by actress Lana Condor, and instantly set social media buzzing.
RELATED: 'Crazy Rich Asians' dominates the box office, makes history for representation »
For Chu, a Palo Alto-born USC film school graduate who had a successful career directing studio franchise films "G.I. Joe: Retaliation" and "Now You See Me 2," taking the helm of a culturally specific story was an intensely personal choice.
It's one he intends to continue by directing the big-screen adaptation of Lin-Manuel Miranda's Tony Award-winning Broadway musical "In the Heights" next year. Set in the predominantly Hispanic American neighborhood of New York's Washington Heights, the play by Miranda and Pulitzer-winning playwright Quiara Alegría Hudes struck familiar and vital chords to Chu.
"I'm growing up, and when you grow up your tastes change," he said. "What you feel is important changes; your priorities change. I remember choosing 'Crazy Rich Asians' and 'In the Heights' around the same time — knowing they had similar ideas to them. The immigrant story was under attack, and I wanted to tell an immigrant story that wasn't political, wasn't heavy, but was joyful and about a community."
Chu and Miranda have already spent time in Washington Heights in preparation for filming. And, as Chu did with "Crazy Rich Asians," scouring the internet and the globe for the international ensemble. The director is preparing to cast a wide net for talent.
"We are in it," smiled Chu, who launched his career directing the dynamic "Step Up 2: The Streets," one of its sequels, two Justin Bieber documentaries and the dance-driven web series "The LXD." "We're designing the dance numbers now and redoing the music. We're looking at everyone."
First, he will direct Brooklynn Prince, the 8-year-old breakout star of last year's acclaimed indie "The Florida Project," in a 10-episode mystery drama for Apple based on the true story of child investigative reporter Hilde Lysiak, who made headlines reporting a local murder in her Pennsylvania hometown through her own self-published newspaper.
He's also developing a film about the Thai cave rescue, based on the true story that dominated world news earlier this summer. It was no coincidence that the July announcement of his project, produced by "Crazy Rich Asians" producer John Penotti of Ivanhoe Pictures, came a day after Pure Flix's Michael Scott announced that the "God's Not Dead" company was pursuing rights to the same story.
"With the Thai cave story, I felt enraptured by the story like everyone else," said Chu. "But when I saw other people getting in on that story from the outside, who I'm sure have good intentions, I just wanted to put out more of a warning to anybody thinking of making this — that we're watching, and they need to do their due diligence when telling this story. And I knew I was in a position to make that public, and to make sure everybody understood that."
While he says it's too early to divulge plans for the film, Chu, who is not of Thai descent, also says he won't necessarily be the one to direct it. "Maybe we find the right Thai director or writer. Maybe we find other ways to tell it. Maybe I'm just a steward to help block out the things that can ruin something like this," he offered.
"Every artist has the right to do whatever they want, and I respect that more than anything. But this story is so important and so global that I want to at least have an option for the families and for the people to come to — and to know that I want to help watch whatever comes out of the telling of the story, for history."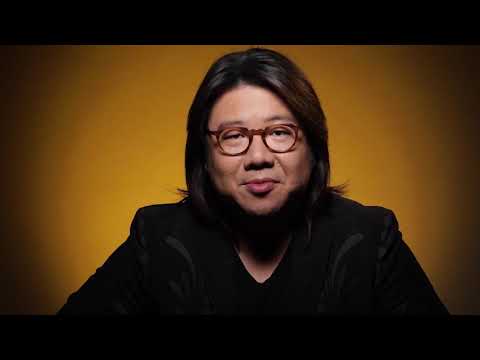 The international cast and creators of "Crazy Rich Asians" on their crazy diverse journeys to Hollywood and why they hope their groundbreaking rom-com is a watershed moment for underrepresented voices.
Whether telling the story himself or facilitating the next wave of voices, Chu is hopeful for the post-"Crazy Rich Asians" Hollywood. In casting what would become a hit adaptation of Kevin Kwan's bestselling "Crazy Rich Asians" novel, Chu led an exhaustive global talent search looking at just about every Asian and Asian American actor there is, he joked.
And while he couldn't cast them all, he happily volunteers his findings to any exec or creator coming up against the age-old misconception that diverse and inclusive talent simply isn't there — because it is, says Chu.
"I've seen them with my own eyes! Many of whom I could not put in the movie because they didn't fit a specific character. But I know that they are stars," he said. "Come to me! Talk to me! We'll share our findings with you."
Get the Indie Focus newsletter, Mark Olsen's weekly guide to the world of cinema.
You may occasionally receive promotional content from the Los Angeles Times.