With 'Dark Phoenix,' 'X-Men' architect Simon Kinberg knew he was making a grand finale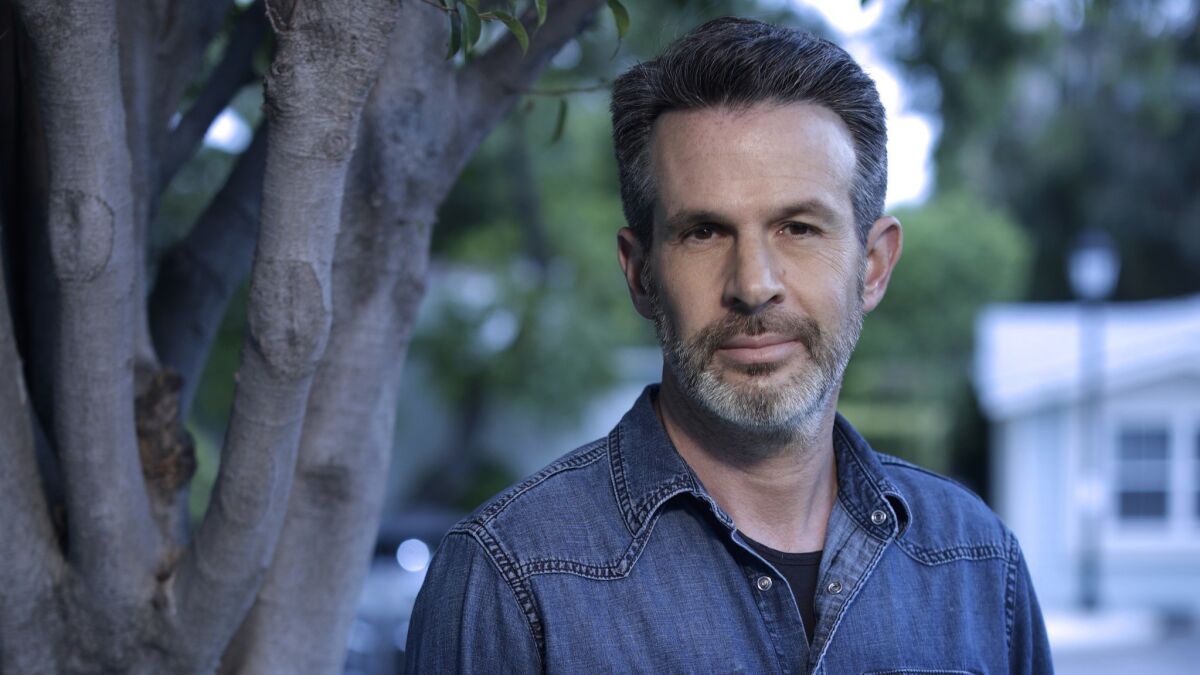 It seems fitting that the title of the new X-Men movie includes the word "phoenix," because for its director, Simon Kinberg, the film represents both an ending and a new beginning.
"Dark Phoenix," in theaters Friday, is the final installment in the mutant-superhero franchise produced by 20th Century Fox; it caps the end of an era for the series that began with 2000's "X-Men" as it heads into uncharted territory under the stewardship of Disney, which acquired Fox earlier this year. For Kinberg, who has played a key role in steering the X-Men universe at Fox as a screenwriter and producer for more than a decade, the film also marks the launch of a new career as a director.
On a recent afternoon, Kinberg, 45, sat in a darkened edit bay near his office on the Fox lot, reflecting on his own days of future past with the franchise, which stretch back to 2006's "X-Men: The Last Stand," for which he co-wrote the script.
"When I started, I don't think I anticipated what my role would become — I was just stoked to make an X-Men movie," he said. "The first day I walked on the set and Wolverine was saying my lines, I was geeked out beyond imagination. I didn't have any sense that I would become — whatever you want to call it — the architect of this franchise. It wasn't a plan. It wasn't by design."
Planned or not, Kinberg's journey with the franchise has taken him through nine films as a writer and producer, including both the main X-Men saga and spinoffs like "Logan," "Deadpool" and the horror-inflected "The New Mutants," slated for release next April. Now, having spent years as the largely unseen, behind-the-scenes Professor Xavier of the X-Men cinematic universe, he finds himself front and center in "Dark Phoenix," which he both wrote and directed.
Set 10 years after the events of 2016's "X-Men: Apocalypse," "Dark Phoenix" recounts one of the most beloved storylines in the X-Men comic books. "Game of Thrones" alum Sophie Turner returns as Jean Grey, a mutant whose telepathic and telekinetic powers become augmented far beyond her ability to control them after she is bombarded by cosmic energy during a mission in space, transforming her into the destructive Dark Phoenix. As she cuts a path of destruction, the other X-Men feud over how to contain her power, while a malevolent alien (Jessica Chastain) tries to claim it for her own purposes.
A version of the Dark Phoenix story had actually been incorporated into "The Last Stand" but many fans found that abbreviated take unsatisfying. Having rebooted the X-Men timeline with the time-travel gambit of 2014's "Days of Future Past," Kinberg relished the idea of getting another crack at it.
"My biggest regret from 'The Last Stand' is that the Dark Phoenix story, which is the most enduring story in the history of this very esteemed saga, was given a back seat in the movie," Kinberg said. "So when I reset the timeline, I was absolutely conscious that what that would allow us to do is tell the Dark Phoenix story again."
When it became clear that "Apocalypse" director Bryan Singer — who has faced allegations of sexual misconduct, which he has denied — was not going to return to direct "Dark Phoenix," the cast lobbied for Kinberg to take on the job. Jennifer Lawrence, who plays Raven, went so far as to say she would walk away from the film if he didn't.
To assume the helm of any big-budget superhero film is a daunting proposition. To do so as a first-time director requires nerves of adamantium. But having worked on virtually every aspect of production both on the X-Men movies and on such non-superhero films as "Cinderella," "Sherlock Holmes," "The Martian" and "Murder on the Orient Express," Kinberg felt ready.
"This was definitely a big first movie to take on," said Kinberg. "But it felt like a pretty organic transition because as a writer and producer on these films, I've done a lot of directorial duties. The biggest thing was stamina. When you're a writer-producer, you can take breaks and check your phone or Skype with your kids. When you're directing, every time you say 'cut' there's a line of 15 people that have questions."
Producer Hutch Parker, who has worked with Kinberg on a number of films, says he took to directing as if he was born to do it. "On set, Simon was incredibly relaxed," Parker said. "In some ways I think he found it more comfortable and less anxiety-provoking than being a writer-producer, where you're inevitably having to hand over your work to someone else. Being both the writer and the director, there was an ease he felt that seemed to make him incredibly at home on set."
Singer had originally been announced as a producer on "Dark Phoenix" but, in the wake of his being fired from Fox's Freddie Mercury biopic "Bohemian Rhapsody," he fell away from the project. Asked about Singer, Kinberg chose his words carefully.
"What happened in Bryan's personal life and his behavior on and off set — especially off set — really isn't for me to talk about," he said. "He's a very gifted filmmaker and he was very collaborative with me. But there's no question that we live in a different culture now than five, 10, 20 years ago. For a long time, the culture of Hollywood has been very problematic in terms of allowing filmmakers especially to treat people terribly, to violate people, to cover up crimes. Now people are being held accountable for their actions. And that's a great thing."
The "Dark Phoenix" production was not without its challenges. Originally slated for release last November, the film underwent extensive reshoots, with Kinberg deciding to retool the film's entire third act from a space-set battle to a more grounded, Earthbound climax.
"It was just a redo, really," said James McAvoy, who plays Charles Xavier. "The [original] ending maybe wasn't good enough, but I also know there was a massive crossover with what happened in another Marvel movie in terms of our chosen bad guy and how it all played out." (This year's "Captain Marvel" ended with a similar climactic showdown in space.)
Through it all, McAvoy says, Kinberg never lost his focus or his cool. "He was strangely calm and together," said the actor. "I've worked with people who are vastly more experienced who don't have the same level of temperance and ability to remain in charge of their faculties as he does."
Then, during postproduction, stories began to circulate about Disney eyeing a takeover of Fox, putting the future of "Dark Phoenix" and other superhero projects Kinberg was developing, including "Gambit" and "X-Force," in question.
With the X-Men and other Fox-owned superhero properties like Deadpool and Fantastic Four set to be absorbed into the Marvel Cinematic Universe under the stewardship of Marvel Studios president Kevin Feige, the future of those franchises is still unclear. For the moment, there are no X-Men films on Marvel's release calendar beyond the repeatedly delayed "New Mutants" spinoff, and Marvel appears to be putting the characters on the back burner.
"I love the X-Men so I have lots of thoughts," said Kinberg, who has been friends with Feige since "The Last Stand," which Feige produced. "But I don't know what the plans are going to be in terms of casting or storytelling. I don't know that Marvel knows what the larger plan is. But I'm excited about it. I'm obviously a huge admirer of what they've done."
As he brings this era of the X-Men to a close, Kinberg — whose next directing project, a female-led spy thriller called "355" starring Chastain and a cast of international stars, is set to begin production in July — is already looking ahead to a future without the mutants at its center.
"It's ironic," he said. "Three years ago there was no Disney takeover of Fox, but I treated this movie from the beginning like it was the culmination of the X-Men saga that we've been telling. They start as strangers, they become a family, they are ripped apart and ultimately come back together stronger. And it just so happens that it is."
Watch the first trailer for "Dark Phoenix." 
Twitter: @joshrottenberg
Get our L.A. Goes Out newsletter, with the week's best events, to help you explore and experience our city.
You may occasionally receive promotional content from the Los Angeles Times.