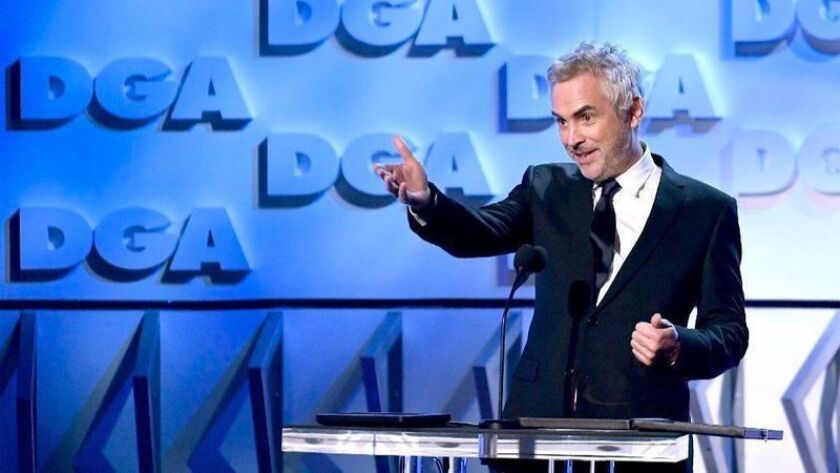 In the latest salvo in the ongoing fight over the future of film distribution, the Directors Guild of America announced changes on Wednesday to the eligibility rules for its top movie award, barring films that are simultaneously released in theaters and via streaming from consideration.
Further reinforcing the group's commitment to supporting the theatrical experience, the DGA's board voted to rename the award outstanding directorial achievement in theatrical feature film.
With the rise of streaming services like Netflix and the blurring of film and television in recent years, awards season has emerged as a primary battleground in what some see as an existential struggle over the very meaning of movies. Against that backdrop, the DGA changes are clearly meant to shore up the defenses around the traditional moviegoing experience.
"The DGA proudly affirms that a first-run theatrical release is a distinctive element of our feature film award," DGA President Thomas Schlamme said in a statement. "We celebrate the important role that theatrical cinema has played in bringing together audiences as they collectively experience films as the filmmakers intended them to be viewed. We also take great pride in recognizing all of the work created by our members through the many categories and formats that are part of the DGA Awards."
The change is unlikely to have any major effect on awards season, at least in the near term. All previous DGA feature film nominees would have qualified for the top award under the new rule.
Last year, as part of its ongoing push to become more of a player in awards season, Netflix changed its release model to give a handful of films exclusive theatrical releases before being available via streaming. One of the first films given such a release, "Roma," went on to earn Netflix its first Academy Award nomination for best picture, while its director, Alfonso Cuarón, won the DGA's top award as well as the directing Oscar.
The company is widely expected to follow a similar release strategy with upcoming awards hopefuls including Martin Scorsese's "The Irishman," Steven Soderbergh's "The Laundromat," Dee Rees' "The Last Thing He Wanted" and an untitled project from Noah Baumbach.
Netflix did not immediately respond to a request for comment on the DGA's rule change.
Beyond Netflix, many smaller independent film distributors release titles the same day in theaters and on video on demand platforms, but such titles rarely, if ever, have serious awards season ambitions.
While the tangible effect of the DGA's move may be minimal, at a time when the film landscape is undergoing seismic changes, the announcement has unquestionable symbolic significance.
This spring there was widespread speculation the Academy of Motion Picture Arts and Sciences, with Steven Spielberg leading the charge, would make a similar change to hold the line against the rise of streaming services like Netflix and level the playing field for awards contenders. But in the end, the organization's board of governors decided to maintain the status quo, at least for the time being, even as it expressed support for the theatrical experience. (Under the academy's rules, a film must have a minimum seven-day theatrical run in a Los Angeles County commercial theater, with at least three screenings per day for paid admission.)
Notably, the DGA's first-run theatrical release rule will not be applied to the first-time feature film award, which has been given out for the past four years to such directors as Jordan Peele ("Get Out") and Bo Burnham ("Eight Grade.")
The DGA's changes will apply to the upcoming 72nd DGA Awards. Beyond that, the guild says it will "continue to review eligibility requirements and may make further adjustments as the industry continues to develop."
Twitter: @joshrottenberg
---