Brawn and brains -- 'Expendable' Dolph Lundgren is irreplaceable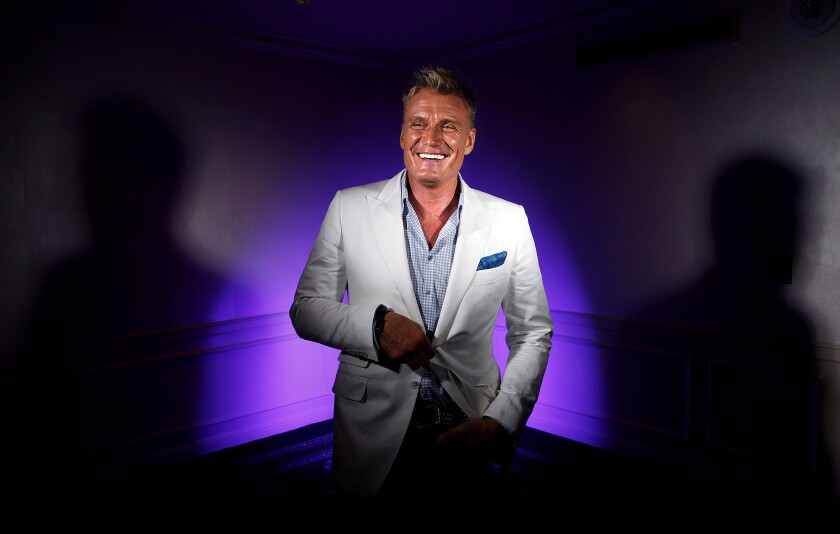 There's a clip on YouTube from a 1985 "Tonight Show" with guest host Joan Rivers interviewing Dolph Lundgren about his role as Ivan Drago, the brutal Russian fighter who takes on Sylvester Stallone's Rocky Balboa in "Rocky IV."
Lundgren exudes attitude. He's strikingly handsome, but his spiky mullet, black pants and white tails make him look more like a waiter than Hollywood's new hot commodity.
"I've seen that," lamented Lundgren over a recent lunch at a downtown hotel restaurant. "It's so embarrassing. It's the Duran Duran look."
The 6-foot-5 Swedish movie tough guy is 56 now and still has biceps that would make the Incredible Hulk envious. He's a divorced father of two teenage daughters whom he adores. He can do a great impression of Stallone. He's funny and reflective. He meditates and seems at peace with himself.
But it took a long time.
"It took me years to sort of figure out who I am," Lundgren said. "The audience wants you to be one thing and you are somebody else. I didn't have any training on how to deal with all of these things. I got ripped off by my manager at the time — the classic 'Welcome to Hollywood' kind of deal. What kept me sane is that I kept working and kept kind of busy."
He's kept busy ever since. He has just completed "Skin Trade," an action-drama about human trafficking in Thailand that he stars in, wrote and produced. His book, "Dolph Lundgren: Train Like an Action Hero," which had already been published in Sweden, arrives stateside in September.
His career is still intertwined with Stallone, who chose Lundgren, then best known as singer Grace Jones' boyfriend, out of hundreds of hopefuls to play Drago. Five years ago, Stallone contacted Lundgren with the plum role of the rather unstable sniper — and sometimes comic relief — Gunner Jensen in the surprise 2010 box office hit "The Expendables."
Lundgren returned in the 2012 sequel, "The Expendables 2," and now is back for another installment in the testosterone-driven action-adventure "The Expendables 3," which opens Friday.
This time around, the Expendables — Lundgren, Stallone, Jason Statham, Terry Crews, Wesley Snipes, Randy Couture — have to stop a wealthy arms dealer (Mel Gibson), who had co-founded the team of mercenaries. Jet Li and Arnold Schwarzenegger return for this outing, which also stars Antonio Banderas and Harrison Ford.
"This one I was surprised and happy that they made the cast even bigger — I think it was a smart move," Lundgren says.
Crews, one of the original "Expendables" — he plays Hale Caesar in the films — thinks of Lundgren like "my big brother."
"We spend a lot of time together," Crews said. "He's one of the smartest men I ever met. I remember us sitting in Hong Kong and doing some pickup scenes, and we talked and talked about life. I was like, 'What a good dude.' He's seen so much."
"He's a charming, charming fellow," "Expendables 3' director Patrick Hughes said. "He's really passionate about his craft."
And about exercising.
Hughes recalled setting up a complicated scene involving the destruction of a tank when Lundgren approached him. "He said, 'Hey, Patrick. Did you steal my dumbbells?' I looked him square in the eye and said, 'Dolph, do you think I have time to work out let alone do I even look like I work out?' I have never seen so many dumbbells on the set."
Though he exercises on average one hour a day, six days a week, and works out with a karate trainer — he was once the captain of the Swedish national karate team — Lundgren is as much brain as brawn.
His electrical engineer father, Lundgren acknowledged, was physically abusive. That's why he took up karate and decided to study chemical engineering, though he knew it wasn't his calling. "I wanted to prove [I could do it] to my dad," Lundgren said.
After graduating from the Royal Institute of Technology in Stockholm, Lundgren received his master's degree in chemical engineering at the University of Sydney in Australia. He was awarded a Fulbright scholarship to the prestigious Massachusetts Institute of Technology. But then he met and fell in love with Jones and gave up higher education. They later split up.
"I have had a weird career," Lundgren said. "I studied for engineering, got into movies and moved to Los Angeles."
He flexed his muscles in such films as 1987's "Masters of the Universe," 1989's "The Punisher" and 1992's "Universal Soldier" with Jean-Claude Van Damme.
But Lundgren left Hollywood after he got married in 1994 — "my wife didn't like Los Angeles" — and eventually settled in Spain. Though he continued to work in Europe, most of his films went straight to video. After his marriage went south, he came back to Hollywood in hopes of kick-starting his film career.
And that's when Rocky came calling.
---
The complete guide to home viewing
Get Screen Gab for weekly recommendations, analysis, interviews and irreverent discussion of the TV and streaming movies everyone's talking about.
You may occasionally receive promotional content from the Los Angeles Times.