According to the teenage experts, 'Eighth Grade' gets it right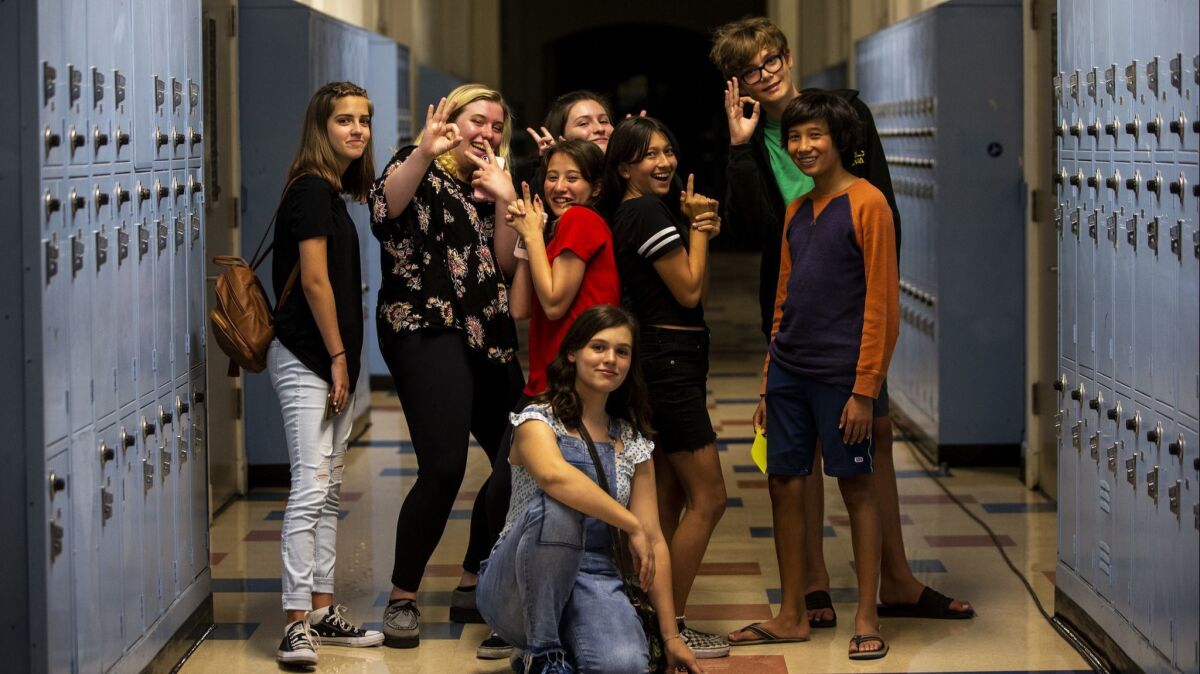 There were valet attendants where the school buses should have been. Instead of an attendance roster, hip comedy types — Nick Kroll, Alia Shawkat, Gillian Jacobs — had their names checked off a VIP list. Hollywood had taken over Joseph Le Conte Middle School for the premiere of the new movie "Eighth Grade," and there were barely any actual eighth-graders in sight.
Except for two teenage boys sitting on the ground, their iPhones just a few inches from their face. That had to be them.
"Hey, are you guys looking for Amy?" I asked, trying to seem nonchalant.
"Uh, yeah," replied Jake Eaton, 13, barely looking up from his screen.
I'd told his mom to have her son and his friend, Asher Burstin, meet me outside the school that night. We were here to see Bo Burnham's new film, an intimate portrait of life in — you guessed it — eighth grade, depicting the awkward, often heartbreaking travails of a young girl who uses social media to fit in with her peers. Even though it's rated R — there are references to oral sex — I'd persuaded the parents of a handful of local about-to-be eighth- and ninth-graders to let their children see the movie with me and then talk about whether it reflected their experiences.
The boys were the first to arrive at the screening, where we were waiting for six more eighth-graders: Kaylee Leffler, 14: Elizabeth Heuer, 14; Gisele Ortiz, 13: Leila Curran, 14; Emily Cliborn, 14, and Heather Morales, 13.
Once I'd assembled the group, we made our way into the school auditorium behind the hipster comedians. The teens were unfazed until Dylan O'Brien, a 26-year-old actor from the "Teen Wolf" reboot and "The Maze Runner" series," came over to talk to me.
That's when Gisele and Heather began to lose it. There was giggling and mouth-covering and a lot of "Are you? Wait — are you that guy — wait — you're him?"
"Hey, guys, it's really nice to meet you," O'Brien said, grinning at them. They nodded their heads anxiously.
He walked away and the girls instantly began to barrage me with questions. I told them I'd interviewed him once and that he was really nice. They asked if they'd be able to take a photo with O'Brien later, and I said we could try. By the time we were in our seats, their eyes were glued to the theater entrance, hoping that some other young celebrity would enter, and their collective demeanor had shifted. No longer was this an evening that they would be forced to spend with a random 32-year-old journalist. This was the ultimate social currency: an Instagram opportunity.
The boys, meanwhile, were playing Clash Royale on their phones.
Eventually, Burnham walked to the front of the room and apologized for the heat; the air conditioning had broken 10 minutes before the screening was set to start, giving the room an authentically clammy middle-school vibe. But when he asked, "Are there any eighth-graders here tonight?," my row was the only one to cheer.
I was seated on the end of the row, next to the boys, and as the lights went down, suddenly they came alive. They treated the movie like a talk-back, shouting advice and criticism at the film's protagonist, Kayla, an aspiring YouTube personality.
"She has no views," Jake whispered aloud, noticing the viewer count on the character's videos, each of which she ended with the once-trendy catchphrase "Gucci!" The boys found this particularly lame. "Stop! Please! Why?!?" they asked, cringing, each time.
Jake was particularly horrified by a scene in which Kayla plays Truth or Dare with a high school senior while the two are alone in the back of his car. When she was asked how "far" she had been sexually, Jake pulled his shirt over his head.
"I would like to leave now," he said, rocking back and forth. "Zero! Say zero!"
For the most part, the teens seemed invested in the film, though I did notice a few of them pull out their phones a couple of times during the 93 minutes. But to get their official thoughts, I corralled the group into one of the school's classrooms after the movie ended. (Only after a few of the girls had tracked down O'Brien in the crowd for that coveted selfie, though.) A slew of plastic chairs had been placed in a semi-circle for us under a poster that said, "Restorative Justice."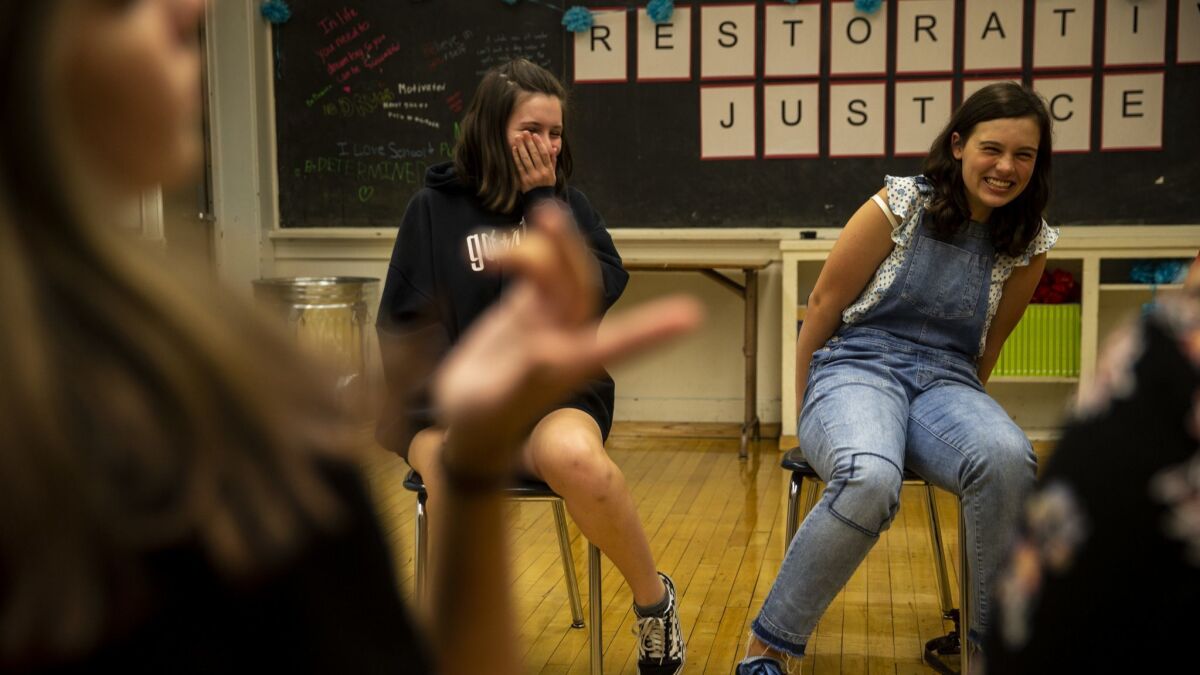 "It was very relatable," said Heather, , who is about to enter eighth grade at Renaissance Arts Academy in Glassell Park. "We were, like, comparing everything to our friends — that's her, that's him, that's him."
"Kayla's whole entire thing — that was literally me this year," chimed in Elizabeth who, along with Leila and Emily, just finished eighth grade at Long Beach's Cubberley Elementary School. "Honestly, eighth grade is really mean and vicious."
There were a lot of things the film got right, the kids said, but they felt its strongest virtue was how accurately it reflected their own insecurities. Leila said she felt comforted watching another girl her age struggle to fit in.
"That's something I think only really vocal people talk about in real life. Last summer, I got really depressed because I moved here from another state, and I didn't have any friends or anyone to talk to. Obviously, you get really lonely because you're locked up in the house all day. And I feel like sometimes it's better to talk to somebody else, because then you can relate and feel like you're not alone in your own problems."
"Yeah, I like being in my room and reading the whole day," added Emily. "I'm not a very open person. If I do get out there, it's kind of more stressful for me to do that."
For Emily, the worst part of eighth grade was lunch period. She didn't feel a deep kinship with her group of friends — "they weren't really what I was about" — so most days, she'd leave the cafeteria and sit outside a classroom reading a book for the 30-minute lunch period.
"I didn't just want to sit there and listen to them all talk," she said with a shrug. She eventually found a new group of friends — including Elizabeth, who invited her to the screening that night.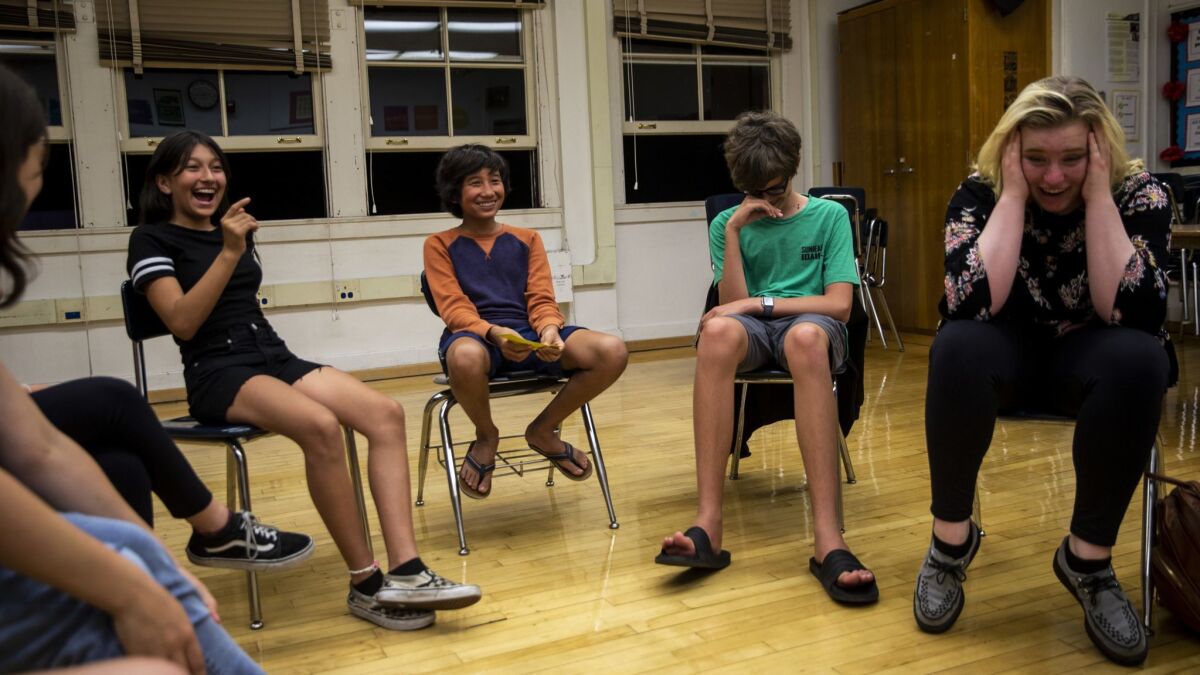 In reality, the teenagers swore, they aren't as addicted to their phones as Kayla is in "Eighth Grade." And yet they all acknowledged that they use their phones as their main sources of entertainment. Instead of watching films or television, most said they preferred to watch video memes on Instagram or look through YouTube clips.
"I don't have money, so, yeah," Kaylee said with a sigh.
"You just look up a random topic and scroll around," Emily added.
Asher, who is about to enter eighth grade at Windward School in Mar Vista, said he once created a YouTube channel to record himself playing the video game Minecraft with his friends. (He didn't actually record his face while playing, just the computer screen showing the gameplay.)
"People will say they want to be an internet influencer, and I like to poke fun at them, because I think that's really dumb," said Leila. "Some of the sixth-graders will actually be serious about it and you question their sanity. It's like, 'Please don't. You're so much better than this.' I see the YouTube Red ads all the time. I think there's a lot of pressure to be like that."
I pressed: So you really don't go on Instagram all the time, comparing yourself to your classmates like Kayla does?
"Well, that Dylan O'Brien photo I took is really gonna make everyone jealous," Elizabeth admitted. "Because everyone's in Hawaii doing all this fun stuff. And I awkwardly hugged Dylan O'Brien and I took a photo, even though it's really messy."
"Amy, do you think we can get a photo with Dylan now?" Heather asked. It was 9:30 p.m., and the kids' parents were set to pick them up at 10. I'd promised them we could check out the after-party in the school courtyard, so we wrapped up the discussion and walked outside. Under strings of lights, there were a collection of food trucks, a karaoke machine, a photo booth and a school dance set-up, replete with punch bowls.
"OK, guys, eat whatever you want," I told them.
"Wait, this is free?" Gisele asked, her eyes widening.
I nodded and suddenly, they were off, retrieving pizza, milkshakes, doughnuts and corn dogs.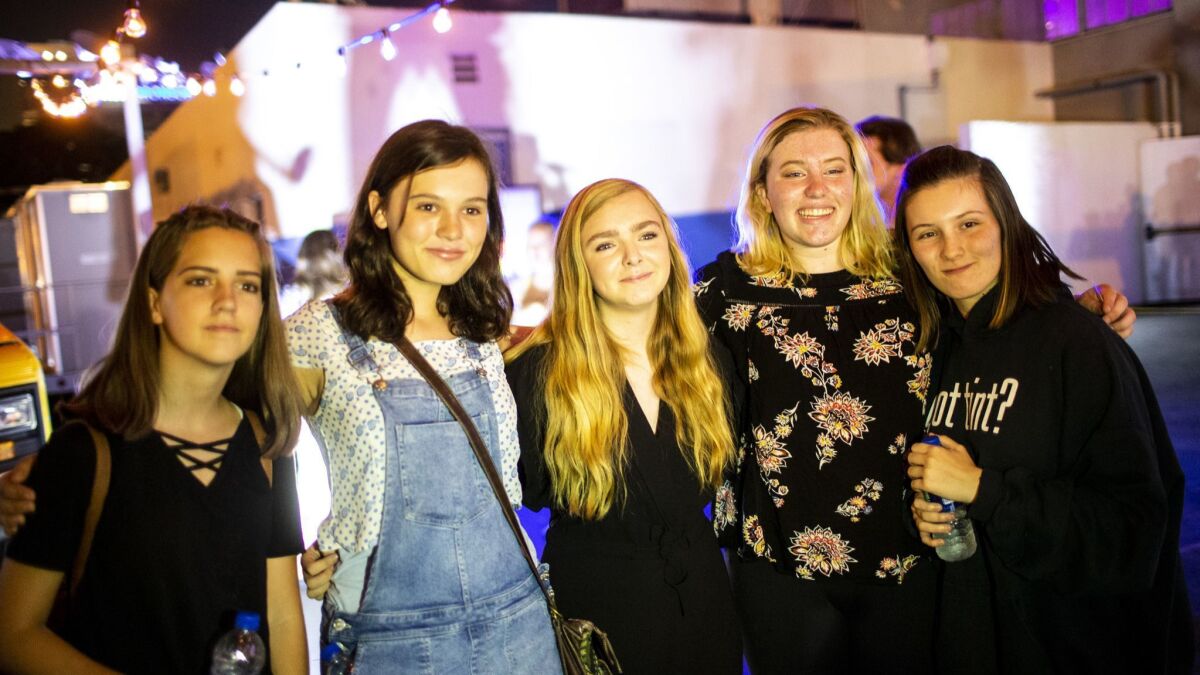 "Oh, my God, wait. Amy, can you ask Bo Burnham to take a picture with us?" Elizabeth asked. "I love him. I've given him like 10,000 views on his YouTube videos. He did this Vine — do you know what Vine is?"
"Yes, I know what Vine is. I'm not that old," I said, quasi-insulted.
"Oh, no, I mean, it's just that Vine shut down, so some people don't know it," she said.
"Yeah, you seem like you're, like, 15," said Kaylee.
She was definitely lying, but I definitely didn't care. I spotted Burnham and introduced him to the group, which fell silent for about 30 seconds.
"This has been my life for the last year," Burnham joked, referring to his awkward interactions with eighth-graders. "Well, guys, good luck in the ninth grade. Don't huff paint. And choose your drugs wisely."
He walked away, and Elizabeth dissolved. "I love you. You're beautiful!" she shouted.
It was nearing 10 p.m., and my phone was buzzing with parental check-ins. We walked to the entrance and I found Chris Heuer, who was set to drive the Cubberley girls back to Long Beach.
"Dad, Dad, It was so cool. I met Dylan O'Brien. And Bo Burnham," Elizabeth told him. "Amy, let's take a photo and tag it on Instagram. What's your Instagram?"
I gave her my handle and she punched it into her phone.
"Wait," she paused, "you're verified? I want to be verified."
Follow me on Twitter @AmyKinLA
---
Get our L.A. Goes Out newsletter, with the week's best events, to help you explore and experience our city.
You may occasionally receive promotional content from the Los Angeles Times.