Review: Director Aaron Fernandez makes 'The Empty Hours' worth the time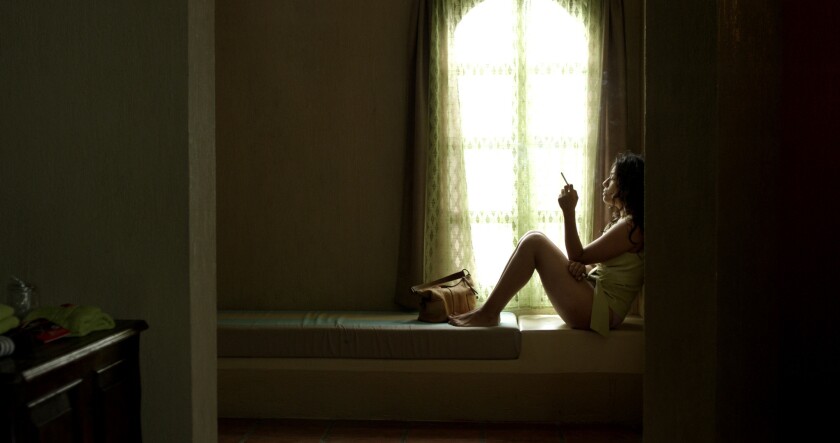 "The Empty Hours," Aaron Fernandez's balmy, blissful new film, is about an impressionable 17-year-old Sebastian, a mid-30s Miranda and an aging rent-by-the-hour beach motel nestled on a spare stretch of Veracruz, Mexico, coastline where their paths briefly cross.
Fernandez is interested in time, and timing, and what these two will do with both. The film, the writer-director's second, is a textural departure from the exuberant boy stealing hubcaps to buy his way across the border in 2007's "Used Parts." But the street-level look at lives in transition is there in an even more distilled form.
The film begins with a speck of light and distant sound. Sebastian (Kristyan Ferrer), on the back of his motorcycle, comes into view. He soon pulls into the Palma Real Motel, a study in fading blues, to manage the place while his Uncle Gerry (Fermin Martinez) goes to the city for medical tests.
There are many grace notes that speak of life's realities in forgotten places strung together so seamlessly they tell the fundamental story and so much more. One comes early as Gerry takes his nephew on a tour of the place. Lucha (Rebeca Villacorte) is the laundrywoman, he explains pointing to an empty room — very dependable, he adds, but he never knows when she will show up. There is no sarcasm; it is merely the truth.
Much later in the film, when Sebastian tells a new maid her duties, he echoes his uncle in small phrases. Just how closely Sebastian pays attention to everything is one of his charms.
Miranda's (Adriana Paz) world is split between the nearby beach condos she is selling and the occasional afternoon rendezvous with her married lover, Mario (Sergio Lasgon). Her first tryst at the Palma Real falls on Sebastian's first day in charge. A scene that wraps Miranda and Mario in late-afternoon shadows not long after making love is magical.
Fernandez is astute in the way he fills the empty hours on screen. He sets a slow steady rhythm and embraces lingering shots and long silences to catch the way the days are lazy about unfolding, especially for Sebastian.
Watching the curly headed teen with the quick smile sit at the motel desk and grow bored might sound boring. But between the downtrodden beauty of the setting and the way director of photography Javier Morón lets his camera linger on the bodies, buildings and beach, there is much to savor in the silent spaces. It's a fly-on-the-wall point of view that affords us the best seat in the house.
As Sebastian watches the ebb and flow of the people and the place, his world view begins to expand, in part because of the casual relationship that begins developing with Miranda. Miranda is beautiful, easy for a sensitive 17-year-old to develop a crush on. And she treats him like an adult, striking up conversations when Mario is late, taking Sebastian along for a night at a dance club when Mario doesn't show up.
Paz and Ferrer are terrific, making great use of the space between them, which starts to disappear the closer they get. Ferrer is a natural on camera. Whether he is showing his moves when Sebastian takes the dance floor or negotiating deals with the kid (Eliseo Lara Martinez) who runs the coconut stand across the street, there is an ease in every move that makes Sebastian both remarkable and unremarkable in endearing ways.
Paz knows how to play against the softness of Sebastian, who expects nothing, and the harsher realities of Mario, who asks for everything but gives little. Watching the actress move so effortlessly between those emotional places is captivating.
They are surrounded by an eclectic cast of characters, led by Villacorte, whose Lucha does show up to handle the laundry as promised, bringing spice along with her.
The filmmaker, who was born in Mexico, trained in Paris and now lives in São Paulo, is careful with Miranda and Sebastian, never letting things between them move too fast or get too serious. He's more content to let things simmer in the incidental moments that fill a day: Sebastian scaling the motel walls to get a cellphone signal, passing time playing checkers with crushed bottle caps for pieces; Miranda lazily smoking outside the room as she waits for Mario to show, briskly professional taking care of business at the sales office.
Their relationship changes the course of both lives. Like everything else about this lovely film, life, love and emotional growth are marked out in lush, languid, luminous terms. Which makes spending a little time at the Palma Real something pretty close to paradise.
Twitter: @BetsySharkey
------------
'The Empty Hours'
No MPAA rating
Running time: 1 hour, 40 minutes; Spanish with English subtitles
Playing: At Laemmle's NoHo 7, North Hollywood; Laemmle's Playhouse 7, Pasadena
---
From the Emmys to the Oscars.
Get our revamped Envelope newsletter, sent twice a week, for exclusive awards season coverage, behind-the-scenes insights and columnist Glenn Whipp's commentary.
You may occasionally receive promotional content from the Los Angeles Times.