Gold Standard: Golden Globes nominations preview: 5 things to watch for, including 'Mary Poppins Returns' vs. 'Roma'
At the Governors Awards three years ago, I was talking to "The Martian" screenwriter Drew Goddard about the Hollywood Foreign Press Assn.'s placement of the space film in the comedy/musical category.
"These days, it's almost impossible to classify a lot of things," Goddard said. "I mean, I never would have considered 'Birdman' a comedy."
Ridley Scott, director of "The Martian," ambled over. Told that his movie would be competing in the Globes' comedy/musical category, he paused, took in the news and asked, "You mean we're up against movies like 'Ted'?"
Yup. Scott responded with the only appropriate reaction when the subject is the Golden Globes: He laughed derisively and raised his hands, palms up, making the universal "what are you going to do?" gesture.
And, yes, "The Martian," won that Globe. (Oscar best picture winner "Birdman," by the way, did not, losing to "The Grand Budapest Hotel" the year before.)
Sporting separate categories for drama and comedy/musical, the Golden Globes nominations — to be announced Thursday in two rounds beginning at 5:15 a.m. PT — are often most interesting for the glimpses of awards season strategy. With that in mind, here are five questions worth raising this year.
RELATED: Our early Golden Globe nomination predictions »
What movies will make the HFPA laugh?
How about "Green Book," the savvy crowd-pleaser that looks at America's racial divisions with unyielding optimism? Or "Vice," a Dick Cheney biopic that practically begs Americans to wake up and pay attention before the Four Horsemen of the Apocalypse ride into town?
These two "comedies," along with "Crazy Rich Asians," the musical "Mary Poppins Returns" and the pitch-black, profane and often tragic "The Favourite" are likely to make up the comedy/musical field, though it'd be nice to see the poignantly funny "Eighth Grade" somehow find its way in. (It's quite possible it could knock out "Vice" as political movies often leave HFPA voters — which number 88 this year — cold.)
Wait. So "A Star Is Born" isn't in the musical category?
Well, for all the singing, "A Star Is Born" isn't really a musical in the strictest sense (the characters pour their hearts out on stage, but don't spontaneously burst into song). The film's awards season consultants asked the HFPA to place it in the drama category as there is a perception that many voters take such movies more seriously than their comedy/musical counterparts.
It's likely the right call. This decade, "The Artist" and "Birdman" are the only best picture Oscar winners to come from the Globes' "lighter" category. And you could argue that there's more drama in the interplay between Lady Gaga and Bradley Cooper in the onstage performance of "Shallow" than most movies have in their entire running time. (There might be more drama in the way Gaga sings the word "shallow" than most movies have in their running time.)
How big will "Poppins" pop?
Freshly certified by the American Film Institute as one of the 10 best movies of the year, Disney's sequel "Mary Poppins Returns" doesn't open until Dec. 19 but has been winning the hearts of guild and academy voters at screenings the past few weeks. At this year's Governors Awards — the motion picture academy event where honorary Oscars are bestowed and potential nominees work the room — several Oscar voters just had to tell me how much they loved the sequel to the beloved 1964 musical. (I humored them best I could.)
Globes nominations for best picture comedy/musical and for stars Emily Blunt and Lin-Manuel Miranda are assured. But if Rob Marshall makes the cut for director — no separate categories here, just one grouping for drama and comedy — then get ready to hear plenty of talk about the film's Oscar momentum. I'd still say to take it all with a grain of salt (or a spoonful of sugar, if you will), but "Mary Poppins Returns" has already soared higher than I would have guessed.
From 'A Star Is Born' to 'Roma': The 2019 Oscars Buzzmeter »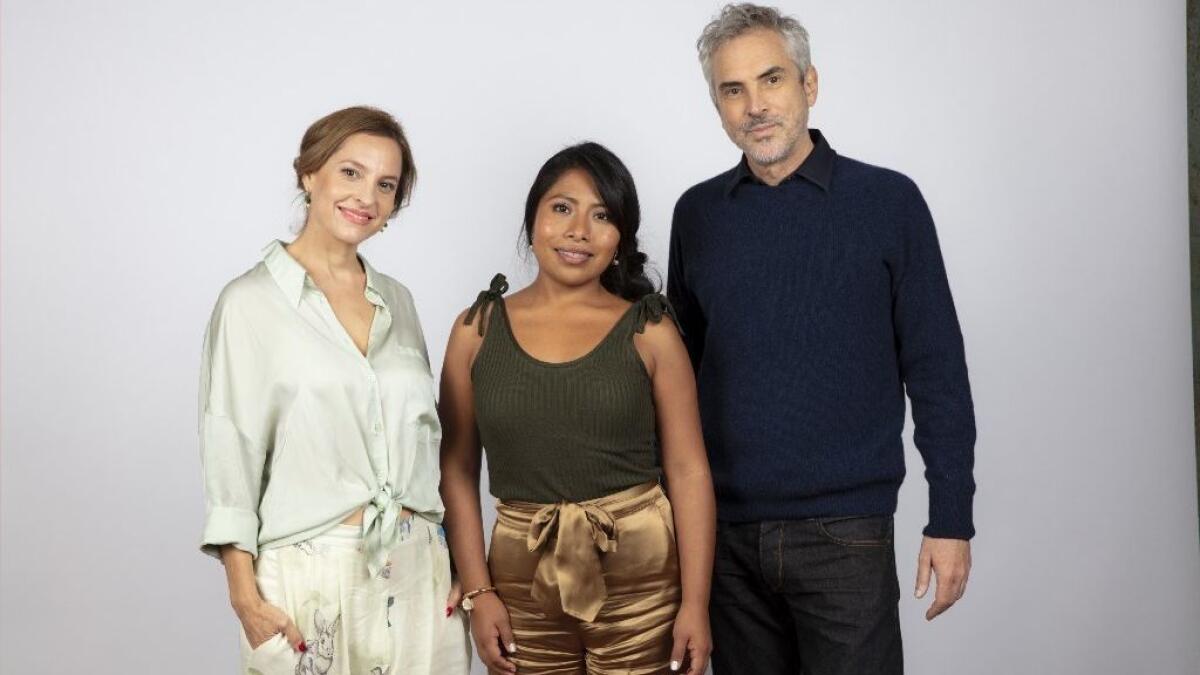 Does this mean "Mary Poppins Returns" will earn more nominations than "Roma"?
Possibly. In a strange quirk for a voting body composed of mostly international journalists, foreign-language films are ineligible for the Globes' main best picture categories. That means Alfonso Cuarón's "Roma," arguably the most critically acclaimed movie of the year, qualifies only for the group's foreign-language film category, though Cuarón and the movie's actors can, of course, be nominated as well.
Cuarón is a strong bet to be nominated for director and could be recognized in the screenplay category too, though it's just one grouping, with no division between original and adapted. The wild card is newcomer Yalitza Aparicio, the Mexican unknown who carries "Roma" with her graceful, near-silent performance. A Globes nomination would give her — and the movie — a nice boost.
What new TV shows will the Globes laud?
The HFPA loves nothing more than to be the first to anoint new television shows as worthy of awards. Last year, we'd barely met "The Marvelous Mrs. Maisel" before it won the Globe for best comedy series. And then it went on to win the Emmy over "Atlanta," which I'm mentioning here again for no other reason than to call out the Television Academy for that misguided choice.
This year's freshman class isn't exactly stellar, however. The clear standout is Amazon Studios' "Homecoming," the podcast adaptation starring Julia Roberts as a therapist caseworker caught up in military-industrial complex secrecy and paranoia.
HFPA voters will have their first crack at feting the terrific BBC America drama "Killing Eve" and righting another Emmy oversight by nominating both of its leads — Sandra Oh and Jodie Comer — and the series itself. (Only Oh made the cut with the Television Academy.)
Ryan Murphy's tender, flamboyant melodrama about New York's 1980s house ball scene, "Pose," might be another newcomer that finds favor, as could previous Golden Globe winners Jim Carrey ("Kidding") and Michael Douglas ("The Kominsky Method"). The veteran actors are well-liked, even if their shows had a little trouble finding their footing. They'll make for good company in the Beverly Hilton ballroom when the Globes are handed out on Jan. 6.
Twitter: @glennwhipp
Get the Indie Focus newsletter, Mark Olsen's weekly guide to the world of cinema.
You may occasionally receive promotional content from the Los Angeles Times.