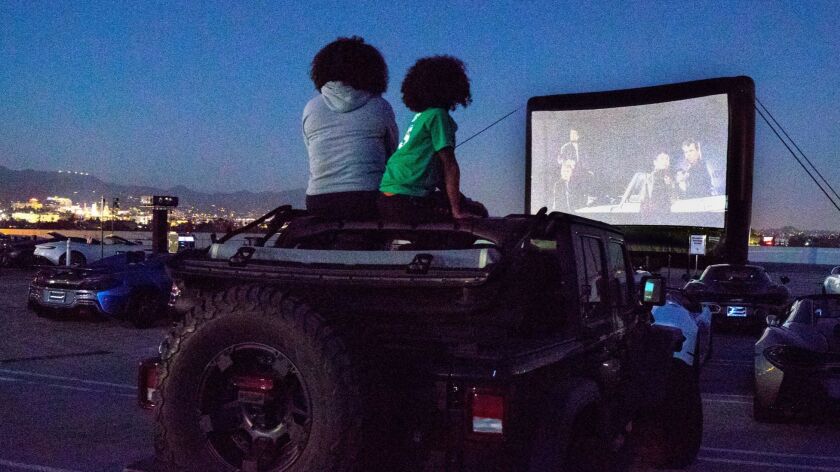 In the 1880s, Illinois farmer Arthur Fremont Gilmore migrated to Los Angeles and bought 256 acres of land in the Fairfax area.
After discovering oil on the property, the family opened a series of attractions, including the iconic Farmers Market and the Gilmore Drive-In Movie Theater, formerly located at Third and Fairfax. The drive-in had a capacity of 650 cars and operated from 1948 until 1978; it was razed five years later.
The Farmers Market still stands today, just steps from the Grove, which was developed in 2002 by real estate developer Rick Caruso. In a full-circle moment, Caruso has launched Level 8, a pop-up rooftop summer movie series atop the Grove's parking garage in homage to Gilmore's Drive-In.
"We wanted to bring back the glamour of old Hollywood by combining the joy of moviegoing with the nostalgia of drive-in movie theaters," said Jackie Levy, executive vice president of operations at Caruso. "Angelenos are continually seeking new experiences. There's a whole generation that has never had the opportunity to visit a drive-in, so in some ways, what's old is new again. This is a great opportunity for that generation to experience something that is so fondly remembered by the generation before them."
The series gets its name from the top level of the Grove's parking structure, where the films are shown. "There's no question that Level 8 as a venue is unbeatable," Levy said. "We're excited to offer our guests access to this remarkable space where they can enjoy each film against panoramic views of the glittering Los Angeles skyline with full view of the Hollywood sign."
Held in partnership with the nearby Petersen Automotive Museum and luxury car dealership O'Gara Coach Company, the series offers about 20 luxury cars, including Bentley GTCs, Rolls Royce Phantom Dropheads, Lamborghini Huracan Spyders and Aston Martin DB11 Volantes, for VIP guests to watch the films in.
Other partners include Uber, which sponsors a seated lounge for guests who've used the ride-share service, and Citi, a longtime partner of Caruso. Topo Chico provides complimentary theater snacks including popcorn, candy and soda.
"We realize the importance of modernizing the drive-in movie concept for today's audience," said Levy. The partnerships "allowed us to introduce a fun, interactive element to each screening, making it more intimate and special for our guests."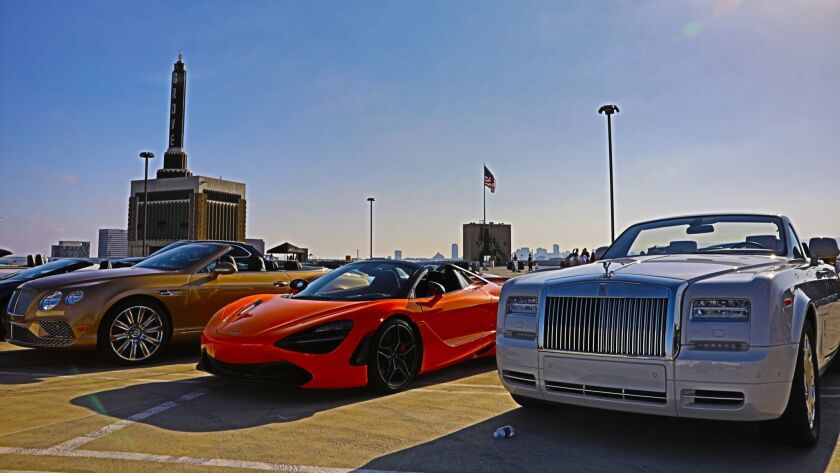 In keeping with the luxury car theme, the films (which will screen on the last Wednesday of each month through September) were chosen for their iconic wheels. "We wanted to feature a slate of films that had a little something for everyone," said Levy. "The common thread between all the films we chose is that each one showcases an iconic vehicle, a moving piece of cinematic history."
The series kicked off in June with a showing of 1978's "Grease" with the 1949 "Grease Lightning" Ford convertible on display. Future screenings will include 1985's "Back to the Future," 2013's "The Great Gatsby" and 2008's "Iron Man," with the cult favorite DeLorean "Time Machine," Gatsby's 1932 red Duesenberg and Tony Stark's 1932 flame-embellished Ford Flathead Roadster available for photo opps.
The experience is free for guests who've secured tickets on the Grove's website. Moviegoers also are welcome to sit in their own vehicles. For reservations and more information, visit TheGroveLA.com.
Level 8 Drive-In
Where: Level 8 of the Grove's parking structure
Dates: July 31, Aug. 28, Sept. 25
Time: Doors open at 6:30 p.m. Screening starts at sunset, around 8 p.m.
Price: Free
Info: TheGroveLA.com
follow me on twitter @sonaiyak
---