Indie Focus: Actions and reactions in 'American Animals,' 'Upgrade' and 'Who We Are Now'
Hello! I'm Mark Olsen. Welcome to another edition of your regular field guide to a world of Only Good Movies.
The UCLA Film and Television Archive has two vital, exciting events coming up this week. On Friday there will be the Los Angeles premiere of the restoration of "Personal Problems," the 1980 film from director Bill Gunn, best known for his "Ganja and Hess." Then on Saturday there will be a rare screening of the long television version of Ingmar Berman's masterful 1973 "Scenes From a Marriage" starring Liv Ullmann and Erland Josephson.
On Monday our Indie Focus Screening Series will present the documentary "Eating Animals," with a Q&A featuring director Christopher Quinn, co-producer and narrator Natalie Portman and writer Jonathan Safran Foer. We'll have some more screening and Q&A events coming up soon. For info and updates, go to events.latimes.com.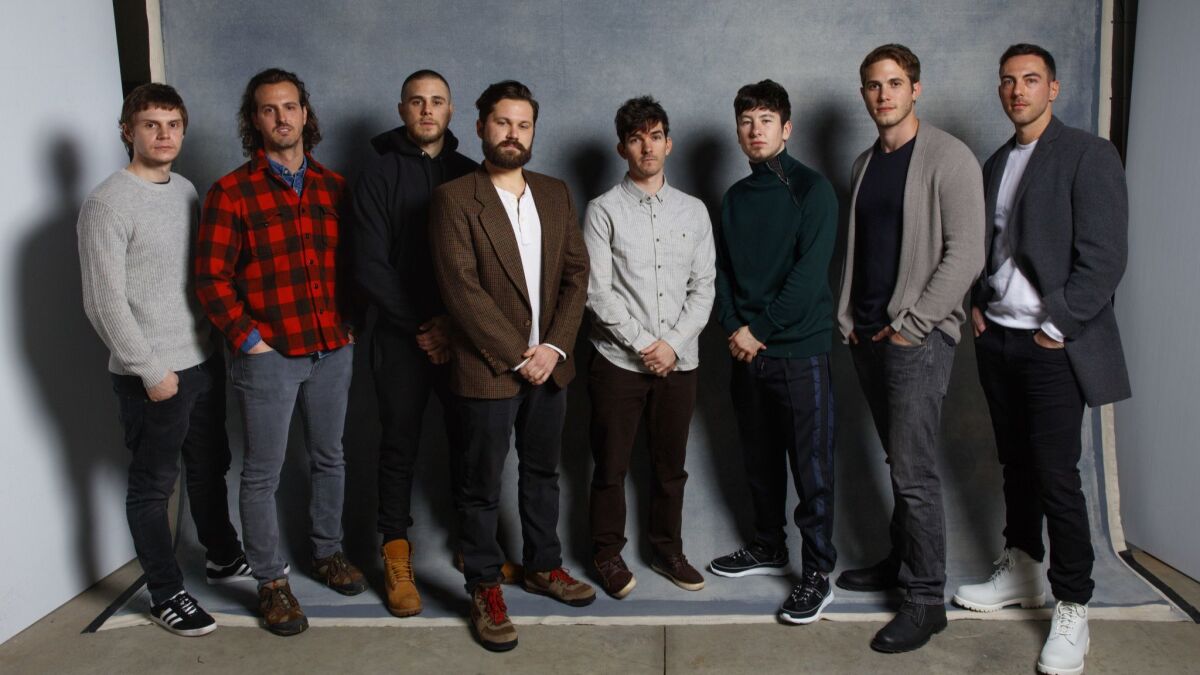 'American Animals'
Written and directed by Bart Layton, who previously made the documentary "The Imposter," the new "American Animals" is a fiction feature drawn from the true story of how four college boys tried to rob millions of dollars in rare books from a Kentucky university in 2004. The movie stars Evan Peters, Barry Keoghan, Jared Abrahamson and Blake Jenner as the would-be thieves and also features Ann Dowd and Udo Kier in supporting roles.
Kenneth Turan reviewed the film for The Times, writing, "Juggling all these elements — crossing fiction with nonfiction and making a film that is simultaneously serious, funny and unexpected — would be impressive for anyone, but for a debuting narrative director like Layton it's especially so .… While the participants in 'American Animals' only imagine they're different, the film about them is the real deal."
I spoke to Layton, Peters, Jenner and one of the real-life subjects of the story, Warren Lipka. Layton talked about the divergence between the fantasy of the robbery in the gang's heads and the harsh reality they were confronted with while actually committing the crime.
"In their minds it was 'Ocean's Eleven,' and in reality it was 'Dog Day Afternoon,'" Layton said. "And that moment when the fantasy crashes into reality should feel like, 'This isn't the movie I signed up for.'"
Reviewing for the New York Times, A.O. Scott countered that "the film, written and directed by Bart Layton, can't quite decide what it wants to be: a slick, speedy caper; a goofball comedy; or a commentary on the state of the American soul. It's none of those — a tame and toothless creature that is neither fish nor fowl."
At Vox, Alissa Wilkinson examined the film in comparison to other movies that blurred the lines between fact and fiction, noting, "By the end of the film, it's not clear that it has harnessed the power of its own narrative devices, which could stand to more effectively explore the illusions of grandeur and the boredom of the over-entertained .… There's a kernel of something interesting in the film, and it's the movement between performance and 'reality' that makes it work."
For Vanity Fair, K. Austin Collins added, "The movie is so intent on depicting a sense of damage done — to the young men's sense of themselves, in particular — that it doesn't seem to realize how the crime reads to the rest of us, who know serious true-crime fare when we see it, and who likely sense that this doesn't quite qualify."
'Upgrade'
The sci-fi horror picture "Upgrade" is written and directed by Leigh Whannell, whose credits include numerous "Saw" and "Insidious" movies, and finds him this time crafting a gritty story about a man who gambles that an experimental technology can restore his ability to walk and avenge the murder of his wife.
In his review for The Times, Justin Chang wrote, "[I]f 'Upgrade' ultimately plays like a genre exercise, it's certainly a taut, engrossing one .… Even when your brain rejects some of the plot's more preposterous formulations, it's hard to resist the sensory allure of the movie's acrobatic camera moves, its dark neon-noir palette and its moody Jed Palmer score."
The Times' Jen Yamato spoke to Whannell about the film, and they also tried out the self-parking feature on his car. As Whannell explained of the film's origins, "What was interesting to me wasn't robots; it was humans putting tech in their bodies. That idea of tech in us, and that we invite it willingly .… That's the part of me that's in 'Upgrade': This low hum of anxiety that exists under modern life."
At Vulture, Emily Yoshida called the film "a great and grimy little screw-turner of sci-fi schlock, the kind that they truly don't make anymore, the kind that would make Carpenter and Cameron proud. 'Black Mirror' will surely get thrown around as a comparison point, but 'Upgrade' is purposefully more visceral (literally, abundant with viscera) and action oriented than a latter-day 'Twilight Zone.' More importantly, its logical leaps are not in service of a more twisted and dark future vision, but rather, fun."
'Who We Are Now'
Julianne Nicholson is the kind of performer who often makes a strong impression in supporting roles, leaving viewers wanting to see more of her. Written and directed by Matthew Newton, "Who We Are Now" provides a platform for Nicholson, Emma Roberts and others to shine in a way they are often not allowed to do with its story of a woman trying to put her life and her family back together after being released from prison.
Reviewing the film for The Times, Noel Murray said, "Nicholson and Roberts aren't playing a clichéd version of this story. Nor is anyone else in a well-stocked supporting cast, which includes Jimmy Smits, Jess Weixler and Zachary Quinto. Every minute of this film is absolutely mesmerizing. It's as if the stars are commanding the audience's attention, knowing they may never get this kind of showcase again."
For the New York Times, Glenn Kenny wrote that the film "is about the idea of justice in everyday life, as epitomized by a speech Mr. Smits's character gives to the doubtful Jess in a key scene. Superbly acted and confidently shot, 'Who We Are Now' delivers substantial dramatic pleasures while posing pertinent questions."
Email me if you have questions, comments or suggestions, and follow me on Twitter @IndieFocus
Get our L.A. Goes Out newsletter, with the week's best events, to help you explore and experience our city.
You may occasionally receive promotional content from the Los Angeles Times.