Newsletter: Indie Focus: Exceptional new releases with 'Moonlight,' 'The Handmaiden' and 'Christine'
Hello! I'm Mark Olsen. Welcome to your weekly field guide to a world of Only Good Movies.
This might be one of the best weekends for new movies that we see all year. With the highly anticipated, much talked-about films "Moonlight," "The Handmaiden" and "Christine" all hitting theaters, there are some great options for going to the movies.
And that's not even to mention such wide-release movies as "Jack Reacher: Never Go Back" and "Boo! A Madea Halloween." I haven't actually seen either, but I'm a fan of the first "Jack Reacher" movie and also of Tyler Perry, so I hope to catch them soon. (And be sure to check out my colleague Greg Braxton's recent guided tour of Perry's new Atlanta studio.)
This week's screening events for the documentaries "The Eagle Huntress" and "We Are X" both elicited standing ovations when the film's subjects entered the room for a Q&A. They both felt like special, one-of-a-kind moments.
And we've got more events coming up soon. For more information, check in with events.latimes.com
'Moonlight'
A film that has been met by an impassioned response from its very first public screenings, Barry Jenkins' "Moonlight" redefines the coming-of-age film by telling the development of one young man's life through three discrete episodes, each evolving out of the last. The film's unusual structure gives a startling sense of how a person becomes who they are, the accumulation of events that make us whole.
As Kenneth Turan says in his review for The Times, "'Moonlight' is magic. So intimate you feel like you're trespassing on its characters' souls, so transcendent it's made visual and emotional poetry out of intensely painful experience, it's a film that manages to be both achingly familiar and unlike anything we've seen before."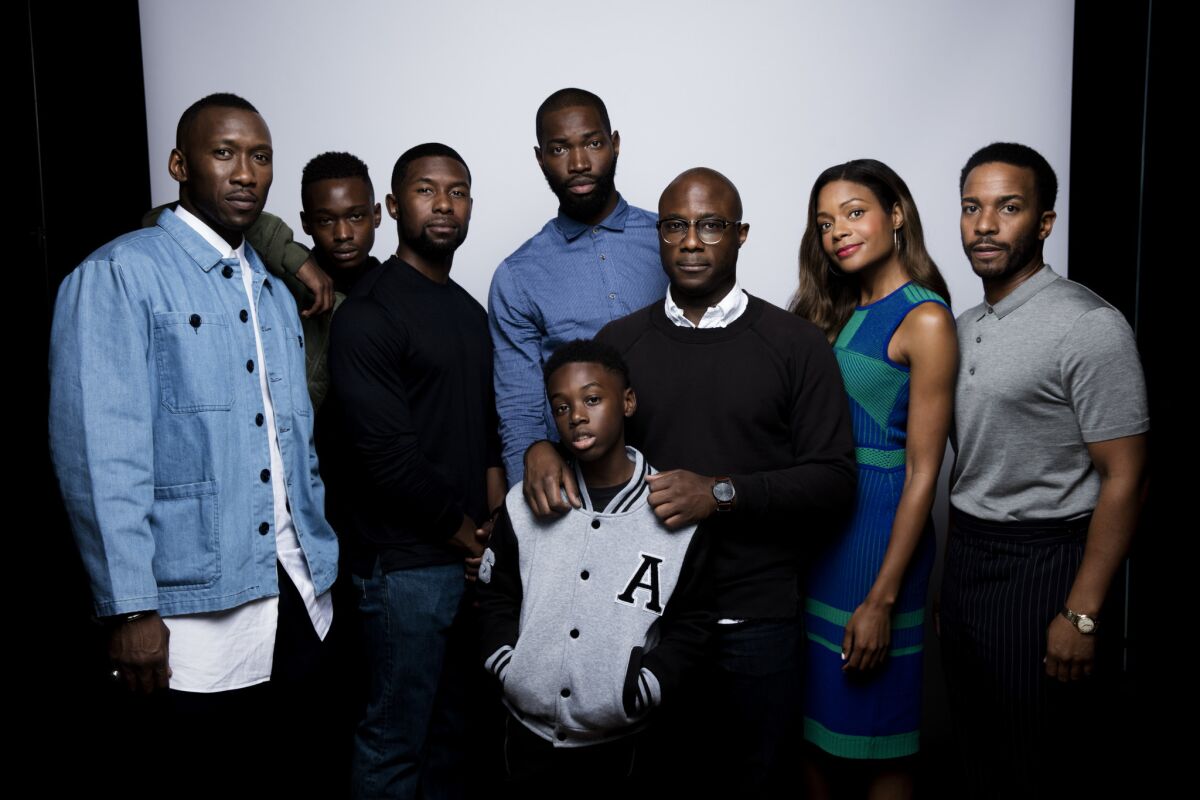 Under a headline asking "Is this the year's best movie?" in the New York Times, A.O. Scott called the film "a disarmingly, at times almost unbearably personal film and an urgent social document, a hard look at American reality and a poem written in light, music and vivid human faces."
For The Times, Rebecca Keegan spoke to Jenkins, who has been caught in a swirl of emotion-packed screenings and a rising industry profile since the film first played at the Telluride Film Festival last month.
"Having grown people cry in my arms at screenings is a surreal experience," he said. "I'm still processing whatever the hell it is that's happening with the film right now."
The Times' Tre'vell Anderson spoke to Tarell Alvin McCraney, on whose play "In Moonlight Black Boys Look Blue" the movie is based. Of the three-part structure also used in the movie, he said "I was trying to figure out what little me and middle me and grown me were doing that was the same and not the same. What patterns I was repeating, what is this life?"
At MTV, Ira Madison III placed the film within the context of contemporary black masculinity and LGBT narratives, writing "This is where the story 'Moonlight' tackles becomes bold. … For white queer narratives, there's a sense of wanting to belong in the white heteronormative world that oppresses them. … But for black queer narratives, there's not only the struggle of accepting your queer identity, but also navigating a world that has little use for the black body."
'The Handmaiden'
Filmmaker Park Chan-wook returns to his native South Korea with "The Handmaiden," though by way of adapting the Victorian England-set novel "Fingersmith." From this Park crafts a tricky, surprising story set during the 1930s and the Japanese occupation of Korea. It is a romance, a con-artist story and much more.
In his review for The Times, Justin Chang declared the film "an unexpected delight. Without sacrificing his taste for psychosexual perversity or his flair for violent grace notes, Park has given us a teasingly witty and elegant puzzle-box of a thriller whose pleasures are rooted not in visceral shock but in narrative surprise, and which wisely opts to seduce rather than pulverize its audience."
In the New York Times, Manohla Dargis wrote, "The art of the tease is rarely as refined as in 'The Handmaiden.' … The same could be said of the director Park Chan-wook, whose attention to voluptuous detail — to opulent brocades and silky robes, luscious peaches and creamy shoulders — turns each scene into an invitation to ooh, aah and mmm. This is a movie that tries to ravish your senses so thoroughly you may not notice its sleights of hand."
I spoke to Park for a story on the movie. "Everything becomes a game of perception," he said of the film's fleet, hard-to-pin-down storytelling. "Rather than to say it's a difficult thing to navigate, it is fun to deal with. Not only for me as a filmmaker but for the audience to see that and engage in that game."
'Christine'
Directed by Antonio Campos and with a much-talked-about lead performance from Rebecca Hall, the film "Christine" examines the life and death of Florida TV newscaster Christine Chubbuck, who shot herself live on the air in 1974.
(Yes, this is the same story also recently explored in Robert Greene's documentary "Kate Plays Christine." The two films would make for a thrilling double-bill, the only question would be the best order in which to play them.)
In his review for The Times, Justin Chang called Hall's performance "brilliant" and highlighted the film's internal dynamics by adding, "A film of tough, roiling emotions and teasing insights into the gender dynamics and corporate media strategies of the '70s, the movie shrewdly embodies the very tensions that Chubbuck finds herself wrestling with — caught between her desire to do respectable, socially relevant work and her newsroom's 'if it bleeds, it leads' philosophy."
At Time, Stephanie Zacharek noted of Hall: "It's tempting for a performer who's playing an alienated, isolated person to just put up a wall of inscrutability. But Hall's Christine draws us closer rather than pushing us away — this performance is a quiet, multidimensional marvel."
At the New Republic, Miriam Bale wrote about both Christine Chubbuck films, noting of Hall's performance in "Christine" that "It's an endearing and haunting performance, one that subtly conveys a woman who's become disconnected from herself and those around her, while trying hard to assert herself. It's sad and scary, and feels very real."
I'll be publishing a story of my own soon on Campos, Hall, writer Craig Shilowich and the film. As Hall said to me, "There are many ways to tell this story, this is the version that I think is a film about sensationalism that isn't sensationalistic … her story is fascinating on so many levels because it doesn't elicit a simple response."
'In a Valley of Violence'
Ti West has long been one of the most inventive filmmakers working within the space of low-budget horror movies, playing with the rules of genre in films such as "The House of the Devil" and "The Sacrament." Now he takes on the classic revenge western with "In a Valley of Violence." Yes, the film features fine performance from the likes of Ethan Hawke, John Travolta and Taissa Farmiga, but most likely you will leave the movie talking about Jumpy the Dog. (Honest.)
In his review for The Times, Michael Rechtshaffen likewise singled out Jumpy, calling his "one of the year's more affecting canine performances."
At his Movable Fest site, Stephen Saito interviewed West, who said of Jumpy "It was easy in every step of the way working with Jumpy and because of that, it made me go, 'I know Jumpy can put his paw over his face, so I'm going to write a scene where that happens. I know Jumpy can wrap himself up in a blanket, so I'm going to write a scene where that happens.' So after I cast Jumpy, I did a pass on the script giving Jumpy more character."
Email me if you have questions, comments or suggestions, and follow me on Twitter @IndieFocus.
---
Get the Indie Focus newsletter, Mark Olsen's weekly guide to the world of cinema.
You may occasionally receive promotional content from the Los Angeles Times.