Indie Focus: Trying times in 'The Sisters Brothers,' 'Fahrenheit 11/9' and 'Colette'
Hello! I'm Mark Olsen. Welcome to another edition of your regular field guide to a world of Only Good Movies.
The LA Film Festival is currently on until the 28th and there is still lots to see, including Melanie Laurent's "Galveston," Jimmy Chin and Elizabeth Chai Vasarhelyi's "Free Solo," Hannah Fidell's "The Long Dumb Road," Rupert Everett's "The Happy Prince," Ike Barinholtz's "The Oath," Gabriel Taraboulsy's "Funke" and Suzi Yoonessi's "Unlovable."
Jen Yamato spoke to festival director Jennifer Cochis about the event's ambitious move to a spot in the fall and commitment to connecting with local audiences.
"I am trying to create a film festival that's accessible for Los Angeles," Cochis said.
The genre-oriented Beyond Fest begins this week as well, and has quickly become an essential part of the annual LA movie calendar. The program includes new films such as Gaspar Noé's "Climax," Steve McQueen's "Widows," David Gordon Green's "Halloween," Emma Tammi's "The Wind" and Drew Goddard's "Bad Times at the El Royale," plus retrospective titles like "Akira," "The Wicker Man," "Flash Gordon" and "Liquid Sky."
The real treat, though, will be 13 films by David Cronenberg with the filmmaker in a rare series of LA appearances. I spoke with him recently for an interview that will be publishing soon. The series is something of a reclamation of his past, or as he said to me, "I did think, 'OK, if I do Beyond Fest I'm really embracing my roots as a horror filmmaker, as a genre filmmaker.' And I have no problem with that at all. … This will be fun to dive back into that murky pool and splosh around in it with the fans."
We'll have new screening and Q&A events of our own soon. For info and updates on future screenings, go to events.latimes.com.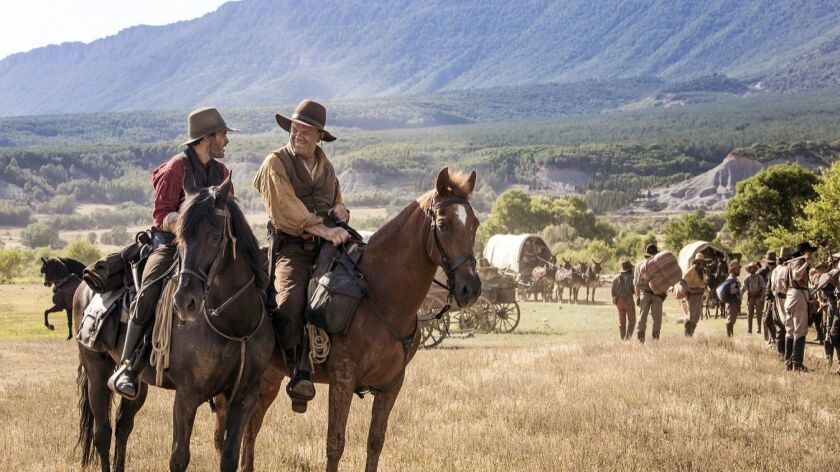 'The Sisters Brothers'
The English-language debut of acclaimed French filmmaker Jacques Audiard, "The Sisters Brothers" is an adaptation of the novel by Patrick deWitt set in the American Old West. And it is indeed the story of two brothers with the last name Sisters (played by John C. Reilly and Joaquin Phoenix) who are hired killers thinking about a change in vocation. The cast also includes Jake Gyllenhaal, Riz Ahmed and Rutger Hauer.
In his review for The Times, Justin Chang called the film "a funny, stirring, brutal story, before adding, "In the end, Audiard plays to his past strengths as a poet of wounded masculinity; in its most touching moments, 'The Sisters Brothers' is like a hangout movie on horseback. As in his earlier thrillers including 'A Prophet' and 'The Beat That My Heart Skipped,' the director brings out a deep, lingering ache in the material, exposing the vulnerability beneath these men's rawhide-tough surfaces.
I spoke to Audiard, Riley and Phoenix for a story that will be publishing soon. On persuading Audiard to come onto the project, Riley, a producer on the film along with his wife, Alison Dickey, said, "One of Jacques' main concerns to begin with was, 'Why should we do this? Why does the world need another western?' And then we set about finding the film inside of the book and inside that film was all kinds of questions about masculinity and the future and optimism and facing your past and dealing with your family relationships and what is predetermined and what is a choice. And this idea that even the worst people or people who have done terrible things are still capable of transformation and change. I think that's a really cool idea."
For the New York Times, Manohla Dargis noted "Despite Mr. Audiard's embrace of contemporary norms that would have been out of place in a [John] Wayne western — the amusingly deployed coarse language, the shots to the head and sprays of blood — he isn't attempting to rewrite genre in 'The Sisters Brothers,' which is one of this movie's virtues, along with its terrific actors and his sensitive direction of them."
At Vanity Fair, K. Austin Collins wrote that "The movie turns out, in the end, to have an idealized sense of closure in mind, one you both can and cannot see coming. It's the richest scene here — tactile and observant, a humble feat of patient design that outdoes all that came before it. Maybe it's too grand — but at least the movie seems to know it."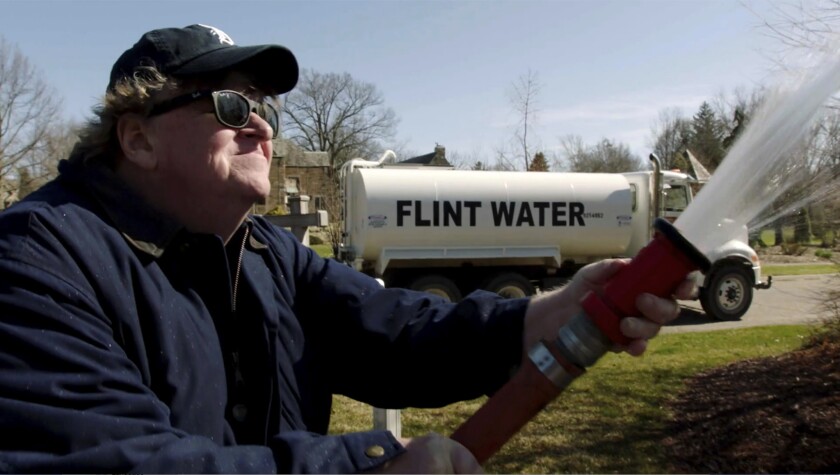 'Fahrenheit 11/9'
Any new film by documentarian and provocateur Michael Moore is greeted by a certain amount of expectation, but it seems especially high for his new "Fahrenheit 11/9," if for no other reason than its apparent connection to his 2004 film "Fahrenheit 9/11," still the highest-grossing documentary of all time. The new film has been advertised as a piece of anti-Trump agit-prop, and it is, but it is also a call to get out the vote ahead of the midterm elections for progressive candidates and those who fight against the current systemic political stalemate.
In his review of the film for The Times, Robert Abele wrote, "It's a brutally honest kickoff for what this loved/hated populist rabble-rouser intends to be a dire warning, and a messy, impassioned (and yes, fitfully jokey) call to action that shames the left as often as it demonizes the right, and leaves one feeling that the best course for anyone concerned about progressive causes, feckless politicians and the future of democracy is to get out and fight."
At the New York Times, Glenn Kenny wrote, "'Fahrenheit 11/9' has a structure of peaks and valleys. There is an abundance of 'America is screwed' material. The sections on the Flint water scandal are infuriating. The 'he was robbed' threnody for Bernie Sanders is considerably less compelling, but it raises valid points."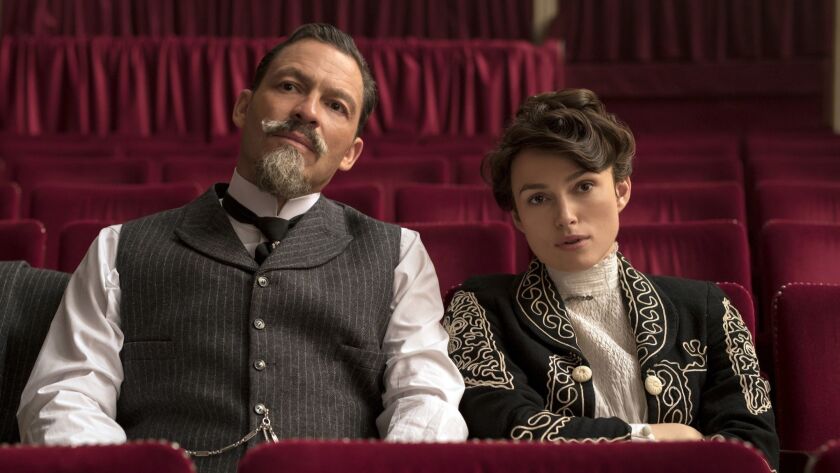 'Colette'
Directed by Wash Westmoreland, "Colette" is the story of the French woman who wrote under that name, who went from a small village to international acclaim based in Belle Epoque Paris while living life decidedly on her own terms. With a zesty, expressive performance by Keira Knightley, the movie also features Dominic West as her roguish, manipulative and domineering husband. And the hats, gloves and overall costume design by Andrea Flesch are a beautiful wonder to behold.
In his review for The Times, Justin Chang wrote, "The political resonance of Colette's story transcends barriers of language, culture and milieu, which doesn't entirely offset the awkwardness of hearing a distinctly French story performed in English. Still, after watching Knightley and West match wits and tempers for the better part of two hours, sparring with a precision and vigor that recalls the great drawing-room comedies of yesteryear, it's hard not to appreciate the obvious benefits of this compromise."
Amy Kaufman spent time with Knightley, who spoke candidly about her own self-doubt and struggles to balance the demands of both her job and raising her infant daughter. The production even pushed back a year to allow her to take a break from her hectic schedule.
As Knightley put it to Kaufman, "[For men] we go, 'Oh, gosh, yes, absolutely, of course you don't see your children when you work, because you've got to concentrate.' Can you imagine a woman saying that? Can you imagine if I went, 'Oh, no, I just never see her'?"
And I spoke to Knightley, Westmoreland and West for a video interview when the film premiered earlier this year at the Sundance Film Festival.
Email me if you have questions, comments or suggestions, and follow me on Twitter @IndieFocus.
SIGN UP for the free Indie Focus movies newsletter »
---
From the Emmys to the Oscars.
Get our revamped Envelope newsletter, sent twice a week, for exclusive awards season coverage, behind-the-scenes insights and columnist Glenn Whipp's commentary.
You may occasionally receive promotional content from the Los Angeles Times.