Indie Focus: Getting along in 'Wildlife,' 'Can You Ever Forgive Me?' and 'Thunder Road'
Hello! I'm Mark Olsen. Welcome to another edition of your regular field guide to a world of Only Good Movies.
We don't often have occasion to mention art exhibitions here, but a new show at Los Angeles' Museum of Contemporary Art deserves special recognition. As a writer on film, Manny Farber has been deeply influential on generations of critics, not least for his epochal 1962 essay "White Elephant Art vs. Termite Art." The new show "One Day at A Time: Manny Farber and Termite Art" showcases Farber's post-criticism career as a painter until his death in 2008.
In his review of the exhibition, Times art critic Cristopher Knight noted, "In our often soulless, lopsided celebrity culture, it's an anti-celebrity show — iconoclasm for an age swamped by icon worship. 'One Day' celebrates the virtues of the quotidian, the curious and the eccentric. And it is built around a superlative exemplar of those irreverent qualities."
Nothing if not an iconoclast himself, David Gordon Green may not be the first filmmaker you would think of for the latest iteration of the venerable "Halloween" series, but that's part of what makes his, er, stab at the franchise such a surprise. The new movie is meant as a direct sequel to John Carpenter's 1978 original film, with star Jamie Lee Curtis returning to her role as Laurie Strode, here depicted as a woman haunted for all these years by the events she suffered through at the hands of ruthless killer Michael Myers.
In his review for The Times, Justin Chang wrote, "[F]or all the weaponry on hand, the emphasis here is rightly on the girl. With a canny balance of empathy and exploitation, 'Halloween' treats its heroine's lingering trauma with surprising emotional realism and only a hint of comic exaggeration."
As Green said to me recently, "It's important to me personally to identify emotionally with these characters… And I'm convinced that that's what makes a horror film like this stand out as opposed to just a supernatural cacophony of grotesqueness, because there's emotional substance that we can relate to. It's what drew me to Carpenter's film in the first place, is that I may not have lived in Haddonfield, Ill., in 1978, but these characters, these situations, this environment feels familiar to me."
We have a screening this Thursday (Oct, 25) of "The Happy Prince," on the life of Oscar Wilde, plus a Q&A with film's writer, director and star, Rupert Everett. This one has come together so quickly that as we're putting out this week's newsletter, the details are not yet up on the events page, so check events.latimes.com for updates.
'Wildlife'
Adapted from the novel of the same name by Richard Ford, "Wildlife" is the directing debut of actor Paul Dano. Adapted by Dano and Zoe Kazan — a couple in real life — the film is a stylistically spare, emotionally unsparing look at family, marriage and self-image, as Carey Mulligan gives a galvanizing performance as a woman in free-fall as her husband (Jake Gyllenhaal) leaves her alone with their son (Ed Oxenbould) to go fight a wildfire in early 1960s Montana. Bill Camp plays a local businessman with whom Mulligan's character of Jeanette engages in an extended flirtation.
In his review for The Times, Justin Chang wrote, "If the drama feels somewhat studied — though it would be more accurate to say that it simply feels thought through — it is never airless or constricted. The story maintains a steady emotional pulse alongside its meticulous accrual of details, from the autumnal chill that eventually descends on Great Falls to the stylish shades of red and green that begin to seep into Jeanette's wardrobe."
I'll be publishing a profile of Mulligan soon. She told me, in discussing what drew her to the character, "I, as a woman, would like to see a woman on-screen that I can relate to and I can understand and I can see fallibility and flaws and all the things that I know that I have .… And that's what was so exciting about Jeanette, all the possibility and all the craziness and all the messiness of our lives."
At Slate, Inkoo Kang added, "There's something feminist about Jeanette's one-sided ending of an unhappy marriage, of course, but the character is much more interesting for being an uncategorizable mystery, often to herself. She's practical, except when she's impetuous. Her aspirations are simultaneously lofty and grubby. When she gets drunk in the older divorcee's home, openly flirting with the businessman in a barely-there dress in front of her confused and quietly seething son, Jeanette is hard to empathize with, and harder still to judge."
For the Associated Press, Lindsey Bahr said the film "gives particular care to the character of Jeanette and I'd be hard-pressed to name a better performance from Mulligan, who is powerful and vulnerable and can walk right up to that line of female rage without slipping into caricature or stereotype .… It's one worth making the trip to the theater for. 'Wildlife' isn't just a great first film, it's a great film."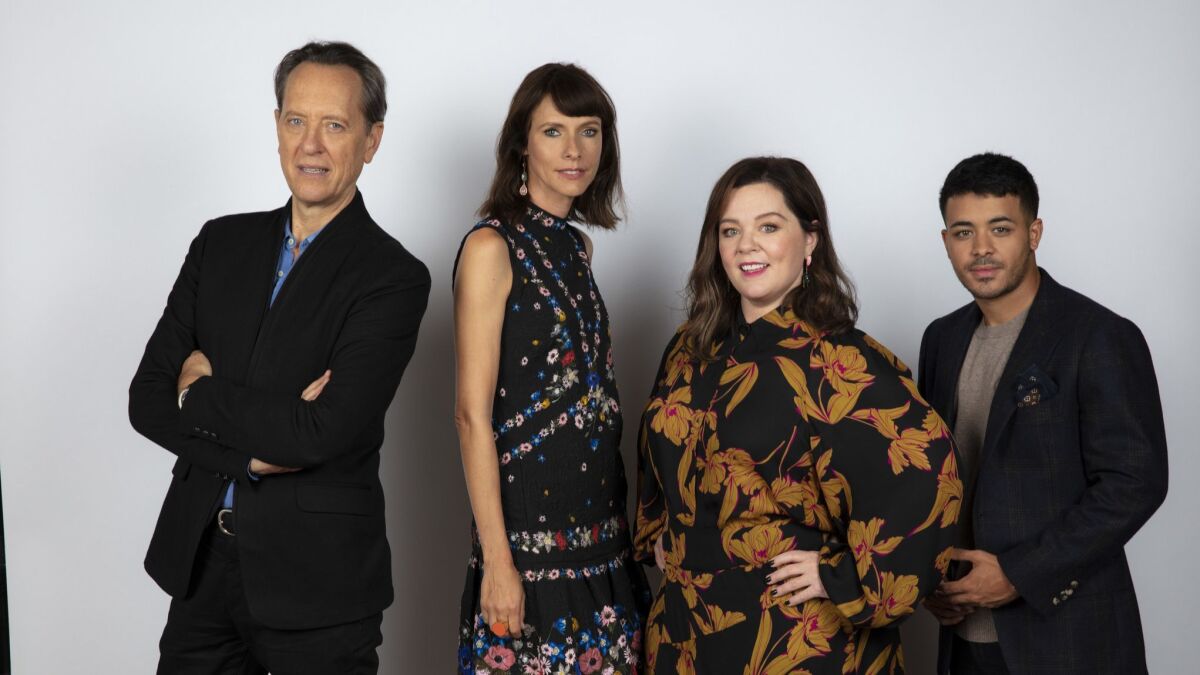 'Can You Ever Forgive Me?'
Directed by Marielle Heller, from a screenplay by Nicole Holofcener and Jeff Whitty, "Can You Ever Forgive Me?" is based on the true story of Lee Israel, a struggling writer who finds a sideline in creating forged letters from literary figures such as Dorothy Parker and Noel Coward. Melissa McCarthy stars as Israel along with Richard E. Grant as Israel's friend and accomplice in a film that is both a fun little caper and a moving portrait of loneliness.
Reviewing the movie for The Times, Kenneth Turan said, the film "demands not our love for this supremely difficult person but rather our respect for her defiance of an unsympathetic world. With such an impeccable presentation of such an intransigent personality, it is hard to deny her that.
For the New York Times, A.O. Scott added, "Partly because the movie is so splendidly and completely absorbed in its characters and their milieu, it communicates much more than a quirky appreciation for old books and odd readers. Ms. Heller and the screenwriters, Jeff Whitty and the great Nicole Holofcener, resist the impulse to moralize about Lee's misdeeds or to sand down her rough edges."
At rogerebert.com, Monica Castillo noted, "The range in McCarthy's performance cannot be overstated. At almost every turn, her character gives the audience plenty of reason not to like her. Yet, with Heller's sympathetic approach and McCarthy's acting, the movie humanizes her beyond caricature."
For the Chicago Tribune, Katie Walsh wrote, "Although the title begs forgiveness, it's laced with a sense of Israel's signature biting sarcasm. Can you forgive her for trying? Can you forgive her for surviving? The real question is: Can she ever forgive us, for underestimating her worth?"
'Thunder Road'
The debut feature for its writer/director/star Jim Cummings, "Thunder Road" won the grand jury prize earlier this year at the South by Southwest Film Festival. The movie concerns a small town police officer (Cummings) who after the death of his mother struggles to hold his life together. Overcome by grief and seeing his own wife and young daughter slipping away from him, he reels through escalating emotions.
The Times' Justin Chang was on the jury which gave the film that SXSW prize. So it's perhaps no surprise that his review is deeply felt, calling the film "the work of a fully formed and startlingly confident new voice in independent American filmmaking. Much like its first chapter, this 'Thunder Road' fluctuates wildly — yet with exquisite control — between cringe-tastic comedy and unshakable grief. It seems to invite a similarly wide range of reactions from the viewer as it both indulges, and implicitly critiques, a spectacle of white male self-pity."
At Rolling Stone, David Fear called the movie "the sort of experience where you walk out of a theater 90 minutes later and feel like something inside you has shifted two klicks to the left. All the redemption it can offer is beneath the dirty hood of this flawed hero. And at its best, Cummings' character study makes you feel like that's all you really ever need out of a story. It's that good."
For the Ringer, Sean Fennessey wrote about what the fate of the film means for independent filmmakers in 2018, noting, "Cummings doesn't talk about his movies like an agonized artiste. 'Thunder Road' is an affecting, strange movie about a confused man that finds its creator channeling his own feelings of loss and regret. But in discussing it with him, you wouldn't get the impression it's any more meaningful than the werewolf movie he's trying to get made, or the outer space sitcom he sold last year. Cummings is a Hollywood hustler in a true and rigorous sense. He just wants to keep moving, making more things."
Email me if you have questions, comments or suggestions, and follow me on Twitter @IndieFocus.
---
Get our L.A. Goes Out newsletter, with the week's best events, to help you explore and experience our city.
You may occasionally receive promotional content from the Los Angeles Times.