Hello! I'm Mark Olsen. Welcome to another edition of your regular field guide to a world of Only Good Movies.
Our recent Envelope Roundtable for supporting actresses published this week. Amy Kaufman and I sat down with Allison Janney from "I, Tonya," Laurie Metcalf from "Lady Bird," Holly Hunter from "The Big Sick," Nicole Kidman from "The Beguiled," Hong Chau from "Downsizing" and Michelle Pfeiffer from "mother!"
It was a particularly exciting conversation — with Kidman, Hunter and Metcalf comparing the directing styles of Sofia Coppola, Jane Campion and Greta Gerwig, Pfeiffer discussing her time away from Hollywood and the decision to come back, Chau explaining her unexpectedly controversial new character and Janney talking about scenes with a bird as a partner. All I know is I got to ask Hunter to talk about "Broadcast News" and the modern rom-com, so there's at least that.
The conversation had its serious moments as well, as the topic inevitably turned to the scandals of harassment and abuse that have been causing a massive shake-up in Hollywood. As Pfeiffer said, "I've had conversations with women that I've known my whole life. They know all of my secrets. But we've never had these conversations. And we're having them now. … I think that it will never be normalized again in the same way. And this veil of shame has been lifted. So I see a seismic change happening, and I'm very excited about it."
We've got two more screening events coming up this week. On the 18th, The Times' Glenn Whipp will moderate a Q&A after "Darkest Hour" with director Joe Wright and star Gary Oldman. On the 19th is an event for "Film Stars Don't Die In Liverpool" that was rescheduled during the recent wildfires. The Times' Justin Chang will moderate a Q&A with actors Annette Bening and Jamie Bell. We should have more coming up soon, so for updates on future events, go to events.latimes.com.
'The Year in Review'
The culture writers of the Los Angeles Times pulled together a package of stories trying to make sense of and find meaning in the wild, exhausting year that was 2017. From movies and TV to music, theater, art and architecture, it was a lot to take in.
The Times' Jeffrey Fleishman twined the year in entertainment and politics. "As Trump sharpened the intersection of celebrity and politics, art and film were often bested by an increasingly toxic reality," he wrote. "Around-the-clock news and churning social media — an ether of self-expression and selective journalism that further eroded the reach of networks and cable — were more riveting, if less redemptive and poetic, than the imaginations of our most clever and inventive screenwriters and showrunners."
Kenneth Turan's top films of the year included "The Shape of Water," "Dawson City: Frozen Time," "The Post," "Dunkirk," "Call Me By Your Name," "Lady Bird," "The Meyerowitz Stories (New and Selected,)" "The Big Sick," "Foxtrot," "Norman: the Moderate Rise and Tragic Fall of a New York Fixer," "Hostiles," "Wind River" and "Three Billboards Outside Ebbing, Missouri."
Kenny also bemoaned the state of Hollywood films aimed at adults, saying, "Hollywood's legacy as a creator of popular entertainment is one I take seriously, and some of my favorite moments in cinema have been spent watching hugely popular movies I loved as much as anyone. … But it becomes more and more evident each year how little interest in or capacity to make films like 'The Godfather' or 'Jaws' remains within studio walls."
Justin Chang wrote up a best-of list as well, including "Call Me By Your Name," "The Florida Project," "Phantom Thread," "mother!" "Ex Libris: The New York Public Library," "Columbus," "A Quiet Passion," "Brawl in Cell Block 99," "Lady Bird, "Graduation," "War for the Planet of the Apes" and "Dunkirk."
Of the year, Justin wrote, "A lot of walls came crashing down in the American movie industry this year, mostly for the better, though often in ways that made us feel a whole lot worse. … The satisfaction of seeing justice being done was matched and ultimately eclipsed by the horror of realizing just how significant the damage was, and how long so many victims had been forced to suffer in silence. Those of us who write about the movies couldn't help but consider the matter of our own silence — our tendency to brush over uncomfortable matters and look the other way, or to avoid the eternally challenging question of whether we can separate the quality of the art from the misdeeds of the artist."
Jen Yamato and Tre'vell Anderson surveyed the year in movies from the standpoint of diversity, representation and inclusion. As Jen pointed out, as much as this may be the year "Moonlight" won the Oscar for best picture, it is also the year of Scarlett Johansson starring in "Ghost in the Shell."
As Tre'vell put it, "If I'm giving Hollywood a grade, it's going to be an 'I' for incomplete. There's still more work to be done."
And I wrote a top 10 (plus 10) list of my own, with "Mudbound," 'The Shape of Water," "The Florida Project," "Phantom Thread," "The Meyerowitz Stories (New and Selected,)" "Lady Bird," "Okja," "Get Out," "The Disaster Artist" and "The Square."
As I noted, "One of the things I have been thinking about most while looking back on my year in movies is the audience, or more accurately audiences, those random roomfuls of other people with whom I shared in something. Laughing, screaming, rapt, anxious — the communal aspect of moviegoing took on a deeper resonance
"On an entirely personal level, going to the movies made me feel better this year. I will continue to think of these movies, even as I also continue to think of those audiences, those people, those shared experiences. I am grateful to these movies for bringing me closer to others, on-screen and off. It won't be the movies that get us through. It will be us, together."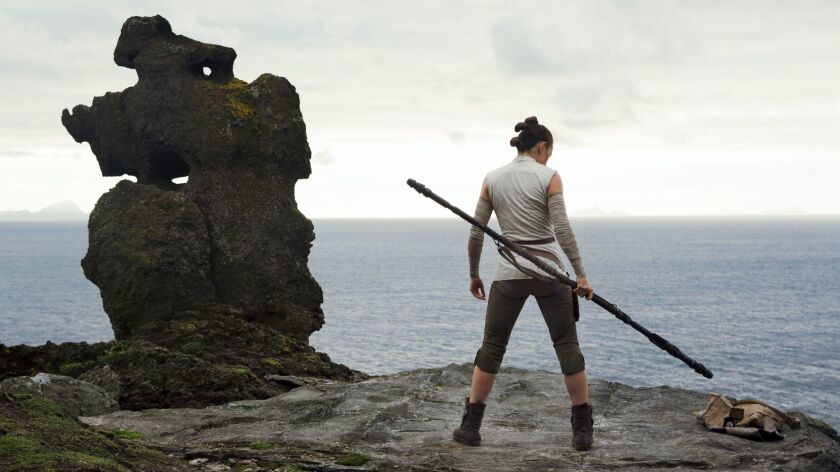 'Star Wars: The Last Jedi'
Yes, a new "Star Wars" movie is the kind of cultural juggernaut we typically avoid talking about here. But "Star Wars: The Last Jedi" is something special, that rare film that manages to be both big and intimate, a roaring crowd-pleaser with careful emotional details. Written and directed by Rian Johnson — who emerged from Sundance with his debut "Brick" in 2005 — the film picks up from "The Force Awakens" and moves its characters, old and new, to exciting, unexpected places by blending wit and maturity, wonder and wisdom.
In his review for The Times, Justin Chang wrote, "It's the series' eighth official episode and easily its most exciting iteration in decades — the first flat-out terrific 'Star Wars' movie since 1980's 'The Empire Strikes Back.' It seizes upon Lucas' original dream of finding a pop vessel for his obsessions — Akira Kurosawa epics, John Ford westerns, science-fiction serials — and fulfills it with a verve and imagination all its own. … Johnson is a pop savant steeped in 'Star Wars' arcana, and you can sense his reverence for the legacy with which he's been entrusted."
At the New York Times, Manohla Dargis acknowledged the challenges — both artistic and commercial — of making something like a "Star Wars" picture and noted, "Mr. Johnson can make you forget about those issues as well as the franchise's insistent obligations; it also seems like he had a good time at work."
She added, "Mr. Johnson's use of deep red is characteristic of how he turns ideas into images, most vividly with a set that looks like something Vincente Minnelli might have dreamed up for a Flash Gordon musical with Gene Kelly. When that set becomes the backdrop to a viscerally exciting fight, all the red abruptly evokes the spilled blood that this otherwise squeaky clean series insistently elides."
There has been so much terrific writing already about the film. The Remezcla site brought together Latino film critics to share their perspectives on the movie. At the Ringer, Sean Fennessey wrote about Adam Driver's Kylo Ren character as the kind of movie villain we rarely see anymore. And at VanityFair.com, Joanna Robinson explored how "The Last Jedi" is the sexiest "Star Wars" movie yet.
For The Times, Jen Yamato turned in a handy character guide for anyone struggling to distinguish their Rey from their Rose Tico. And Jen soon will be publishing an interview with Johnson about creating his inclusive, feminist vision of the "Star Wars" universe.
Email me if you have questions, comments or suggestions, and follow me on Twitter @IndieFocus
---