Q&A: New film academy President John Bailey on diversifying Hollywood: 'I've been involved where it really counts'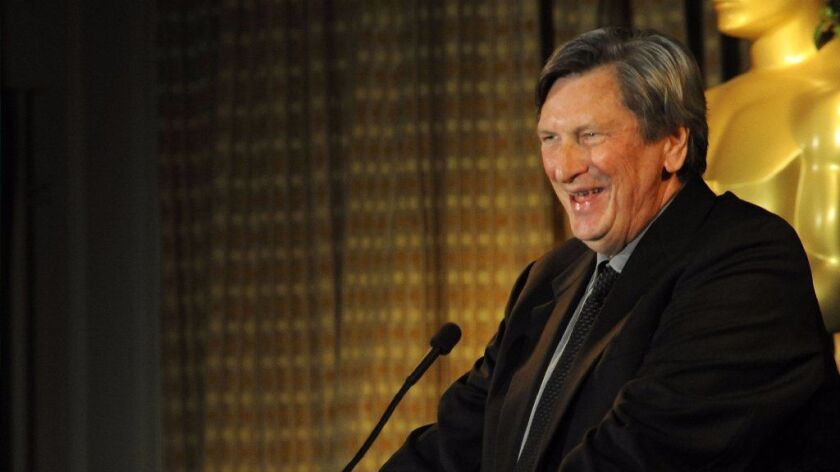 Two days after he became president of the Academy of Motion Picture Arts and Sciences, John Bailey celebrated his 75th birthday. He and his wife of 45 years, Oscar-nominated film editor Carol Littleton, enjoyed a late dinner together once she arrived home from work. The next day, Bailey presided over his first duty as president, the graduation of interns from the Academy Gold mentoring program.
Then he drove out to Arleta, where he stood in line at the DMV for four hours to renew his driver's license.
"I actually had an appointment too," Bailey says, laughing.
Bailey hopes to bring a higher level of efficiency to the academy than what is typically found at the Department of Motor Vehicles, and those who have worked with him over his 50-year career as a cinematographer believe he's the right man for the job.
His election as president caught most by surprise. Academy observers pegged Laura Dern or casting director David Rubin as the likeliest candidates to succeed Cheryl Boone Isaacs, who termed out after serving four years as president.
Bailey, a well-regarded veteran beginning his 14th year as a member of the academy's board of governors, prevailed in a vote over Rubin. (Dern, citing a busy work schedule, declined to run after her name was put forward.) The choice was greeted with strong approval within the industry.
"To be a cinematographer, you need three skills: you need to be an artist, you need to be a technician and you need to be a manager," said producer Michael Shamberg, who worked with Bailey on "The Big Chill." "That's a pretty good tool kit for the president of the academy. I think John's a real forward-looking choice for the job."
"John has the least amount of ego of anyone I know in this business," adds cinematographer Gil Hubbs. "He's inquisitive and genuinely interested in what other people have to say."
Bailey displayed those qualities during a recent phone conversation that touched on the academy's diversity push, delayed movie museum (now scheduled to open in 2019) and much more.
Why did you want to be president?
I love the academy. I've been a member since 1981 and I just found myself slowly over the years becoming more engaged with a lot of the academy's programs and initiatives. It seemed like a natural development.
Some members are worried that those programs and initiatives are going to be cut because the museum is costing so much money.
All the initiatives that I'm aware of that are meaningful are ongoing and we're continuing to have all kinds of programs.
There's no question that the museum is the largest financial commitment the academy has ever made to anything. But you know, I've been reading Walter Mirisch's memoir and he has a chapter about being academy president. In the early '70s, the academy acquired this Wilshire property at La Peer and there was a huge amount of anxiety and concern among the board of governors. People were afraid. "Oh, my God, this is going to bankrupt us."
Any time that any established institution decides to take a big step into something new, there's going to be a certain level of concern.
But to call it a financial crisis would be overstating it?
It's not only overstating it, it's a mad dog response. And it's not at all accurate. I had an interview the other day where I was referring to an article that came out in April in which the writer referred to the state of the museum and budget, equating it to "Cleopatra" and "Heaven's Gate."
I called him on it. I said, "That's a really stupid metaphor. What are you trying to do, troll the museum and academy?"
It's irresponsible. There's genuine interest and curiosity about how things are going, but there's also a lot of doomsdayers who seem to feed more off of creating or imagining bad news than what's really going on.
Cheryl Boone Isaacs was very vocal about the need to diversify the academy's membership. Do you intend to be equally forthright in continuing the academy's A2020 initiative?
I'm very committed to it. Clearly the academy is too. Diversity has always been important to me in my career. I could give you chapter and verse in how long I've been hiring minorities and women on my camera crews and grip and electrical. This is crucial!
I've been involved in the concept of diversity before it ever became a buzzword. I've been involved where it really counts ... working with people on sets.
John Bailey
I've been involved in the concept of diversity before it ever became a buzzword. I've been involved where it really counts, which is not writing memos or talking about it, but actually working with people on the set. It's bred in my bones.
From reading your blog, you also have a deep love for international cinema. You've worked on the executive committee, which makes the Oscar foreign-language short list, right?
One year, there was a Béla Tarr film, "The Turin Horse," which turned out to be Béla's last movie. It was 2 1/2 hours long and it has 30 shots in it. It's very astringent. I loved that movie and argued relentlessly for that to make the shortlist. But I wasn't on the executive committee at that time, and I think just to shut me up, [academy foreign-language committee chairman] Mark Johnson put me on it.
The next year, I was standing outside a theater, waiting to be let in for a screening. And there was a tap on my shoulder. It was a little old lady behind me. And I turned around and she said, "I know you. You're the guy last year that liked that horse movie."
Your reputation preceded you.
As a matter of fact, my blog piece that just went up this morning is a tribute to Jeanne Moreau. I felt when she and Sam Shepard died within [days] of each other, Sam got all the attention, at least in the American media. Hardly anybody mentioned Jeanne Moreau, and for all of us who love European cinema from the '60s and '70s, she was it.
You must be pleased with the strides the academy has made the past two years to invite international members.
In the cinematographers branch, we offered membership to José Luis Alcaine, the great Spanish cinematographer who's even older than me. He has 155 credits on IMDB and has photographed [Pedro] Almodóvar films and here he is. Finally somebody invited him.
And there was another cinematographer I felt particularly excited about, Ernesto Pardo, who did this wonderful documentary called "Tempestad" last year. It was shot on a shoestring with a low-end digital camera and it's an absolutely gorgeous, beautiful film telling a very emotional story.
So you wouldn't agree with critics who say these last two huge classes of new members have watered down the academy?
Oh, God no! What it is is we realize now how much talent there is out there.
What's your relationship with [academy CEO] Dawn Hudson like?
Dawn and I are very close. Carol and I are going to be having dinner with her Sunday night. I think she has done a tremendous number of incredible things, both on the diversity issue and helping on the fundraising front. I'm really excited about moving forward with her.
Are you planning to take any other jobs while you're president?
The job has changed. It's very hands-on, and I have made a commitment to that. I'm not even thinking about photographing a film in the next year. And that doesn't bother me at all. Having just turned 75, this is a new chapter in my life, unlike anything I've ever done. I find that thrilling.
See the most-read stories this hour »
Twitter: @glennwhipp
ALSO
New film academy president John Bailey is not as boring as you might think
Cinematographer is surprise winner to lead film academy as major transformation continues
---
Inside the business of entertainment
The Wide Shot brings you news, analysis and insights on everything from streaming wars to production — and what it all means for the future.
You may occasionally receive promotional content from the Los Angeles Times.