Meet 'The Last Black Man in San Francisco' breakout Jonathan Majors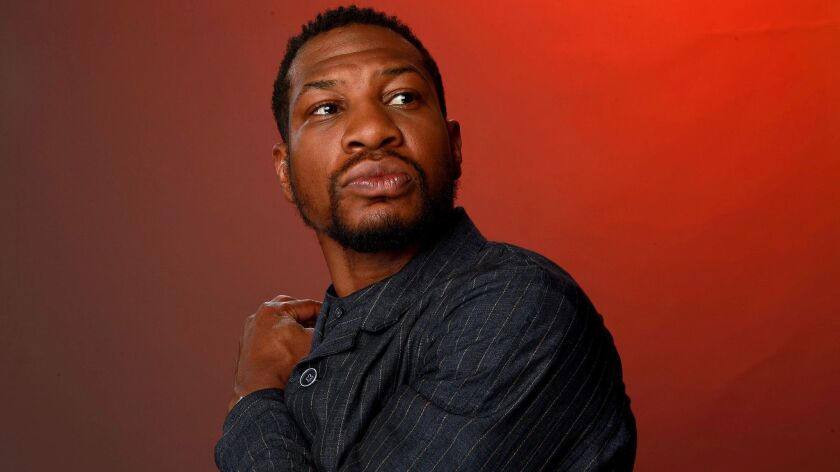 Like the pastors and storytellers in his life he credits with igniting his early artistic spark, Jonathan Majors is given to spinning bright bursts of vividly detailed yarns.
But on this late summer afternoon in Los Angeles, the Yale-trained, Texas-born charismatic chameleon is deliberate and introspective as he discusses his latest film, "The Last Black Man in San Francisco."
Critics have praised his performance as Mont, a sensitive artist who sees more than he lets on, as one of the best of this year, and Majors is remarkably centered when it comes to the dizzying pace of what's shaping up to be his breakout year.
"The beautiful part about it," he smiled, "is that it's all been a dogfight. Every time, fighting for a role."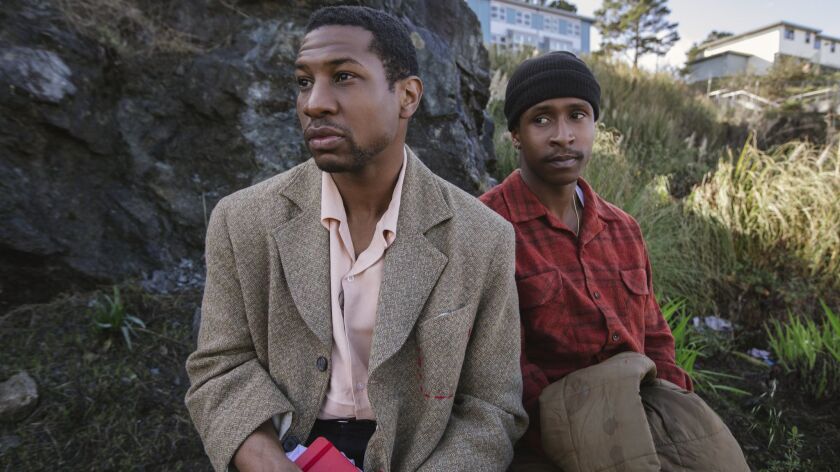 Majors' infectious energy contrasts his schedule of late. Just 72 hours earlier the 29-year-old landed home in New York City after spending several months in Southeast Asia filming Spike Lee's Netflix drama "Da 5 Bloods," about four veterans who return to Vietnam to wrestle with ghosts of the past.
In another few days he'll head to Atlanta to begin shooting HBO's sci-fi-tinged series "Lovecraft Country" for executive producers J.J. Abrams, Jordan Peele and Misha Green — his biggest television role to date — starring as Atticus Freeman, a hero on a road trip across a 1950s Jim Crow South rife with racists and Lovecraftian monsters.
For this interview he was in Los Angeles en route to the Bay Area premiere of A24's "The Last Black Man in San Francisco." The Sundance Film Festival darling, currently doing solid box office in a slowly expanding release, has propelled Majors into the early awards conversation.
'Last Black Man in San Francisco' and capturing the magic of home and fraternal love »
With more high-profile projects on the horizon — including Aaron Sorkin's "The Trial of the Chicago 7," in which Majors will portray Black Panther Party co-founder Bobby Seale — it's easy to see why the actor, who made his film debut less two years ago opposite Christian Bale in the western drama "Hostiles," is poised to become a major force of his generation.
For now, he's living in the moment and rolling with it all. He describes the wild, roving unpredictability of the working actor's life in holistic terms — much like he characterizes acting as a spiritual endeavor. He says he's learned to carry home with him wherever he goes.
"That's the beauty of being an actor. You're kind of a journeyman. It goes back to ['The Last Black Man in San Francisco']: You find out that 'home' is right there. Right here," he said, touching his hand to his chest. "If you think, 'I've got to get back to New York, I've got to get back to Atlanta, I've got to get back to L.A.' — you're lost. If you can't find peace inside, you'll never be at peace."
"The Last Black Man in San Francisco," written by director Joe Talbot with Rob Richert and inspired by the life of Talbot's best friend, Jimmie Fails, searches for a similar reckoning of place and purpose.
Fails makes his film debut as a version of himself, a hopeful young man quixotically yearning to reclaim the Victorian home his grandfather built in a now-gentrified San Francisco long before the family lost it years ago.
By Jimmie's side through thick and thin is his best friend, Montgomery "Mont" Allen (Majors), an aspiring playwright who sticks out in the Hunter's Point neighborhood, where he lives in a cramped house with his grandfather (Danny Glover). Jimmie, with nowhere else to call home, crashes on Mont's bedroom floor.
From the outside they may appear to be an odd couple, two misfits on the periphery of a community that itself has been pushed to the periphery. To Majors, Mont was "one of the bravest characters I've ever read." His is a gentle strength, and one to whom Majors lends an idiosyncratic grace.
"He doesn't choose to be violent or aggressive, but he does choose to use power," he said. "What I found most compelling about him was that he takes everything that gets thrown at him, and he creates out of that," Majors said. "And he gives them a gift."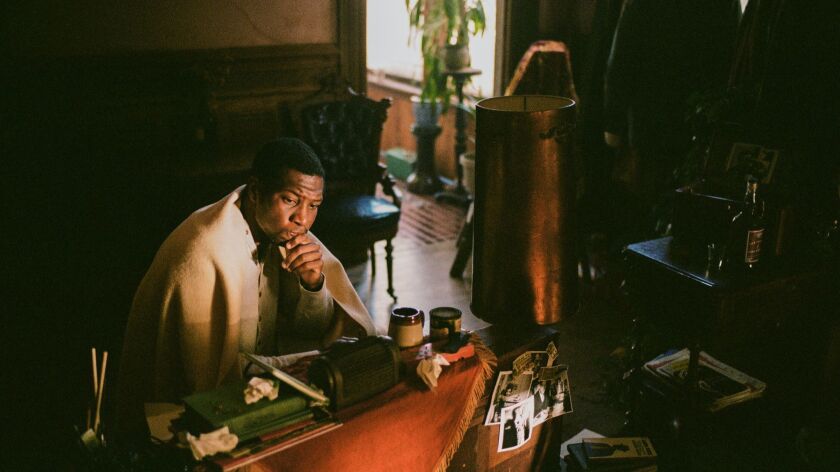 The first time he read the script, Majors was struck by the rare loving friendship between its two lead characters.
"It felt like this very ancient tale," said Majors of an opening scene in which Jimmie and Mont sit on the outskirts of San Francisco listening to the film's Greek chorus (by way of a local street preacher railing against the toxic waste dumped into their bayfront waters).
"You meet these two fellas, and they are listening. They don't talk first; there's a chorus that's speaking first. That caught me. In the DNA of the script there is a sense of homeland, an ancient quality of, This is where we are. It's hella present." He smiled, catching himself slinging Bay terminology like a true San Franciscan. "It stuck! I say 'hella' like I'm from there."
If Jimmie is the dreamer, Mont is the one who sees — from a breathtaking sequence in which the duo roll into the city on Jimmie's skateboard through the Tenderloin to the Fillmore, to the moments when Mont channels his observations into art, attempting to help heal the hurting souls around him.
Review: 'The Last Black Man in San Francisco' is a gorgeous, moving ode to a city in flux »
Casting the right Mont "was one of the great struggles on this movie," Talbot said by phone from Atlanta. "We invariably got a lot of men who came in, very chiseled and would put on Coke-bottle glasses and go, 'I'm unusual,' and we'd go, 'Not quite.'
"Jonathan — who, I should say, is also quite chiseled himself — was breathtaking. He felt like a San Franciscan, beyond what you might deem as a great performance; he just felt like he was from the city.
"What Jonathan created with Mont was this observer who sees people at their best and their most complex, and I think that's a part of San Francisco at its best," Talbot said. "It's trying to see all sides of people. People have done certain things in their life that maybe they regret, but there are other sides of them that are gentle and vulnerable."
Once cast, Majors got to know the city much like Mont has: By walking it. Ahead of filming he lived with Fails, working on the script together, and joined Fails and Talbot on their epic, meandering walks across San Francisco — the San Francisco they grew up in, and the one they hoped to pay homage to onscreen.
Majors had lived in San Francisco briefly while filming 2017's "When We Rise" for Gus Van Sant, his first screen role after nine years of actor's training at North Carolina School of the Arts, and then Yale. But immersing himself for "The Last Black Man in San Francisco" etched the city in his soul.
"It was a lot of walks with Jimmie and Joey, and also just by my lonesome — just walking around and seeing the place, eating places, watching the people, and particularly watching Jimmie," he said. "A lot of it's in the script, and then there are elements of San Francisco where you have to be there.
"You've got to know what that wind feels like when it hits you," he added. "You've got to know how your legs will burn after you've walked up X amount of hills, or how to brace yourself so you don't trip down them. … You've got to know that stuff, and you've also got to know the people that live there … you can't just put it on for the character."
Majors found himself drawn to acting from an early age. His knack for rattling off names of important figures in his life, from football coaches to acting teachers, is "an occupational hazard," he said, laughing. And as someone who grew up in the Methodist and Baptist churches, he finds spirituality and acting are fundamentally intertwined.
"You're exorcising a part of yourself for each role," he said. "I try to do my best to differentiate each fella, each spirit, from the next one … and once it's exorcised it doesn't just go away. It becomes a part of you. So every role becomes a part of you."
Landing his role in Lee's "Da 5 Bloods," he says, was "interesting."
"Spike was a very long conversation, very deep and in depth," he said. " 'Do you know what you're doing?' I'm like, 'Hell yeah.' That was like a psychoanalysis. He's no-nonsense. But once he casts you, you know he trusts you, and you've got the ball."
He considered the emotional jump he'll have to make next going from playing David, the son of Lindo's character "Da 5 Bloods," to Atticus, the hero of "Lovecraft Country."
"Atticus is a hero and he's very complex," Majors said. "But then you have David — and David is a little sour. He's a little angry in a different way ... and he has qualities that aren't necessarily heroic. You can't just play these guys like they're great guys — we're all complex. So by understanding the complexities of David, I understand more so the complexities of me, of who I am. And they all help."
Landing the lead in "Lovecraft Country" meant being able to bring all of those complexities to bear, according to showrunner Misha Green.
"'Lovecraft Country' is a genre mashup, and so are the characters," Green wrote in an email. "When searching for our Atticus Freeman we needed somebody who could be an action star one moment, romantic lead another, and also carry the dramatic weight of the times
"Jonathan brings an incredible amount of nuance and truth to every character he embodies ... 'Lovecraft Country' happens to be his first leading role, but it definitely won't be his last."
Asked which part of the dreamy, resilient Mont he still carries with him, Majors thinks. "He's just so brave with his heart. He holds it wide open and lets things flow in and out of it," he answered.
"I think he came right on time for me in the trajectory of my life, in the trajectory of being a young father and in the trajectory of being an artist, a black man, a millennial, a lover, a friend … that open heart and the wanting to see," he smiled. "Not to be too poetic about it."
---
Get the Indie Focus newsletter, Mark Olsen's weekly guide to the world of cinema.
You may occasionally receive promotional content from the Los Angeles Times.