Julia Roberts knows what she wants, and being a 'movie star' isn't high on the list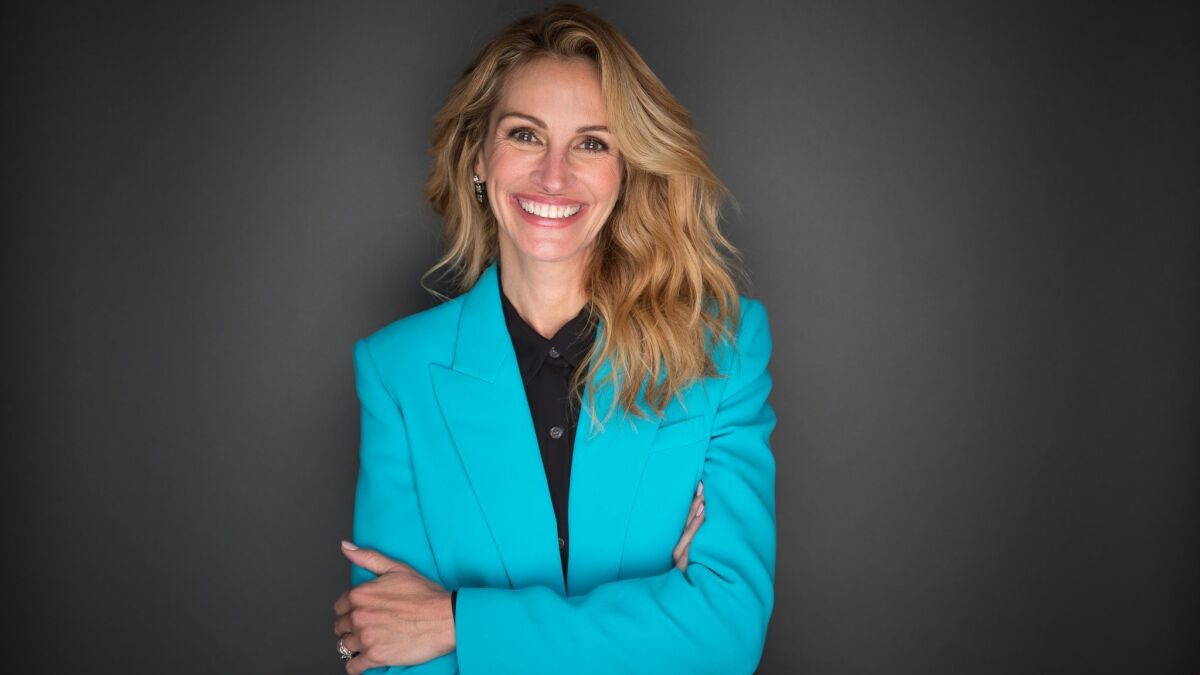 "Every year," Julia Roberts says, shaking her head. "Every year it's: 'And now she's back.'"
Listen, she gets it. She doesn't act at as frequent a pace as some of her peers, like Nicole Kidman, who of late has appeared in at least three major projects a year. Roberts admires that kind of work ethic, she says, though it perplexes her "how people can juggle that much work" when she just doesn't "have that capacity."
So while it may seem like this winter signals a new era for Roberts — starring in both the acclaimed Amazon series "Homecoming" and "Ben Is Back," an indie drug-addiction drama being released at the height of awards season — this is kind of business as usual for her. Over the last decade, she's continued to work steadily, always turning up in at least one movie a year, and sometimes two. Other than 2010's "Eat, Pray, Love," though, she has largely strayed from playing the kind of charismatic romantic heroines that made her one of the biggest movie stars in the world.
The majority of her recent performances have been dramatic turns in smaller-scaled films, and many have been supporting roles. Some of that, she says, has to do with being 51.
"I think with age comes complexity and the opportunity to portray different people," she explains. "Everybody in their life is going to experience heartbreak or unrequited love or chasing a boy or a girl. Everybody is going to be somebody in 'My Best Friend's Wedding' at some point in their life. I think there is less of that kind of commonality in some of the parts I play now."
That's certainly the case with her part in Sam Esmail's "Homecoming," for which she is expected to earn a Golden Globe nomination on Thursday. (It would be her ninth nomination from the Hollywood Foreign Press, but the first for TV.) The psychological thriller, which Amazon released Nov. 2, follows a caseworker who is tasked with helping soldiers ease back into civilian life at a government-sponsored facility. Her performance in the series has been lauded for its quiet subtlety, employing a totally different skill set than the one she uses for another well-reviewed turn in "Ben Is Back." In the film, out Friday in L.A., Roberts plays a mother dealing with the fallout of her son's unexpected return home from drug rehab on Christmas.
RELATED: 'Ben Is Back' writer-director Peter Hedges uncovers the heroic core of broken women »
It's pouring rain outside and Roberts has just made a mad dash from the lobby of the Sunset Marquis to the hotel's restaurant. As she took off her dripping metallic raincoat, she fretted that the weather might cause mudslides near her home in Malibu. She and her family had only days before returned to their home following the wildfires that ravaged the beach city.
"We were spared, thankfully," she says. "But a lot of my very good friends were not, and a lot of my community was not, so it's a very strange time."
She's been spending a lot of that time on the phone with her girlfriends who lost their homes, urging them to feel comfortable sharing their feelings about the loss. "They all have great attitudes about it, but I've been saying, on the day you wake up and realize: 'Oh my God, my favorite sweater is gone,' call me. Because I'll be there for you for that conversation. There's room for all of that."
Home has always been central for Roberts, who has a reputation for being selective about work because she does not like to spend time away from her husband, cinematographer Danny Moder, and their children, 14-year-old twins Hazel and Phinnaeus and Henry, 11.
"I do like to be with my family, and I feel like my kids are young and there'll be a time when it's not as feasible for all five of us to be together as much as we are now," she says. "But it also has to do with the fact that the kind of work that I do will follow me around forever — each choice will follow me around forever. So I want to be able to really stand by each little cement stone I put down. Of all that I have been able to accomplish, I feel super-proud of that. I don't go, 'Oh, that was a bad patch.' Because I do put a lot of consideration into the jobs that I take."
This is why Peter Hedges, who wrote and directed "Ben Is Back," feared it would be difficult to attract the actress' interest in his movie. He started envisioning her in the role after watching "Wonder," the 2017 breakout hit family drama in which she played the mother to a boy with facial differences.
"But then I thought, 'Of course, I'm never gonna get her for the film, because she's very selective about what she does' and I knew enough about her to know that she doesn't like to be away from her kids during the school year — so it just wasn't ever gonna happen," the filmmaker recalls over the telephone.
Nonetheless, Hedges decided to take a swing, sending Roberts his screenplay along with a letter that said something like: "I've tried to write interesting mothers all of my career, but this is my favorite mother I've ever written. I feel like you could be both ferocious in this part and fragile, and if you'd do the film, we'd have the best chance of it reaching the most people."
To his surprise, Roberts responded, and within days, he flew to California to meet the actress. Then, on Sept. 11, at 8:30 a.m. EST — he has the time committed to memory — she sent him a text message telling him she was officially in.
Roberts prides herself on being particular in her decision-making.
"I'm a person who's very specific," she says. "I'm not going to say 'yes' and get talked into a 'no.' With my kids, I believe that tells them you are a person of conviction and that you have given consideration to your question. It's important that they know if they ask me a question, that my answer is my true answer, not an answer you can wear out in 20 minutes. I think it makes you feel safe."
Her avocado toast and chicken apple sausage then arrive at the table, but there's an unexpected side of potatoes on the plate.
"Um, can I get a little side plate? I just want to get rid of this situation," she immediately requests.
"I think I'm clear," she continues. "I don't think I'm stubborn. It's not that I can't change my mind if someone says 'But have you considered —' and they present something meaningful to me. But I am a person who is considerate. I don't just go, 'Oh, yeah!'"
In other words: Her representatives aren't going to talk her into a project.
"Oh, my agents would never talk me into a project," she says. "Why do I want to do what they want to do? They bring me things and I consider them and I make my decisions."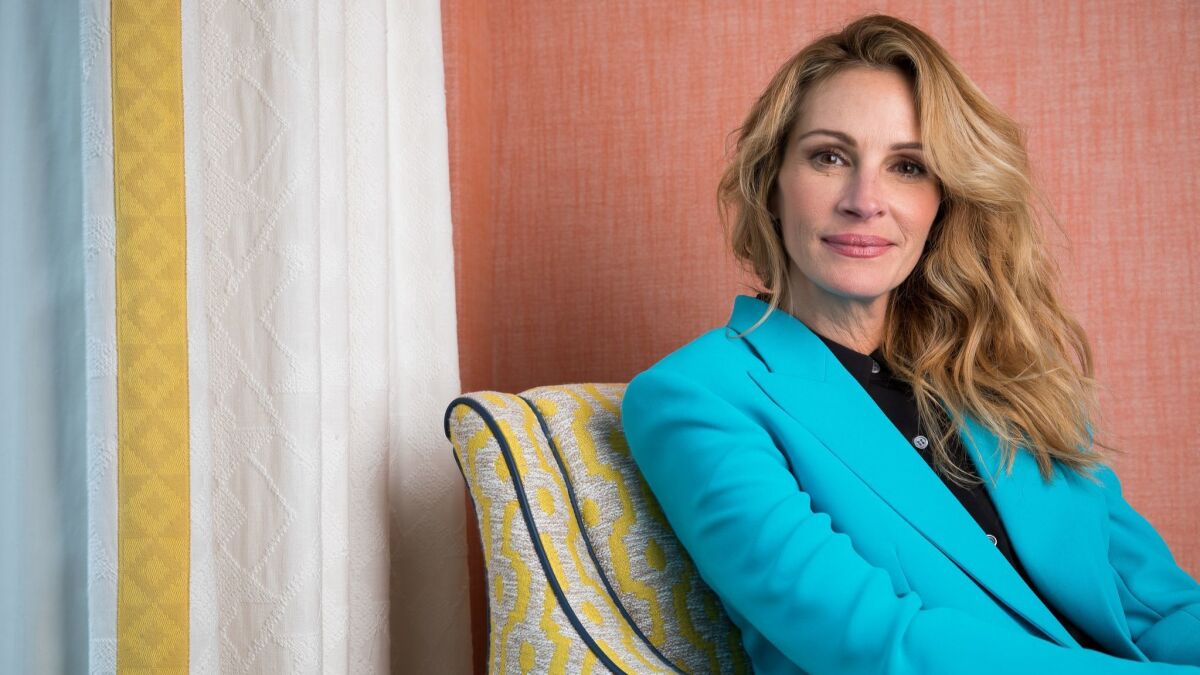 RELATED: Lucas Hedges plumbs the depths of his inner angst for two new film roles »
Roberts does, however, seem effective at talking others into things. On "Ben Is Back," the actress felt strongly that Lucas Hedges — the director's son and an Oscar nominee for "Manchester by the Sea" — should play her drug-addicted son in the movie. But the younger Hedges had long ago determined he never wanted to make a movie with his dad. Nonetheless, Roberts began sending the filmmaker photos of herself with her ginger-headed son, whose hair resembled Lucas'.
"'Look how good I am with young men with red hair! They like me!'" the director says she kidded. "It was very charming, and I eventually shared that with Lucas, who was excited that she would want to work with him."
"It was really flattering for me," Lucas admits in a separate call. "It meant a lot that she wanted me to do it, and in any way compared me to her child. It felt like a big invitation from her."
"Ben Is Back" is one of a few recent projects in which Roberts has explored motherhood, though she says that hasn't been a conscious choice. Still, her son, Henry, picked up on the theme, and when she told her family she'd accepted the "Ben Is Back" role, he replied: "Mom, how come you're always in movies where someone is playing your son?"
"That's when I thought to myself, 'I'm gonna get Lucas over here so they can all know each other,'" Roberts says. "Then it's not just some person in some scenario — it's mom and Lucas going off to New York to do this movie."
Accordingly, Roberts requested that rehearsals for the film take place at her residence in Malibu. She felt that inviting her colleagues into her home would give them a sense of who she was in a truncated amount of time. And it gave her the opportunity to see them differently too — Peter Hedges broke out his ukulele and started playing with Hazel, while Lucas went surfing with her other kids down at the beach.
"To be in the home of arguably one of our biggest stars ever and see that in her house, there's such balance — such regard for every kid, every pet, every corner of every room — I was there for too long for that to have been an act," the filmmaker says with a laugh. "I learned that one of our greatest actresses has figured out how to live a great life. The curtain would have been pulled back if it wasn't true."
For his son, the time served to de-glamorize Roberts. "So when I was acting with her later, I didn't experience her as an actress, I experienced her as a mother," Lucas says.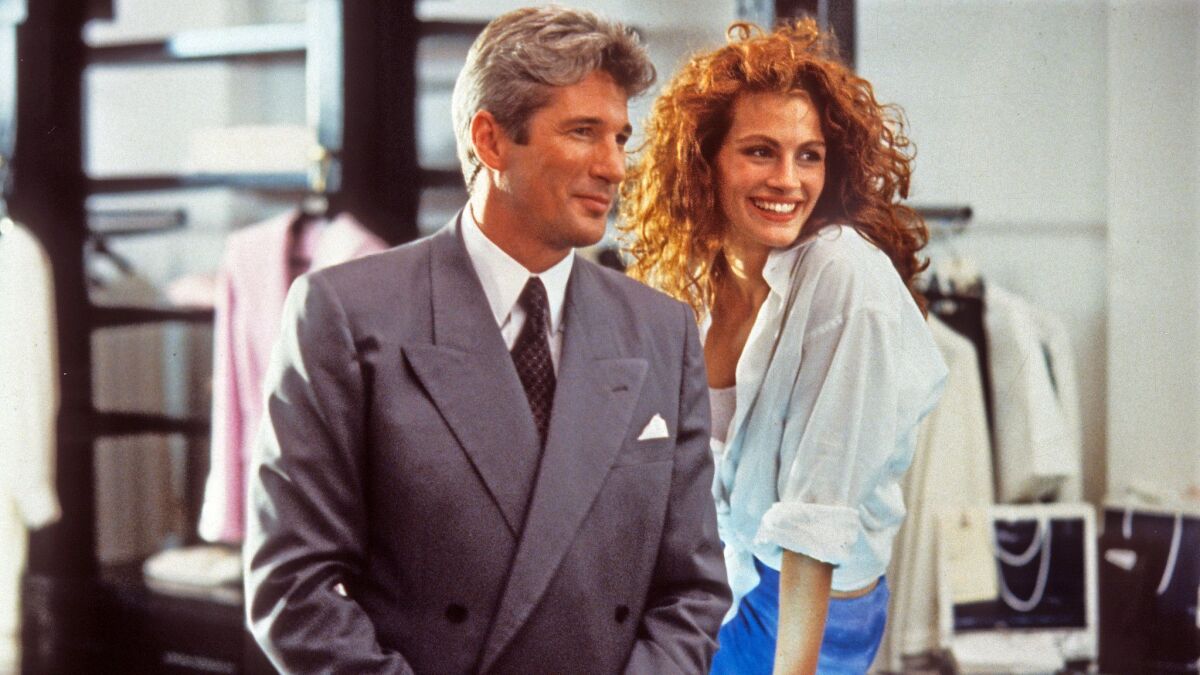 Indeed, even as Roberts has moved away from so-called movie-star roles, her identity as one of Hollywood's most famous people has remained. Earlier this month, Gwyneth Paltrow had Roberts on her podcast and spent a fair amount of it gushing over the actress. She called "Pretty Woman" "kind of the best movie of all time," noting that she wanted to both marry and be Roberts after seeing it. A few weeks later, Roberts appeared on Busy Philipps' new late-night talk show, and the host teared up when Roberts said she joined Instagram because of her.
"What a doll," Roberts says of Philipps. "I was going on her show feeling like, 'Oh, I have a new friend. We're peers.' But based on how often she says the word 'dope,' I thought, 'Maybe we're not peers. I'm older than her. She's so rad, and wow, I am not this cool. We can be friends, but we are not peers.'"
GOLDEN GLOBES NOMINATION PREVIEW: Will 'Homecoming' break through? »
While Philipps deemed Roberts an instant "expert" at Instagram — she only joined the social media network in June — the actress acknowledges she's perplexed by other new technology. Before "Homecoming" began, she asked Esmail, how one measured success on Amazon. She says she hasn't asked the company's executives about the numbers because it would be "tacky."
"And I bet it would be hard to keep track of, wouldn't it? All those devices?" she ponders.
Roberts has instead been tracking the success of "Homecoming" via text messages from her friends. A month after its release, she says she is still receiving at least one text per day praising her performance.
"The character she plays on the show isn't as glamorous as some of her other roles, so it's become this really big surprise to all of us that people were kind of noting that her star quality came out regardless of the character," says Esmail.
Hedges believes that it's partly Roberts' age that has allowed her to evolve in such a way, becoming less careful and more fearless.
"There are people who start to pull away and shrink with age, who curate an idea of themselves because they want the world to see them in a certain way," he says. "She hasn't done that. The kind of work she's doing now is hard to do when you're young, because you're still figuring out who you are. Phase one was leading up to 'Erin Brockovich.' Phase two was 'Erin Brockovich' to now. And phase three? We need to buckle our seatbelts, because the places she's gonna go — she's got a lot left to show us."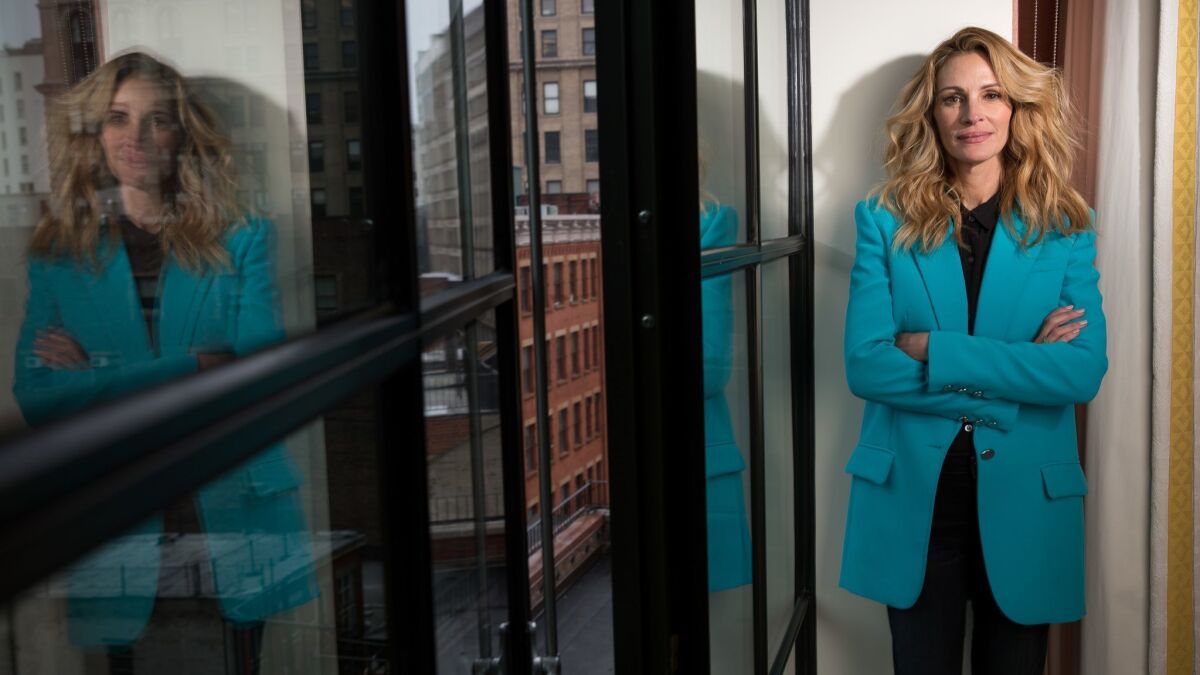 Follow me on Twitter @AmyKinLA
---
Get our L.A. Goes Out newsletter, with the week's best events, to help you explore and experience our city.
You may occasionally receive promotional content from the Los Angeles Times.