Kathryn Hahn mixes drama and comedy to reveal the everyday messiness of 'Private Life'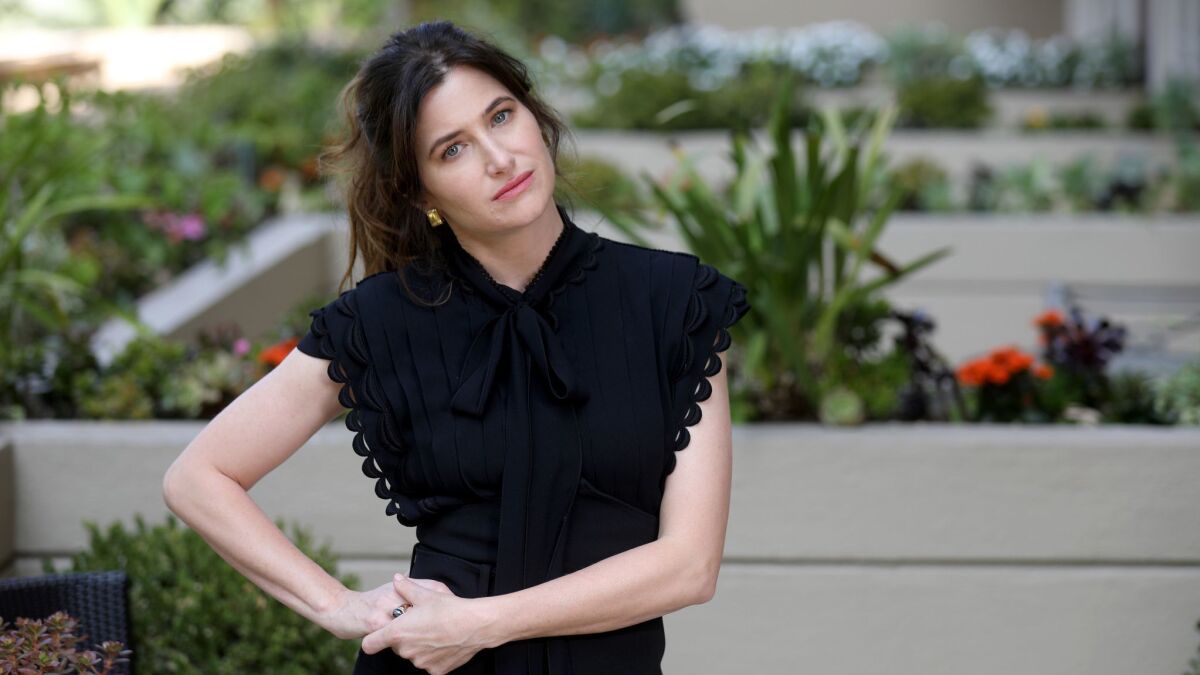 Though she may be best known for her more broadly comedic turns in the movies "Bad Moms" and "Step Brothers" or TV's "Parks and Recreation," actress Kathryn Hahn has a true knack for conveying the messy drama of real life, the whirlwind emotions that teeter on the edge of the absurd and the heartbreaking. The new film "Private Life," for which she has been earning enviably outstanding reviews, just may be her best showcase yet.
In his review for The Times, Justin Chang wrote, "Hahn expertly navigates her characters' wildly fluctuating moods" while in the New York Times, A.O. Scott called her "a vivid performer and also an exquisitely subtle one." For Film Comment magazine, Sheila O'Malley added, "Hahn is one of the best actresses working today.… This is a role worthy of her tremendous gifts."
Written and directed by Tamara Jenkins, the film, which launched on Netflix on Oct. 5 after premiering earlier this year at the Sundance Film Festival, features Hahn as Rachel, a woman struggling with issues of infertility and all the other feelings that stirs. She and her husband, Richard (Paul Giamatti), have explored medical treatments, adoption and other means — "short of kidnapping," he says at one point — to bring a child into their lives, putting a strain on them both as individuals and as a couple. When a young woman, Sadie (Kayli Carter), emerges as a possible egg donor, things take on a new urgency.
Hahn captures the bittersweet tone of Jenkins' writing with agile aplomb, the way it swings on a spectrum from observational comedy to deeply felt drama. In the movie Hahn's character is a writer who had put off having a baby while pursuing her career and artistic ambitions. Now, on the other side of 40, she finds some decisions may have been made for her by the decisive hand of biology.
"We're culturally told that it's easier than it is," Hahn said regarding women and fertility during a recent interview in Los Angeles. "And [finding a solution] is a huge cost financially and emotionally — and I think it has been wrapped in a lot of shame and privacy for so long. And I'm glad, hopefully, that people will be able to talk about it more. It is a heartbreaker because there is no end point to it. It's like a rollercoaster that once you get on, how do you tell someone to stop?"
RELATED: Five female directors, many stories: A conversation on filmmaking, Netflix and more »
Having already established herself as a reliable scene stealer, Hahn gained further momentum from a trio of projects with writer-director Jill Soloway, the 2013 Sundance movie "Afternoon Delight" and a pair of Amazon series — "Transparent," for which she earned an Emmy nomination, and "I Love Dick."
And while she can be seen in another Amazon project, an episode of Matthew Weiner's Amazon anthology series "The Romanoffs," she also headlines the upcoming series adaptation of Tom Perrotta's novel "Mrs. Fletcher" for HBO. The pilot was directed by Nicole Holofcener, which continues Hahn's run of working with acclaimed indie filmmakers who happen to be women.
In the case of "Private Life," Hahn scored a rare opportunity to work with one of the most respected writer-directors on the independent film scene. Jenkins' previous feature, 2007's "The Savages," started Laura Linney and Philip Seymour Hoffman as siblings dealing with care for their elderly father. The movie earned Oscar nominations for Linney as lead actress and Jenkins for original screenplay.
The filmmaker discovered Hahn via casting director Jeanne McCarthy, and first saw the actress' work on the notoriously difficult to categorize "Transparent."
"I think I'm generally attracted to actors that straddle whatever that capacity is between comedy or drama," Jenkins said. "And I think Paul is the same kind of actor. I think Laura Linney, she's the same kind of actor; Phil Hoffman was the same kind of actor. It's a very special insight into the human condition that I feel like they all have in common. And Kathryn straddles that thing."
When Hahn was sent the script for "Private Life," the part immediately seemed worth fighting for. She flew herself to New York to meet and have dinner with Jenkins before flying back to Los Angeles on the same night. The passion she felt for the role only intensified when she met the director.
"It's a woman at a particular point in her life. She felt like she had been in control of her biology and feels betrayed by everything that everybody had been telling her — [the idea] that she was in control of her fertility was a lie," Hahn said of the part of Rachael.
"She's now faced with the reality of everything — her mortality, her feminism, her lack of success and whatever she thought was going to happen for her as an artist. [She's] staring at her partner and her marriage and thinking, 'Who are we without this? Are we here now forever, or is there a next chapter for us?'"
To prepare for the role she read books like "Avalanche: A Love Story" by Julia Leigh and "The Art of Waiting: On Fertility, Medicine and Motherhood" by Belle Boggs. She also spent a lot of time on YouTube, watching videos of real-life couples sharing their own fertility stories, both the good and the bad.
The origins of "Private Life" are in Jenkins' own struggles to conceive in her 40s. (The film is dedicated to her daughter.) Hahn, 45, has two children with her husband, actor Ethan Sandler, and acknowledged that having her first child in her mid-30s was tougher than expected — "We had to, you know, do some stuff," she said — which made the role of Rachel resonate even more deeply.
RELATED: With 'Private Life,' Tamara Jenkins takes on marriage, female biology and movie manspreading »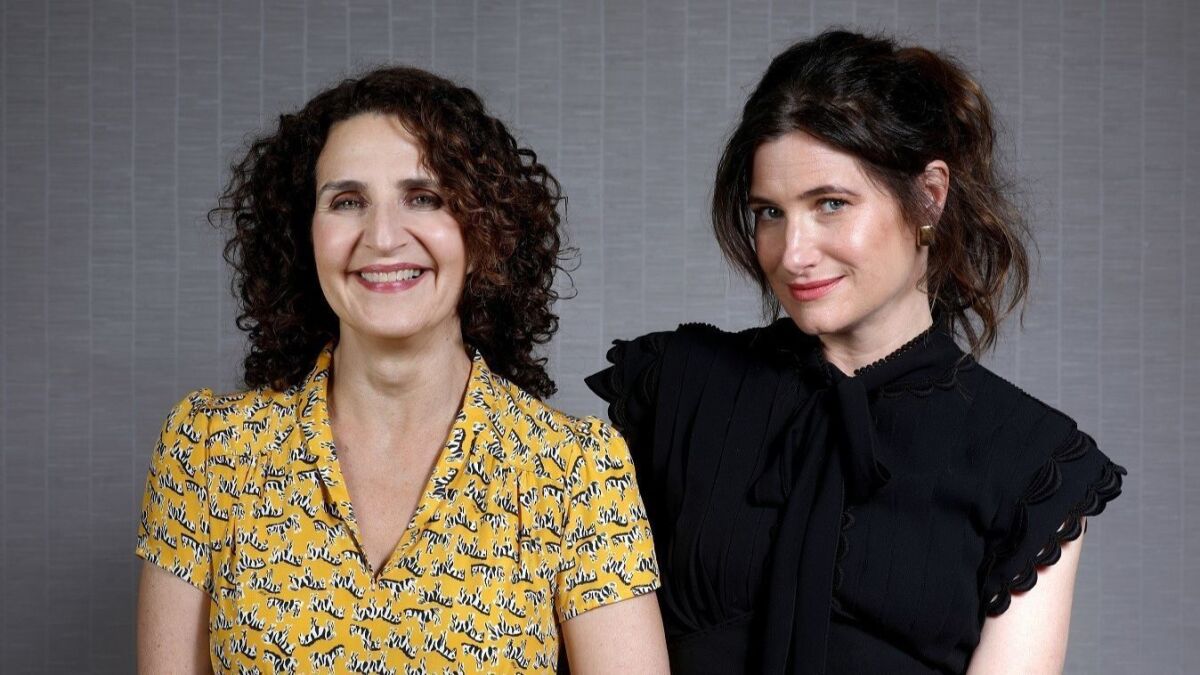 Yet, despite the personal nature of the subject matter, Jenkins was not looking for a version of herself in casting the part.
"I think that the character becomes a third party when you're writing," Jenkins said. "Although, I've had a couple of times where people have seen the movie and then after met me and said, 'You know, she really feels like she's a version of yourself.'
"I think that it's less about 'Does she look like me?' or 'Is she like me?' than 'Is she capable of this kind of rhythm, a capacity for language?' " Jenkins said. "I feel the same way about Paul — they can handle these mouthfuls of dialogue and find the rhythm and momentum. It's a weird thing, it's a very specific kind of actor."
There has been a freedom in Hahn's recent work, displayed to spectacular affect in "Private Life," and the actress recognizes just how remarkable her recent run of roles has become. She hopes to continue finding work that challenges her in the same way.
"I'm proud of the last couple of years. For real, proud," Hahn said. "If I could just hold steady to this feeling, in this place of trying to not rush it, not panic, finding people and material that feels this fulfilling to me, I'd be so happy.
"Just speaking for myself, I think sometimes actors get to this place where just kind of all of a sudden, you find yourself down a path of doing movies that you're kind of into — you're grateful and you're working but that might not be exactly the thing [that fulfills you]," she said. "So if I can keep just being clear about what it is that feels true — I don't know if this is forever, but this feels right right now and I love it."
SIGN UP for the free Indie Focus movies newsletter »
Follow on Twitter: @IndieFocus
---
Get our L.A. Goes Out newsletter, with the week's best events, to help you explore and experience our city.
You may occasionally receive promotional content from the Los Angeles Times.