Q&A: Ryan Gosling, the tortured heartthrob of 'La La Land'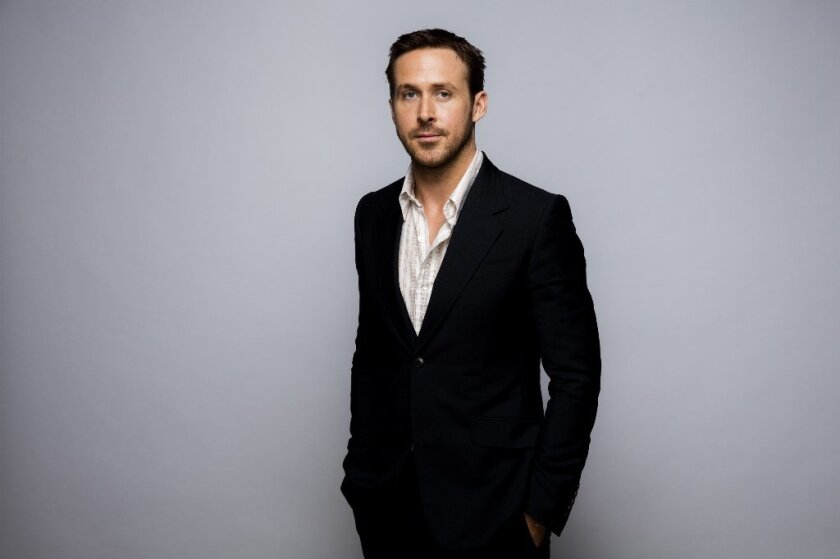 Ever since festival-goers got their first look at Damien Chazelle's "La La Land" at the Venice Film Festival back in August, they've been enraptured by its magic-hour spell. The retro musical follows Emma Stone's Mia, a frustrated wannabe actress, and Ryan Gosling's Sebastian, a passionate jazz pianist, through a year of their relationship.
With music by Justin Hurwitz and lyrics by Benj Pasek and Justin Paul, "La La Land" is an ode to both the reveries of classic MGM musicals and the pulsing suavete of Jacques Demy confections like "The Umbrellas of Cherbourg." And it also lets Gosling flex, as a singer and a dancer.
The Times caught up with the 36-year-old actor in September at the Toronto Film Festival, where "La La Land" won the People's Choice Award, often a bellwether of Oscar fortunes. Just after TIFF, Gosling would head to Budapest to costar with Harrison Ford in Denis Villenueve's "Blade Runner 2049." But before he left, he sat down with us to talk about selling out, doing his third movie with Stone and the things one learns about dancing from the "Mickey Mouse Club."
Ryan Gosling and Emma Stone star in "La La Land."
Were you a fan of musicals growing up?
I wouldn't say I was a fan of musicals. My sister [Mandy] loved musicals and musical theater, studied musical theater. All of my knowledge or experience with it for the most part is through osmosis with her. But I wouldn't say I was a fan of musicals. It wasn't like, 'Oh, here's a chance to do a musical.' More, I really felt like it was about these people and their relationship, and that's how I could connect to it. Even if you weren't a fan of musicals, you could connect in that way. It's accessible in that way. If you're not a musical fan, you can relate to it because you can relate to those people.
You used to sing in a band, Dead Man's Bones, and your sound was a bit gravelly and gothic then. What was Damien expecting from your voice?
What we tried to do was not have these characters become totally different people, suddenly, when they were singing. It was about finding a way through dance and through song to communicate their feelings but keep them in character. So we just worked a lot on that and trying to find a way to keep consistency of character throughout the thing. So, for instance, my character was a cynical and slightly bitter and slightly burned person in the film, so it didn't make sense for him to start singing to the rafters and being very theatrical. My approach to his songs was a bit more subtle in a way that he was. He's not a singer. They just express themselves through music.
Is this the first time we're seeing you dance on-screen since "The Mickey Mouse Club?"
Certainly nothing like this. I had a little experience, but tap is different than '90s hip-hop. I was trying to find a thing as a kid, and I thought that might be it. I didn't really see that it was a way to make a living.
So did that childhood experience give you some confidence heading into this?
Everything is a crap shoot, but the way that they wanted to shoot this film was that the dance numbers would be done in wide shots in one take. If you [messed] up, it would ruin the take. That was really where it came from, like, "Can we do this in one shot without screwing up the take?" That's the way they traditionally shot these numbers back in the day — there's stakes involved in it because it's not something you can cut around. You're watching a high-wire act. If you make a mistake, it's very evident. It engages you in a way, more than if it feels like there's trickery.
Growing up outside Toronto, what was your idea of Los Angeles?
I guess I thought it was like "Boyz n the Hood," my favorite movie at the time. I definitely had a romanticized idea of L.A., for sure.
Since then, you've done a lot of L.A.-based films: "Drive," "Gangster Squad," "The Nice Guys" and now this. What have you learned about the city through making these movies?
I feel like there's so many facets to L.A., and I'm always discovering new ones, which is why I stay there. I feel lucky to be able to make movies that reflect that. I made "Drive" at a period of time where I was living in downtown L.A. and I'd seen a whole side of it that I'd never seen before. I felt really lucky to be able to channel that into a film. I was living around the corner from Angel's Flight for years and it just never ran because there wasn't the funding for it to keep it running. It just seemed like such a shame to me, because it's such a special part of it's history. It's great to be able to do a film and say, "Hey, can we shoot on Angel's Flight?" and suddenly they'll open it up. This version of Los Angeles is not something we created, we just framed out the rest. But what's there really is still there.
The movie raises the question of artistic integrity: How long do stick to your guns before selling out? Is that something you've grappled with?
It's something you definitely have to deal with. Ideally, you don't want to convince yourself to like anything. You can find yourself doing that a lot. But in the beginning, you're really just trying to make a living and be able to stay there and hope that you can get to a point where you have choices. Initially, in the script, these characters were much younger, so they were very different. They were more naive and just arriving in L.A., so everything was new and possible. But that didn't really make sense for me, at my age. So the character changed a lot and became somebody who had initially moved to L.A. with those intentions but had experienced a lot of failure and a lot of rejection and was on the verge of becoming a very bitter and cynical person. But he falls in love and that saves him from becoming the worst version of himself.
You and Emma are kind of becoming the modern-day Meg Ryan and Tom Hanks.
It's fun to work with her. It's fun to work with your friends. I think it helps everyone to do better work because you're just more engaged in the scenes than if you don't know the person. You're rooting for each other and watching how they say they lines — listening more to how they're delivering dialogue or watching how they're playing the scenes. You're just more invested than maybe you otherwise would be. And she and I have been asked to improvise a lot and that creates a dynamic between actors that is very different than when you're reading dialogue. There's a shorthand now that's nice. I've worked with some directors a few times, too, and I just really like that experience. I hope I get to do more of that because it seems like you hit the ground running with these people, whereas when you're working with someone who's a stranger, you spend a lot of time just being polite and not just getting to work.
Follow me on Twitter @AmyKinLA
ALSO
Review: 'La La Land,' with Ryan Gosling and Emma Stone, breathes new life into the movie musical
'La La Land' director Damien Chazelle writes about his favorite musicals
---
Get the Indie Focus newsletter, Mark Olsen's weekly guide to the world of cinema.
You may occasionally receive promotional content from the Los Angeles Times.