Tessa Thompson and 'Little Woods' director Nia DaCosta are breaking down Hollywood barriers
While pursuing a graduate degree in London, rising filmmaker Nia DaCosta was unpacking complicated feelings of homesickness when she began to conceptualize the script for her directorial debut, "Little Woods."
"I missed America, but I was like, 'What does that mean?' " she said. "Especially for me as a black woman [from] New York City. I realized my relative privilege of growing up not well-off, but in a city where I had access to so many things regardless of how much money I had."
She compared her experiences to those of women in places such as the Great Plains, where lack of access to healthcare, childcare and abortion services keep many women below the poverty line.
"I really thought I should tell a story about women who live in a rural part of America, particularly those who are poor, and how that affects them not just as people, but as women," she said. "And how poverty can be a gendered experience."
In the finished film, which is now playing in limited release, Tessa Thompson stars as Ollie, a woman focused on making it through her last week of probation for drug-smuggling charges in North Dakota. She scrapes by, selling coffee to the men working the oil rigs in the titular town.
With the promise of a well-paying job in Spokane on the horizon, Ollie sees a way out of her dire situation. But her sister Deb (Lily James) is pregnant, their house is in foreclosure, and Ollie only knows of one way to get the money they both desperately need.
That dramatic tension paired with the relationship between the two sisters was more than enough to interest Thompson — whose Hollywood profile has been on the rise with roles in hits "Thor: Ragnarok" and the "Creed" franchise, and critically acclaimed films including "Sorry to Bother You" and "Annihilation."
"I think inside of specificity is where you can really make something brilliant and impactful," Thompson said. "[It's] really important for people to understand that people are drawn into doing things that are illegal because of circumstance. I thought there was something so empathetic about the screenplay and the story that [DaCosta] wanted to tell."
RELATED: Tessa Thompson on Valkyrie's 'Avengers: Endgame' whereabouts and Captain Marvel shippers »
Another reason Thompson took on the role was the chance to work with DaCosta, whom she'd met and become friendly with at the Sundance Director's Lab in 2015.
"I had done the labs once before and really liked the process," she said. "I never went to drama school. I always wanted to, and then, my career happened in a way that my trajectory changed. Also, first-time directors have been so paramount for me in my career. So I always want to engage with people when they're starting out."
"Richard Hicks, who was casting for the labs was like, 'You should look at Tessa Thompson," said DaCosta. "And then I just googled interviews that you'd done. And there was one where you're talking about sandwiches with Craig Ferguson. And I was like, 'She seems great.' Because what I wanted [for Ollie] was someone who was open and curious and seemed really down to be in a safe space to try and fail. And when we met, we clicked right away."
Shooting took place during the winter in 2017 and the film premiered last summer at the Tribeca Film Festival. Rather than filming in the Midwest, much of the production took place in Austin, Texas.
"We really wanted to shoot in North Dakota, but the window we had to shoot was January and February," said DaCosta. "And uh..."
"The weather is very extreme," Thompson said.
"Insane," said DaCosta. "And also we'd have had to take everyone, every piece of equipment, everything to North Dakota to shoot and weren't given the budget to do that. But we did get two days to shoot North Dakota, so there's a lot of North Dakota stuff in the movie."
For research purposes, Thompson took her own solo trip to Williston, N.D., driving up in a pickup truck and staying with a family that had moved there for the oil boom. "It was amazing," she said. "I got to talk to people and go to bars and sneakily make voice memos and just hang out."
"I wish I could've gone," said DaCosta. "My producer Rachel and I went [separately] in part to scout but also to do research and talk to people and I had the same experience. Everyone's so lovely and open. This woman we met, the same day she's like, 'I'll take you around to all the rigs and show you where they are.' And was very open about life there. I told her the story of the script and she was like, 'Oh, it's so much worse.'"
REVIEW: In the arresting 'Little Woods,' Tessa Thompson and Lily James get scrappy »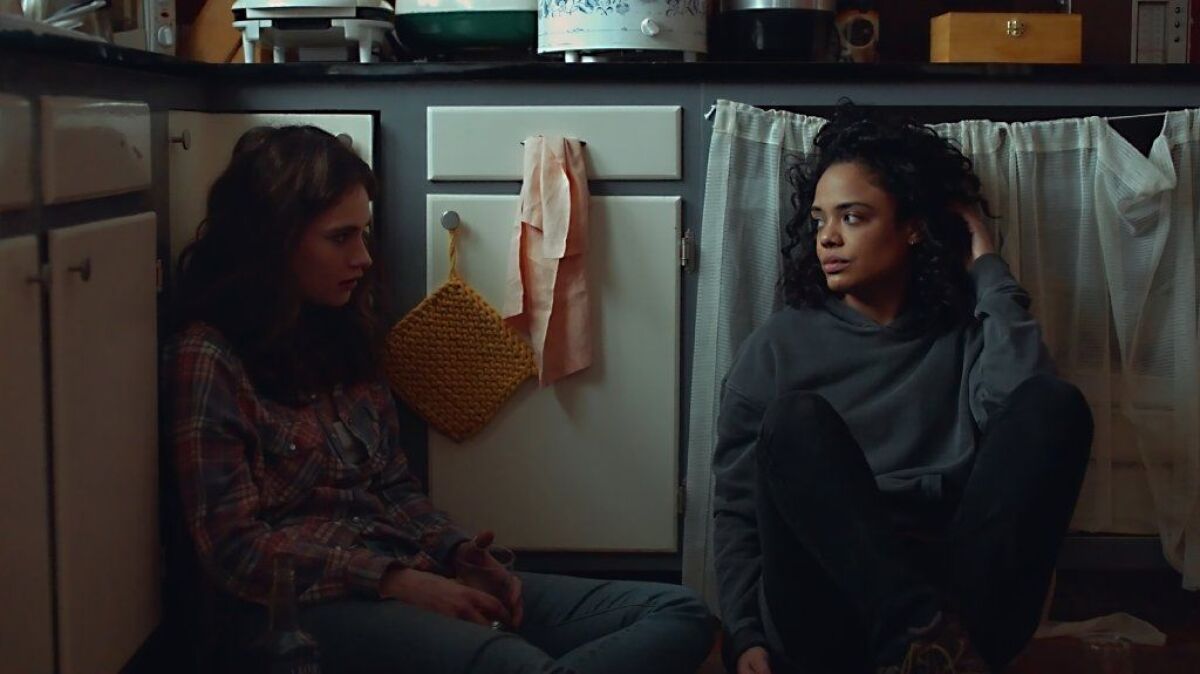 Thompson has been flirting with the idea of directing a feature herself in the near future but is wary of the pressure placed on female filmmakers to strike gold right out of the gate.
"I'm sensitive to how many chances we get," she said. "I feel this pressure around the idea that the thing you make first has to be good. And that is stifling because you should just be able to make things. To me, that is the true mark of equality — that we get to be mediocre and still have opportunities."
"We should be able to get better, even if it's in the public eye," DaCosta agreed, "which a lot of our counterparts who are black women did not get to do."
Although indie filmmaking is instrumental to launching the careers of women, particularly women of color, both behind and in front of the camera, it is not without its share of inequities.
"It's very difficult for a woman to just pop up in the studio system," said DaCosta. "But I think the same systemic issues that affect how much work women get to make is also inside the indie space. While there are more women working, we definitely get less money ... We shot ['Little Woods'] for half the budget I wanted. You're forced into these very scarce resources [for] being a woman or a person of color and then you're told to be extraordinary.
"But I will say I am standing on the shoulders of giants," she added. "I'm having a great time, and it's because of women who came before me who were not having a good time whatsoever, especially black women."
"Someone told me they were talking to a friend of theirs, a white male director, who made a joke about the fact that he can't get hired right now because he's not black and he's not a woman," said Thompson. "And it made me think about [how] suddenly, you become sort of a commodity. Because the culture is trying to adjust itself because the pendulum is swinging so wildly. We're in this time where we're talking about how women need to be hired. But what kind of woman? I just hope we can get to a space where we're more specific."
You're forced into these very scarce resources [for] being a woman or a person of color and then you're told to be extraordinary.
— Nia DaCosta on making films as a woman of color
Up next, DaCosta is set to direct a "spiritual sequel" to the 1992 horror film "Candyman" for Jordan Peele's Monkeypaw Productions.
"There's a really great feminist lens to watch the [original] movie through," said DaCosta. "Very much a white feminist lens. If you're generous you can say, 'Well, it's deconstructing white feminism.' Absolutely not on purpose, but you could look at it through that lens. And from a black culture lens it's really interesting to look through."
Production is just getting started on the film, but DaCosta says she's already learned a lot from working with Peele.
"He's such a wonderful man," she said. "I always wanted to make a bigger movie next, like a genre film, and being in the studio space is something I always wanted. The fact that I have Jordan as sort of my mentor who's shepherding me through that, I feel so protected."
Though she has yet to reach out to the star of the original film, Tony Todd, it's not because she doesn't plan to. "It's just that we're at the beginning of this thing, so we're getting all our ducks in order," she said.
Thompson will appear next in Marvel's much anticipated "Avengers: Endgame," reprising her breakout character Valkyrie, who was introduced — and last seen — in "Thor: Ragnarok." The superhero blockbuster couldn't be more of a stark departure from the character-driven "Little Woods."
"Each is a palate cleanser to the other," said Thompson. "I think when I first started in this business, I had a really limited idea of what I could do. And maybe it's just because I didn't see very many examples of somebody like me that was able to occupy a lot of spaces. I never imagined that I would make big studio movies at all. So I always felt very tethered to independent film. It's not even a dream come true because I didn't have the dream, but now it feels really dreamy, at the risk of sounding trite, just to do work that is really varied.
"I guess it's the divine discontent, this idea of never wanting to plateau and wanting to break new ground."
follow me on twitter @sonaiyak
---
Get the Indie Focus newsletter, Mark Olsen's weekly guide to the world of cinema.
You may occasionally receive promotional content from the Los Angeles Times.