Review: The hard realities of heroin addiction and rehab in documentary 'American Relapse'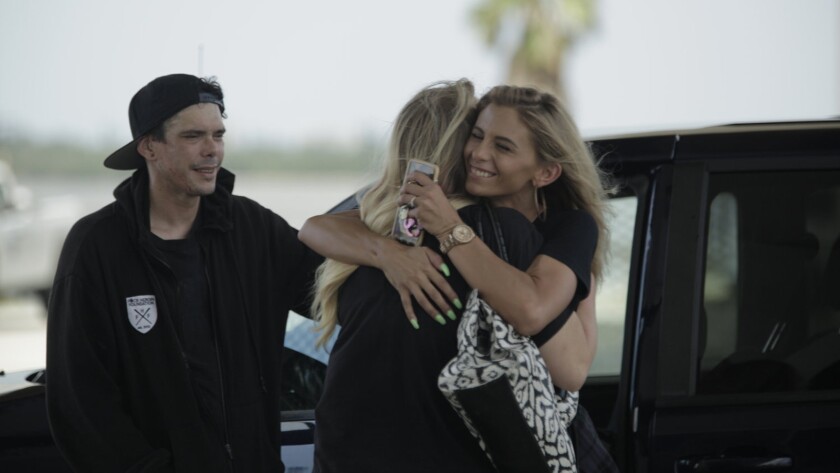 The documentary "American Relapse," a gripping look at the thorny intersection of heroin addiction and its treatment in Delray Beach, Fla. ("Rehab Capital of America"), proves as revealing and involving as it does reflective and heartbreaking.
It's a tough, distressing film, yet in the measured hands of directors Pat McGee and Adam Linkenhelt, its emotional and humanistic qualities transcend the kind of exploitive defaults that could have made this a punishing, eye-popping horror show.
That said, "Relapse" contains its share of gritty images and disturbing scenarios. It mainly covers 72 hours in the lives of "junkie hunters" Frankie Holmes and Allie Severino, recovering addicts devoted to helping a desperate array of drug users find the safest detox centers and sober houses against a host of financial, physical and emotional odds. (The billion-dollar business of addiction recovery has reportedly spawned a system rife with abuse.)
Meanwhile, the candid and compelling Holmes and Severino — call them angels with their own demons — daily risk their sobriety because of stressful, relentless exposure to the opioid epidemic. Although Severino's been clean for 10 years, the burn-scarred, heavily tattooed and pierced Holmes, who runs an anti-heroin foundation with his commanding mother, has a more tenuous resistance to hard-drug use.
This well-shot and edited documentary, which begat the Viceland series "Dopesick Nation," concludes on some deeply sobering if, given the topic, hardly surprising notes.
-------------
'American Relapse'
Not rated
Running time: 1 hour, 45 minutes
Playing: Starts March 29, Laemmle Monica Film Center, Santa Monica
------------
---
Get the Indie Focus newsletter, Mark Olsen's weekly guide to the world of cinema.
You may occasionally receive promotional content from the Los Angeles Times.