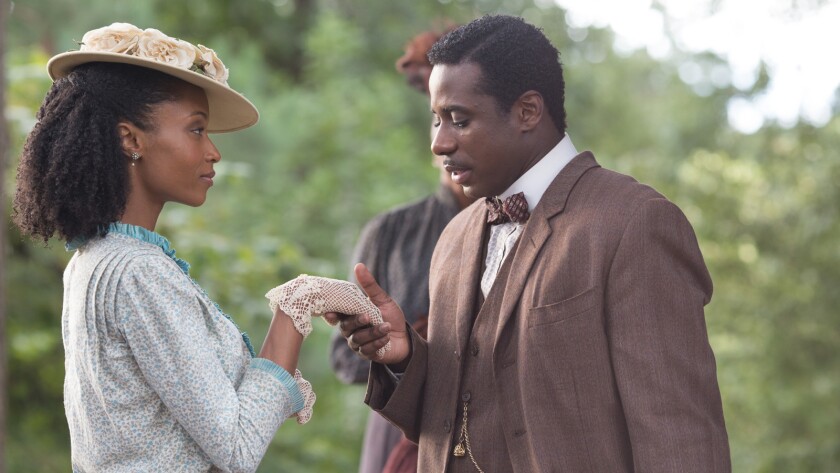 No one could ever call "Bolden," a vivid and inventive musical-drama about the unsung life of New Orleans jazz "inventor" Charles "Buddy" Bolden, a by-the-numbers biopic.
Director Dan Pritzker, who wrote the kaleidoscopic, dialogue-light script with David N. Rothschild, has crafted a largely conjectured, mythical portrait of cornet-playing, African American bandleader Bolden (Gary Carr of HBO's "The Deuce"), about whom limited facts are known. No recordings of his pioneering, improvisational music — a heady mix of blues, ragtime and gospel — are even said to exist.
The film begins in 1931, as Bolden, imprisoned for the previous 25 years in a grim insane asylum, flashes back on his triumphant and tragic life as he overhears a live radio broadcast of jazz icon Louis Armstrong (a vibrant Reno Wilson). (Satchmo's groundbreaking show is masterfully woven in throughout.)
Pritzker, aided by a top-notch tech crew, takes a strikingly impressionistic, woozy, non-linear approach as he tonally reflects Bolden's childhood, musical trajectory and showmanship, love for wife Nora (Yaya DaCosta), womanizing, drug abuse and reported schizophrenia, all told against the cruelty and injustice of the Jim Crow South.
Unfortunately, the film, costarring Erik LaRay Harvey, Robert Ri'chard and Ian McShane, turns overly violent, raw and showy, undermining the glorious music (written, arranged and performed by Wynton Marsalis), superb period re-creation and Carr's powerful lead turn.
------------
'Bolden'
Rated: R, for sexual content and graphic nudity, brutal violence, language and drug use
Running time: 1 hour, 48 minutes
Playing: Starts Friday, in general release
------------
---