Kelly Fremon Craig and James L. Brooks look to 'pay respect to the messiness' of adolescence with 'The Edge of Seventeen'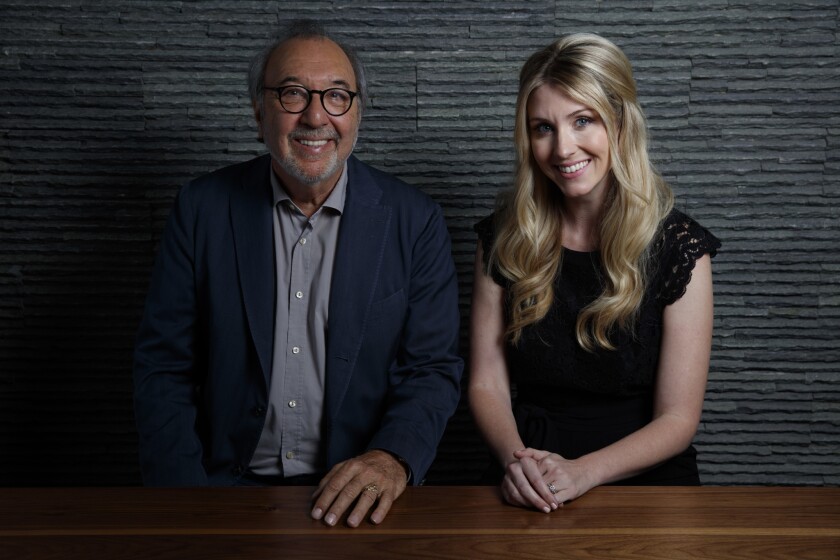 Reporting from Toronto —
James L. Brooks apparently has an eye for debut talent. He has previously produced the first features for Cameron Crowe (1989's "Say Anything") and Wes Anderson (1996's "Bottle Rocket"). Which makes it feel particularly meaningful that Brooks has now produced "The Edge of Seventeen," the feature debut of writer-director Kelly Fremon Craig.
In the dramatically tinged coming-of-age comedy, high school junior Nadine (Hailee Steinfeld) is a social misfit who is constantly combative with her single mother (Kyra Sedgwick) and older brother Darian (Blake Jenner). When her best and only friend Krista (Haley Lu Richardson) begins dating Darian, Nadine goes into a tailspin. As she becomes more erratic and restless, she increasingly turns to a teacher (Woody Harrelson) for advice and leans more on a friendly boy, Erwin (Hayden Szeto), who could become something more.
FULL COVERAGE: Toronto Film Festival »
Brooks, 76, has one of the most storied careers in modern Hollywood. After a successful career as a writer and producer in television (he created both "Mary Tyler Moore" and "Taxi," among others), he turned to writing and directing movies, including "Terms of Endearment" and "Broadcast News." He is a three-time Oscar winner and remains an executive producer on "The Simpsons," which sprung from "The Tracey Ullman Show" (which he also co-created).
Fremon Craig, 36, was born in Whittier, and her career story is just beginning: Her most notable prior credit was the screenplay to the 2009 Alexis Bledel comedy "Post Grad." She said that when her reps sent Brooks the script for what would become "The Edge of Seventeen," she knew "that would be an incredible long shot… And then it ended up that he bit. So here we are. I couldn't believe it."
"The Edge of Seventeen" has its world premiere Saturday as the Closing Night Gala at the Toronto International Film Festival ahead of its theatrical opening in November. Earlier this week, Fremon Craig and Brooks sat down to discuss their collaboration.
SIGN UP for the free Indie Focus movies newsletter »
James, you presumably have a lot of different ways to spend your time. What draws you to producing features from first-time directors?
Brooks: It's been the same thing every time. A writer that I admired and that had a specific voice. You're freed to see characters through someone else's vision. And it's good. And in this case, there was a first draft that Kelly did that showed Kelly. And then there was a second draft that was just the emerging of a fully fledged important writer. And what happened between drafts was research.
Kelly, there have been plenty of coming-of-age stories in the past. For you, what made this one feel different?
Fremon Craig: It's interesting. Jim and I sat down and we talked about the leap between the first draft and the second. And part of what sparked that was that Jim said something to me that completely changed everything for me, which was the first and most important thing we have to figure out is "What are you saying about life?" And so part of that was me going away and figuring out what do I want to say through the character and this story.
And I thought that the thing that I really wanted to explore was how you can feel like everybody has life figured out except you. I think particularly at that age -- but I think always -- it's really easy to walk into a party and everybody is [there], except you're kind of behind a piece of glass, sort of there but not really there. You feel like nobody can quite feel what you feel. And the script kind of became an exploration of what do you do with that. And what I found through writing it was that when you start to make those connections with other people, you find you have this kind of common pain.
What was the research like?
Fremon Craig: Just talking to every teenager I could possibly get my hands on all across the nation. Having just really kind of long therapy-type sessions with them where I'd ask a million questions. And the details that came out of those common stories were so great. And it made me want to pay respect to the messiness; how it's messy and complicated and absurd and painful and beautiful and a million different things. And then after that was done, it was probably another year or so of actually writing.
James, research is a big part of your writing process too. What do you get out of it?
Brooks: It's pretty much what she said. First of all, you get stuff. You really get stuff. I have a rule that if you hear things a third time, it's generally true. Just little specifics, but those little specifics that tend to be like that. But the one thing you get is a real sense of responsibility. Kelly would bring back the videos and we'd look at the kids and just want to tell the truth. You see your constituency and have a sense of responsibility to the constituency. I think that's always happened. It's sort of all a by-product, but it's so important.
You hope that the movie beckons to you when you set out to do a movie.
James L. Brooks
Kelly, the movie has a very specific tone and voice to it. Where did that come from?
Fremon Craig: People have said that, but to me I'm totally unconscious of it. I think maybe it's just the way that I write. I'm not conscious of, "Here's this particular voice I'm hearing and it has to have this particular voice, and I want to make sure it sounds like this." I think it's just the way I do it, and I don't know how to do it any other way. So in a weird way, I think it's unconscious.
But James, as a producer, is it part of your job to nurture and elevate whatever that is?
Brooks: At a certain point, you hope that the movie beckons to you when you set out to do a movie. You sort of squint, you look at it and it starts to take shape. And I wanted a passionate movie. It looks like it's going to be great year in film, and everybody was telling me these horror stories about being beaten up by the system. And I wanted a labor of love, I wanted to be passionate, I wanted it to be nutty.
The movie shifts between Nadine's family and her personal life and also is really careful how much to focus on her romance with Erwin. How did you find that balance?
Fremon Craig: At its core, I think it's about a whole family feeling the same thing; that they're the one holding the most pain and not quite knowing how to deal with it. And also loneliness. And each person dealing with it in their own messed up way. But I think I always knew it was Nadine's story. I always knew that all of those things were pushing Nadine to a self-realization. Everything pushed her to look at herself and figure out that she was not the only person in the world who hurt.
Brooks: And, by the way, all this is in a comedy.
Follow on Twitter: @IndieFocus
ALSO
The new 'Blair Witch' sequel comes out of the woods at Toronto Film Festival
Toronto 2016: 'Tramps' steals a little romance
Q&A: Christopher Guest on 'Mascots,' shoelaces and the high stakes of the lower echelons
---
The complete guide to home viewing
Get Screen Gab for weekly recommendations, analysis, interviews and irreverent discussion of the TV and streaming movies everyone's talking about.
You may occasionally receive promotional content from the Los Angeles Times.