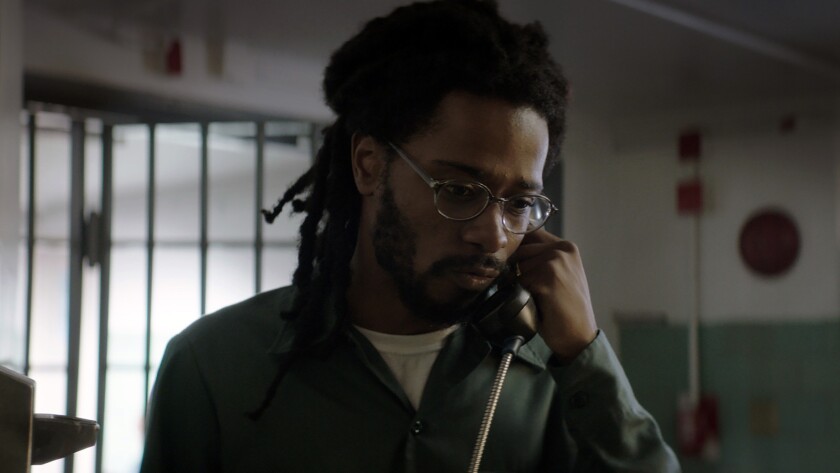 Movie recommendations from critics Kenneth Turan, Justin Chang and other reviewers.
Baby Driver Edgar Wright's exuberant, one-of-a-kind vehicular-action-thriller-musical-romance stars Ansel Elgort as a tinnitus-afflicted, music-loving getaway driver alongside a superb supporting cast that includes Kevin Spacey, Lily James, Jamie Foxx, Jon Hamm and Eiza Gonzalez. (Justin Chang) R.
Beach Rats Eliza Hittman's moving and moodily evocative coming-of-age drama follows the emotional and sexual confusion of a Brooklyn teenager (brilliantly played by Harris Dickinson) over the course of a long, hot summer. (Justin Chang) R.
The Big Sick Kumail Nanjiani and Zoe Kazan are terrific as a young couple navigating the challenges of interracial romance and Muslim immigrant identity in director Michael Showalter's delightful, serious-minded comedy, which also features powerhouse supporting turns from Holly Hunter and Ray Romano. (Justin Chang) R.
Brigsby Bear Kyle Mooney gives a terrific performance as a young man obsessed with an educational TV show in director Dave McCary's sweetly disarming comedy, which expands into a winning tribute to the joys of amateur filmmaking and the therapeutic power of art. (Justin Chang) PG-13.
Columbus John Cho and Haley Lu Richardson play two strangers who go on a walking-and-talking tour of the modernist architecture in Columbus, Ind., in this serenely intelligent, gorgeously contemplative first feature from writer-director Kogonada. (Justin Chang) NR.
Crown Heights Winner of Sundance's coveted audience award for drama and featuring a gripping performance by Lakeith Stanfield, this is the stirring story of a man imprisoned for a crime he did not commit and the friend who fought for years to get him out. (Kenneth Turan) R.
Detroit In re-creating one of the most horrific episodes from the 1967 Detroit race riot, director Kathryn Bigelow and screenwriter Mark Boal have made a tense, excruciating and entirely necessary portrait of individual and systemic racism that reverberates all too powerfully in the present. (Justin Chang) R.
Dunkirk Both intimate and epic, as emotional as it is tension-filled, Christopher Nolan's immersive World War II drama is being ballyhooed as a departure for the bravura filmmaker, but in truth the reason it succeeds so masterfully is that it is anything but. (Kenneth Turan) PG-13.
Girls Trip Regina Hall, Jada Pinkett Smith, Queen Latifah and a revelatory Tiffany Haddish play four women renewing the bonds of friendship on a New Orleans weekend getaway in this hilariously raunchy and sensationally assured new comedy from director Malcolm D. Lee ("The Best Man"). (Justin Chang) R.
Good Time Robert Pattinson gives a revelatory performance as a scuzzy small-time crook going nowhere very fast in this moody, relentless and impeccably observed New York thriller directed by Josh and Benny Safdie. (Justin Chang) R.
Lemon Partners in life and comedy, director/co-writer Janicza Bravo and co-writer/star Bret Gelman demonstrate their uniquely oddball sense of humor in this collaboration, directed by Bravo with a supremely assured sense of rhythm and style. (Katie Walsh) NR.
Marjorie Prime Superb performances by Lois Smith, Jon Hamm, Geena Davis and Tim Robbins are the center of this elegant, quietly haunting sci-fi chamber piece directed by Michael Almereyda, who adapted it from Jordan Harrison's 2014 play. (Justin Chang) NR.
Patti Cakes A canny mix of slickness and grit, this exuberant hip-hop fairy tale from first-time writer-director Geremy Jasper stars Australian actress Danielle Macdonald in a sensational performance as a twentysomething aspiring rapper from New Jersey. (Justin Chang) R.
Step Heartening and unashamedly emotional, this certified crowd-pleasing documentary tells the story of the hard-knock lives and expansive dreams of members of the step dance squad at a Baltimore charter school. (Kenneth Turan) PG.
War for the Planet of the Apes An eerie quiet descends over this grim and masterful third "Planet of the Apes" prequel, directed with bleak beauty by Matt Reeves ("Dawn of the Planet of the Apes") and crowned by another superb performance-capture turn from Andy Serkis as the soulful chimpanzee Caesar. (Justin Chang) PG-13.
Wind River Jeremy Renner and Elizabeth Olsen star in the most accomplished violent thriller in recent memory, a tense tale of murder on a Native American reservation made with authenticity, plausibility and wall-to-wall filmmaking skill by writer-director Taylor Sheridan. (Kenneth Turan) R.
Wonder Woman With forthright emotion, spirited humor and a surprisingly purposeful sense of spectacle, director Patty Jenkins and her superb star, Gal Gadot, have made a thrilling new superhero saga that might just save the typically nonthrilling DC Extended Universe. (Justin Chang) PG-13.
See the most-read stories in Entertainment this hour »
---