'On Her Shoulders' documents the quiet persistence of Nobel Peace Prize winner Nadia Murad
A tale of rape and massacre will move the world only so much. Nadia Murad has learned this. There are miles of mass graves, millions of refugees. Only some are heard. But Murad, whose power comes from a brokenness inside, will not let her people in northern Iraq be forgotten.
She is a reluctant heroine, a young woman of unflinching conviction and rustic grace. She was awarded the Nobel Peace Prize — sharing it with Denis Mukwege, a Congolese doctor — on Friday for her work to end sexual violence in war zones. Murad was kidnapped and made a sex slave when Islamic State fighters overran Yazidi villages and towns in Iraq in 2014. She escaped months later and made it to Europe.
The new documentary, "On Her Shoulders," which opens in Los Angeles on Oct. 24, is an evocative portrait of this unwitting activist who lost family, endured rape and torture and became the eloquent if at times overwhelmed voice of 400,000 Yazidis, a religious minority, driven from their homes. Hers was the poetry of witness in a land of atrocity, a tale carried by a seamstress to the world's capitals.
Directed by Alexandria Bombach, the film follows Murad for three months as she calls attention to her people's plight, traveling from Berlin to New York to Canada. Her mother and brothers had been killed; at least 3,200 women and girls remained in captivity. This was her story, unfolded in weary persistence to politicians and ambassadors, many of whom praised and photographed her but could do little to stop the carnage.
The disquieting truth of "On Her Shoulders" is Murad's gradual realization — as if layers of a bitter fruit exposed — that a village girl, even one with Amal Clooney as her lawyer, cannot quickly budge the world's bureaucracy and cruel political designs. This point is crystallized when she is told that it will be a decade before destroyed Yazidi towns are rebuilt and refuges return home, a time when her village will be a place of no men and widows dressed in black. She cannot fathom this.
It was like losing some humanity myself by not putting the camera down and being able to hug this person.
— Alexandria Bombach, director of "On Her Shoulders"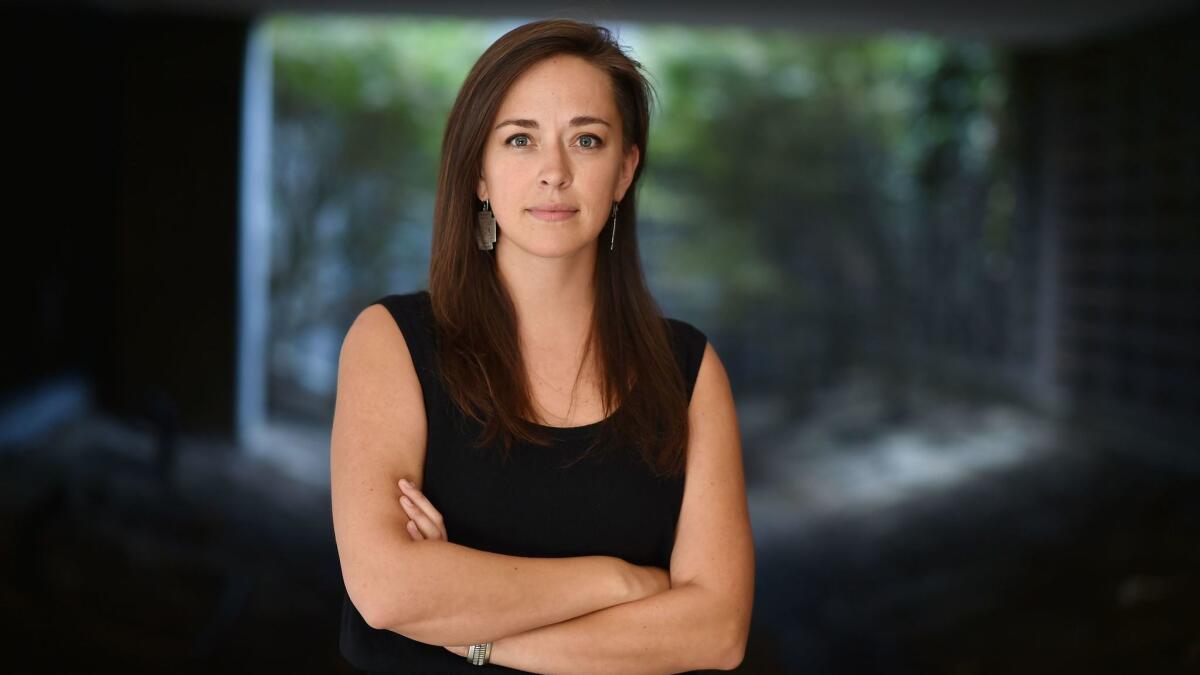 "The reason Nadia's doing this is survivor's guilt. Every award she's given doesn't feel great. It's a very odd thing if you step back and look at it," said Bombach. "This is the hardest film I've ever made. It was like losing some humanity myself by not putting the camera down and being able to hug this person. It was so difficult to be in a role where I'm also someone taking something from her. I didn't want to be in that position. You had to really reflect on our responsibility as storytellers."
Murad seldom smiles in the film, perplexed at her notoriety, defiant in her cause: "I wasn't raised to give speeches or to meet world leaders," she said. "No matter what the world gives me, I see myself as a worthless person … I will see myself as a person of worth on the day when terrorists are brought to justice."
Murad shares similarities with Malala Yousafzai, a Nobel Peace Prize laureate who was shot by Islamic militants in her native Pakistan and became an activist for girls' education. But where Yousafzai is charismatic, a colorful force that makes the lens pop, Murad's power is hushed humility. She cares little for clothes and makeup. Her voice can fade like a whisper. Her gaze is reminiscent of a Black Madonna painting from centuries past; the eyes of suffering foretold. But her will does not buckle.
Murad's ordeal began in 2014, when Islamic State fighters controlled much of Iraq. They viewed the Yazidis as infidels and attacked, sending hundreds of thousands fleeing around the Sinjar Mountains. Murad and other Yazidi girls and women were raped and held captive in and around Mosul. She eventually escaped and told her story, including a detailed account in her memoir, "The Last Girl."
"At some point, there was rape and nothing else," she wrote. "This becomes your normal day."
Bombach decided to use allusions of the abuse rather than specifics: "I want people to question why they even need to know that," said the director. "We know that thousands of women were kidnapped by ISIS for sexual slavery. Why do you need to hear these gory details? ... It's sensationalism and gawking at trauma. I think that really needs to be questioned."
The film was initially envisioned as a documentary short. But when Bombach — who in 2015 made "Frame by Frame", a story of four photojournalists in Afghanistan — spent time with Murad she recalculated.
"Once I met Nadia I knew it needed to be a feature," she said. "We don't need to be just another company putting her story out. We're the only ones with access. But the production company (Ryot Films) said no and they kept saying no. So when I got into the editing room I just made the film in secret. It was super terrifying. If they didn't go for it the film would be taken away from me."
I wish people knew me as an excellent seamstress, as an excellent athlete ... I don't want people to know me as a victim.
— Nadia Murad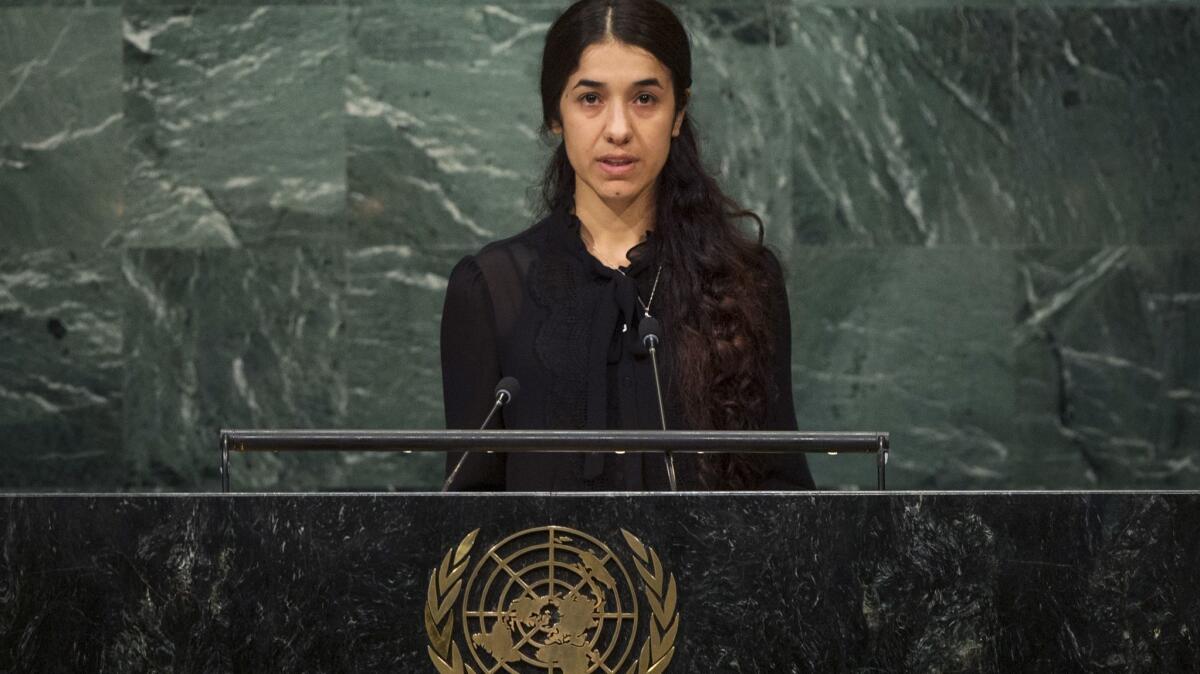 Often exhausted and frustrated, Murad refused to stay quiet even after the Islamic State was driven from Yazidi villages in 2015. She was named the U.N.'s Goodwill Ambassador for the Dignity of Survivors of Human Trafficking. She traveled to refugee camps, where women held her, smoothed her cheeks and wept, as if touching her brought back some of what was lost. In one shattering scene, a boy plays a guitar and sings Yazidi songs as Murad breaks down. It was like this day after day — minutes of shame, devastation and memory mixed with the need to endure and demand justice.
"I wish people knew me as an excellent seamstress, as an excellent athlete," she said. "I don't want people to know me as a victim."
Moments before an appearance at the United Nations, Murad edited her speech. There was a sentence asking people to imagine the brutality inflicted upon her and her people. She crossed it out. She said no one could imagine what had happened.
She told the General Assembly: "This world was not only created for you and your families. We also want life, and it's our right to live it." She added: "If beheading, taking women as sex slaves, raping children, and the displacement of millions will not move you — when will you move?"
See the most-read stories this hour »
Twitter: @JeffreyLAT
ALSO
Rage and wonder in 1968: The year war came through the TV and I felt pieces of childhood ending
'The Captain' is a chilling glimpse of perverted power and atrocity at the end of WWII
Get our L.A. Goes Out newsletter, with the week's best events, to help you explore and experience our city.
You may occasionally receive promotional content from the Los Angeles Times.