Review: 'Nobody Speak: Trials of the Free Press' examines the dangers to news media in the age of Trump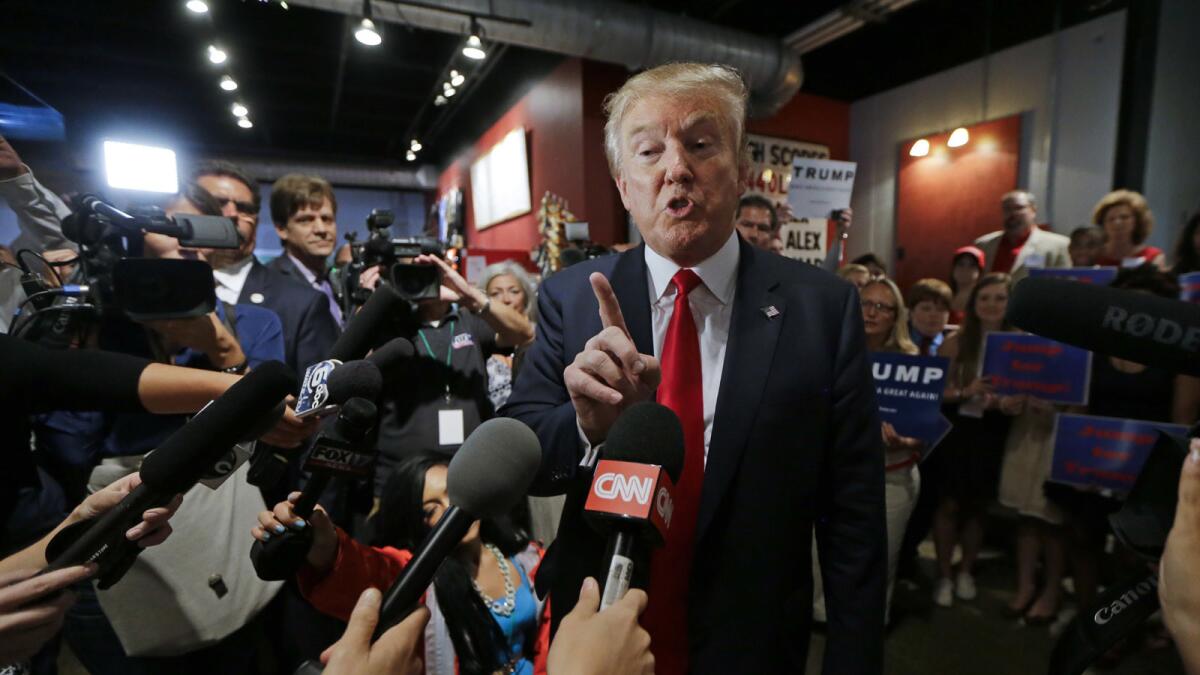 It was a curious twist that Hulk Hogan's sex tape became a test for the 1st Amendment in an era when the news media were increasingly vulnerable to petulant billionaires, angry mobs, shrinking advertising, a Twitter-frenzied president and a Montana congressman who body-slammed a reporter.
The new documentary "Nobody Speak: Trials of the Free Press" focuses on Hogan's civil suit brought after Gawker posted a video of the professional wrestler having sex with a friend's wife. The 2016 judgment awarded to Hogan bankrupted the website. But the case raised deeper questions about privacy in the Internet age and how the rich — Hogan's cause was bankrolled by Silicon Valley billionaire Peter Thiel — can afford to silence news organizations.
The film, directed by Brian Knappenberger, is a troubling glimpse at the pressure news organizations face in politically vicious times. President Trump's raucous populism has challenged the news media with threats and "alternative facts." That confrontational approach has been countered by a press renaissance, much like during Watergate, of holding those in power accountable.
The battle bristles across newspaper websites and 24-hour cable news cycles. Trump's animosity towards journalists, describing them as "liars" and "terrible people," appeases his base and discredits stories critical of him. Trump's strategy coincided with two cases in which billionaires crushed and controlled news outlets: Thiel's backing of Hogan and the purchase of the Las Vegas Review-Journal by Sheldon Adelson, a prominent Republican donor.
Gawker's prurience and irreverence made it less than a hallowed symbol for press freedom. Years earlier, a Gawker blog outed Thiel as gay, prompting him to fund Hogan's crusade. Hogan settled with the website for $31 million. But the case turned into a meditation on the reach of the media and the clout of big money to stop it. It was a tale that echoed well beyond Gawker's lurid fascinations.
The sharper meaning at play in "Nobody Speak" is what kind of society will we become and who will articulate and define it. Where is the truth in a land of disquieting parallel narratives? Upon whose version of reality will we base our democracy? The Constitution has made freedom of the press sacrosanct. But as history has shown, from the Pentagon Papers to Watergate, there are determined and increasingly wealthy forces that don't want certain stories told.
After the Adelson family bought the Review-Journal in a secretive deal in 2015, many reporters and editors left the paper, complaining of compromised editorial integrity. Columnist John L. Smith, one of the most eloquent voices in "Nobody Speak," resigned after he was ordered not to write about Adelson, a casino magnate often courted for campaign donations by conservative politicians.
Attacking or attempting to co-opt the messenger is not new. Trump has made it his default art form. But the most chilling scenes in Knappenberger's documentary are taken from Trump rallies, including one where the then-candidate pointed to reporters and said, "The world's most dishonest people back there." The irony is that Trump once reportedly impersonated a publicist to plant stories about himself with reporters.
Our cultural and class wars have revealed a deep distrust for the news business. The Internet and the rise of social media have sapped newsroom revenues and forced thousands of layoffs. Pundits and networks like Fox have made news less about truth than about twisting facts to fit political persuasions. This relentless cacophony imperils democracy, obscuring the information a government and a people need to make informed decisions about its laws, beliefs and future.
"Nobody Speak" drifts at times and lacks sweep and historical perspective. But it is a troubling foreshadowing of things to come if journalists are threatened, sidelined or attacked by powerful institutions and people more concerned with their own interests than what's best for the country or communities.
-------------
'Nobody Speak: Trials of the Free Press'
Not rated
Running time: 1 hour, 33 minutes
Playing: Laemmle Monica Film Center, Santa Monica; also streaming on Netflix
See the most-read stories this hour »
Twitter: @JeffreyLAT
ALSO
'Letters from Baghdad' doc reveals the desert adventures of Gertrude Bell
Ethan Hawke lets us in his editing room and reveals what Philip Seymour Hoffman taught him
Racing through Rome before the ticket booth goes dark and other faraway moviegoing adventures
Get the Indie Focus newsletter, Mark Olsen's weekly guide to the world of cinema.
You may occasionally receive promotional content from the Los Angeles Times.