Oscars 2019: 'Spider-Man: Into the Spider-Verse' wins the animated feature Oscar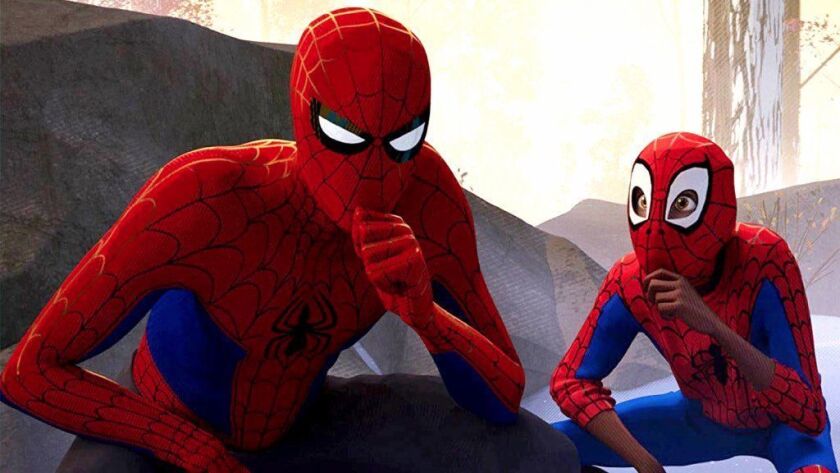 Early on, fans had many reasons to be wary of Sony's Oscar-winning "Spider-Man: Into the Spider-Verse." The studio's last three Spider-movies outside the Marvel Cinematic Universe had seemed trapped in a web of confusion. ("Spider-Man 3's" evil dance scene, anybody?) And wouldn't a new release by Sony — even an animated one — conflict with the extremely popular Tom Holland iteration in the MCU?
But all "Spider-Verse" has done since its release is earn the best reviews of any Spider-movie, ever (97% on Rotten Tomatoes) and sweep awards-season honors, including the animated feature Academy Award on Sunday night. It bested two competitors from Marvel's parent company, Disney, including early favorite "Incredibles 2" and "Ralph Breaks the Internet," as well as the smaller-scale "Isle of Dogs" and Japanese import "Mirai."
Co-producer Chris Miller accepted the Oscar by saying, "There's 800 filmmakers [on this film] who pushed boundaries and took risks to make people feel powerful and seen."
Co-producer Phil Lord, who wrote the story and co-wrote the screenplay, added, "So when we hear that somebody, somebody's kid was watching the movie and turned to them and said, 'He looks like me,' or 'They speak Spanish like us,' we feel like we already won."
Directed by Peter Ramsey, Bob Persichetti and Rodney Rothman, "Spider-Verse" is a truly audacious way to extend a multi-billion-dollar franchise. Apart from its innovative visual approach mixing different styles of animation and its bold character redesigns, it gleefully re-imagines one of the best-known of all superheroes. It bears the irreverent, meta stamp of producers Lord and Miller.
Rather than focus on Peter Parker, the secret identity who anchored all previous big-screen versions of the webslinger, Lord and Miller made young Miles Morales (voiced by Shameik Moore) their protagonist. Morales is the half-black, half-Puerto Rican teen who became the superhero in 2011, in an alternate timeline captured in Marvel's Ultimate imprint of comic books; he hadn't been widely known among non-hardcore fans.
But while "Big Hero 6," the only previous Marvel property to win the animated feature Oscar, was criticized for changing the ethnicities of its originally Japanese characters, "Spider-Verse" follows in the footsteps of "Wonder Woman" and "Black Panther" in staying true to its characters' origins.
"We said we'd do it if it could be about Miles," Lord said during an Envelope Live screening and Q&A in early February. "We wanted to make a movie that made people feel powerful and important and necessary."
"In one fell swoop, you could address why another Spider-Man movie, and diversity in a genre that hasn't been that good on it," co-director Ramsey, who is the first black man to be nominated in the animated feature category, previously told The Times. "It's one of those things; all you have to do is take one step to the left, and it becomes so simple."
The movie provides the first big-screen acknowledgement of Marvel's multiverse, which allows the comics' many different timelines to coexist. Parker appears in the movie as both a jarringly perfect version (voiced by Chris Pine) and a laughably schlubby one (Jake Johnson). Many other alternate-Earth Spider-creatures populate the film, including longtime love interest Gwen Stacy as Spider-Gwen (Hailee Steinfeld), a version inspired by film noir (voiced by Nicolas Cage and seen in black and white), a Japanese girl (Kimiko Glenn) and her spider-robot straight out of manga, and Peter Porker/Spider-Ham (John Mulaney) — a cartoon pig. It's a wacky, reality-bending approach that makes room for both crazy humor and genuinely touching moments.
These disparate worlds are able to coexist due to the film's unique look. It mixes modern computer-generated 3-D animation with not-quite-traditional 2-D techniques. It even mimics common printing errors in physical comic books that create color-shifted ghost images, sometimes tricking viewers' brains into seeing 3-D where there are only 2-D images.
"When you look at a comic book, every panel has a dynamism, telling as much story as it can with a still image," co-director Persichetti told The Times last year. "We took an old 2-D approach to the way we animated the character. We only do 12 images per second, as opposed to 24. So there was a lot of experimentation; there was a lot of failure. Then, all of a sudden, it all sort of clicked."
The Easter egg-loaded film has been praised throughout the industry, including by Holland himself, who called it "Honestly one of the coolest films I've ever seen" on Instagram.
While the movie became a word-of-mouth hit over the holiday season, it didn't reach the box-office heights of live action Spider-titles. Its current roughly $360-million take is about half of the second-lowest grosser, "The Amazing Spider-Man 2," which starred Andrew Garfield. Still, a "Spider-Verse" sequel and female-centric spinoff have been announced.
From the Oscars stage, "Spider-Verse" co-director Ramsey said, "To our audience, thank you so much, we love you and we just want you all to know we see you; you're powerful. This world needs you. OK? This world needs you. So please, we're all counting on you."
---
Inside the business of entertainment
The Wide Shot brings you news, analysis and insights on everything from streaming wars to production — and what it all means for the future.
You may occasionally receive promotional content from the Los Angeles Times.