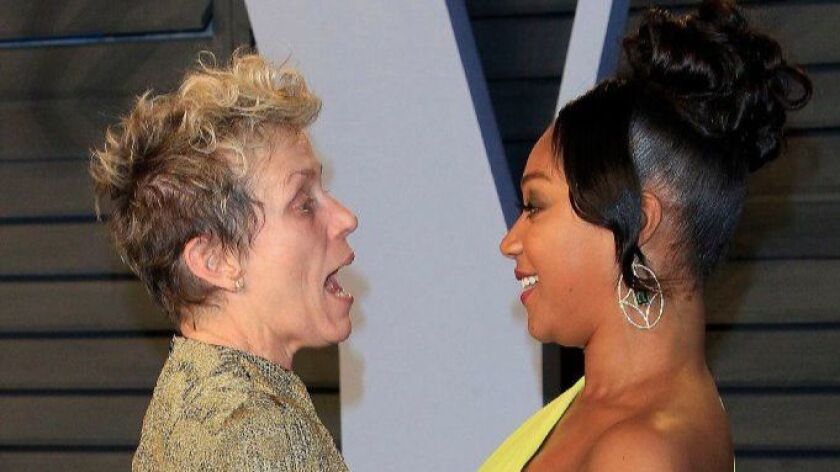 "This is my posse," Frances McDormand said as she approached the hulking security men guarding the entrance to the Vanity Fair Oscar party Sunday night. The guards waved the freshly minted Oscar winner and her crew into the bash at the Wallis Center for Performing Arts in Beverly Hills, and as she made her way in, she wanted to let everyone know: There was a reason she didn't have her golden statue with her.
"Somebody tried to steal my Oscar at the Governors Ball," she told producer Jason Blum, as she made her way inside, passing a live a capella group. "Let me see someone try to pawn that!"
"A lunatic stole it and we had to arrest them," a member of McDormand's "posse" added.
The 60-year-old quickly bypassed the red carpet, rushing by photographers. But when she saw Tiffany Haddish posing for the shutterbugs, she stopped to tell the comedian about her stolen hardware too.
"She said somebody stole her Oscar," Haddish told another party guest, launching a full-blown game of telephone.
McDormand's statue may have been nowhere to be found, but there were plenty of Academy Awards on hand: Gary Oldman, documentary director Bryan Fogel and Allison Janney all carried their trophies into the exclusive event. Moral of the story: Keep your Oscar close, even in rarefied air.
And Vanity Fair's annual post-show party is about as exclusive as it gets. Each guest is sent an invite that looks like a thicker version of a credit card — the kind of pass you might use to get into your office — to obtain access to the event. When reporters arrive, they must check in with a magazine representative, who starts running down the clock on an hour window of time. If you don't return to the exit after 60 minutes, you will not be invited to the party again the following year.
This being my third time covering the party, I attempted to learn from previous mistakes. There are so many black SUVs lining Santa Monica Boulevard — and so many random street closures — that driving yourself to the event can get surprisingly confusing. Last year, I got so turned around that I ended up ditching my car at a parking meter and running barefoot through the streets of Beverly Hills to make my 11 p.m. arrival time.
I was not down for that kind of germ exposure this year, so I opted to take an Uber. Which may have been somewhat of a mistake, as, upon learning my job and where I was headed, the driver spent the rest of the ride pitching me on his revolutionary engineering technique that improves the sound quality of song recordings. I listened to two versions of many a tune from "La La Land," y'all.
The awkward ride quickly faded from my mind as I entered the party. First, of course, is the red carpet, and since the party has so many big names attending, it's almost like a mini-version of the actual Oscars. There are tons of camera crews and media outlets that turn up to cover the arrivals, and almost every star has changed into a different ensemble, so they're eager to pose for pictures. I, however, was not — and there's weirdly no other way to get into the party than by walking behind stars who are getting their picture taken. So, if you see someone in a black coat ducking behind Gal Gadot and Haddish, yeah, that's me.
After checking in, I did a quick lay of the land. The majority of the party takes place inside a big room with a bar, but there's also a courtyard space where revelers mostly go to smoke cigarettes. This year, in wake of California's pot legalization, the smell of marijuana was also wafting through the air. I spotted Wiz Khalifa with a vape, and so did another partygoer, who gossiped to a friend that she'd heard someone once took one hit of the musician's weed and couldn't function for the rest of the night.
Fortunately, there were other pleasures to indulge in: Buckets of fried chicken nuggets, tin boxes of Louis Sherry chocolates and In-N-Out burgers circulated throughout the event. Of course, not that many celebrities were indulging. Emily Ratajkowski, who spent the night kissing her new husband, Sebastian Bear-McClard, was wearing a dress with a corset so tight that she probably couldn't have fit food into her body even if she wanted to.
"Feel this, it's metal," she said, urging me to touch her waist. "The metal detector at the entrance went off!"
The couple got married in a surprise courthouse wedding earlier this month, though they said they weren't going to go on a honeymoon. "This whole thing has been a honeymoon," said Bear-McClard, whom Ratajkowski affectionately calls "Sebo."
As I made my way toward the photo booth, I noticed Zoey Deutch, who'd brought her friend from middle school to the party. "Um, Drake's here," the actress told me.
Stop. The. Presses. I have never seen Drake in the wild, and doing so felt necessary to me. I'm sure you understand. And indeed, Deutch was right: There was October's Very Own, chatting with Diddy and French Montana. He'd brought his dad along with him; the night was a family affair for a few partygoers, including mother and daughter Lisa Bonet and Zoë Kravitz, who huddled together for much of the time.
Anyway, I wasn't the only one surprised to see Drake in attendance. Besides Kobe Bryant, the rapper had more camera phones surrounding him than nearly anyone else. He and Diddy seemed to be having a good time, especially when "Get Out" star Daniel Kaluuya came over and they all started dancing together.
There wasn't much dancing overall, though — a side room with a DJ was almost empty. For most, there was too much small chat to be done to break it down on the dance floor. Ronan Farrow, the journalist who has covered the Harvey Weinstein story for the New Yorker, was meeting Olympic figure skater Adam Rippon for the first time. Rippon was dressed in "Fifty Shades of Grey"-esque S&M look. His inspiration? "Being a whore," he replied with a smile.
Everywhere you looked, an unlikely pair of stars appeared to be engaged in conversation: Billy Eichner, a.k.a. "Billy on the Street," and Mark Hamill: "The Oscars are such a nice escape from life, actually," the comedian told the "Star Wars" vet. "Like, I don't even check Twitter for a few hours."
Netflix head of feature films Scott Stuber asked "Moonlight" star Trevante Rhodes, who was wearing a form-fitting sweater, "Why do you look like you're about to star in your own ad campaign?" Janney and supporting actor nominee Richard Jenkins kicked their feet up on a couch, Janney with a drink in hand, while Jenkins threw his arms behind his head in full repose.
There were also, of course, those you might expect to see together, like "Spider-Man" costars Zendaya and Tom Holland. As they walked toward the exit at the end of the night, a group of fans waiting across the street began shouting Zendaya's name. She and Holland promptly retreated to a tent stocked with Bouchon beignets to wait for their ride, happy to be out of sight of the onlookers.
Yes, this does mean my time at the party was coming to a close. Which was probably for the best, given that on my way out, I spotted the ShibSibs, Olympians Alex and Maia Shibutani, and awkwardly shouted "Shibutanis!" in their face before I knew what was coming out of my mouth.
Wouldn't want to make that kind of gaffe in front of Drake.
Follow me on Twitter @AmyKinLA
---