Paramount, at a crossroads, pulls wraps off awards-season releases 'Silence' and 'Fences'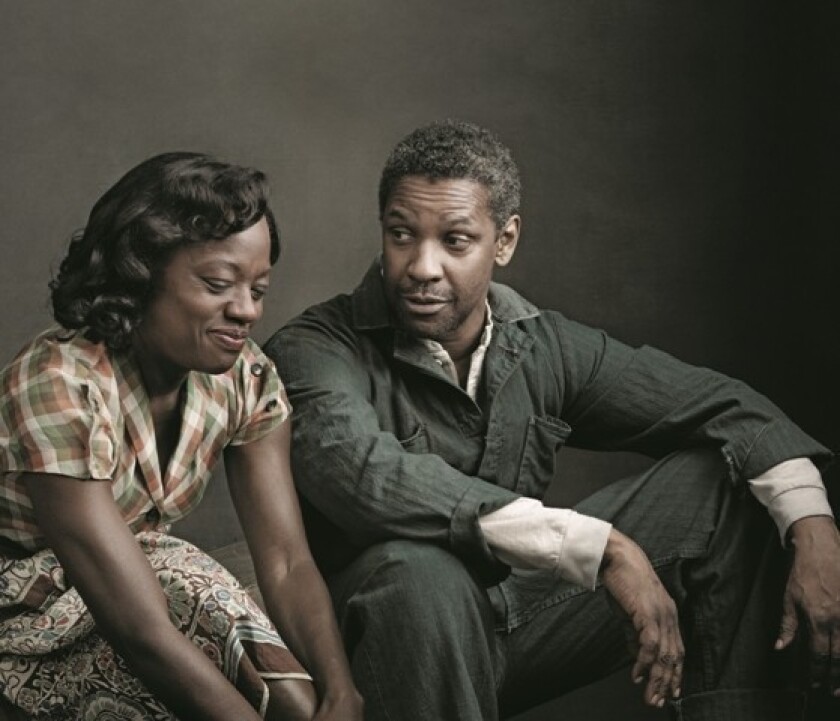 Reporting from NEW YORK —
With "Allied," Fences," "Arrival" and "Silence," Paramount Pictures holds more big bets in the last two months of 2016 than arguably any other studio.
And perhaps no other Hollywood entity has as much riding on those late-year bets as studio President Brad Grey.
"I know our company has been in the news a lot lately, mostly not for film or television," Grey said dryly to reporters at a studio preview event in New York on Thursday night. "But I want to say I'm excited about the changes being made at Viacom. And I'm really excited about what this means for the next chapter of Paramount pictures."
Paramount and parent Viacom were of course at the center of a long legal and family saga that, after plenty of messiness, saw resolution this summer. But despite reports that more turbulence for the studio could be coming as National Amusements President Shari Redstone potentially pushes for a reunion of CBS and Viacom, Grey said he saw smoother sailing ahead.
"It feels like the wild ride is over," Grey told The Times at the event. "Shari assured me that we have her complete support and that she simply wants us to build this studio as her father and we always envisioned it."
Paramount had just displayed what that vision would be, showcasing snippets from what is proving to be a very diverse slate of longer-range material — George Clooney's "Suburbicon," Alexander Payne's "Downsizing," Rupert Sanders' "Ghost in the Shell" and animation play "Amusement Park," among others. More pressing, though, were the movies that will shape the studio's fate in the next two months.
"Arrival" had already screened at Toronto — the Denis Villeneuve cerebral sci-fi-er was warmly received — but new footage awaited from the other three big 2017 films.
(The studio also has veritable "The Switch" reunion comedy "Office Christmas Party" and the Vin Diesel-centric "XXX: Return of Xander Cage" in the next few months.)
"Silence," Martin Scorsese's long-awaited opus on Jesuit missionaries in 17th century Japan, was unveiled via a 45-second piece of footage that entailed an encampment, a crucifixion and a host of other spiritual iconography. Featuring Andrew Garfield and Adam Driver, the footage was at once gritty, still and epic, in keeping with the early word on the film. It cut from a violent shot to a, well, quiet one of Garfield, before cutting out. A title screen also flashed that the movie was Scorsese as you've never seen him before.
"Allied," from Robert Zemeckis, stars Brad Pitt and Marion Cotillard in a World War II espionage love story. Pitt's Canadian intelligence officer and Cotillard's French resistance fighter team up on a mission and fall in love, but their idyll is compromised when it's made apparent to Pitt's character that his wife might be a German spy. The footage heightened the trust/paranoia issues inherent to the genre with several moments of tense silence, particularly in domestic scenes in the couple's home.
And "Fences," directed by Denzel Washington from the August Wilson classic, saw a long monologue from Washington's Troy Maxson about the poverty of his youth, all given in the Pittsburgh backyard of the home where much of the action takes place. Also on display was a scene-stealing moment from Viola Davis, who, as Troy's wife Rose (like Washington, reprising her role from the Broadway revival), describes her commitment in tearful terms.
The footage solidified the early buzz for Davis as an Oscar front-runner, though whether in lead or supporting categories remains to be seen.
The Davis matter is not the only off-screen question for this crop of films. "Arrival," with its slower-burn pleasures, is something of a commercial unknown as it opens wide Nov. 11.
And the variable with "Allied" of course remains how much the Brad Pitt-Angelina divorce will hang over it, particularly given the production's place at the center of tabloid reports about Pitt's personal life. Grey acknowledged he was as uncertain what effect those headlines will have on moviegoers' psyches but said he does believe Pitt's movie star status will motivate many to come out to the film.
But the biggest question may be for Paramount as a whole. The very fact that Grey was holding the event, a rarity for a studio, showed how consequential the next few months will be.
Paramount has had a rocky time at the domestic box office in 2016 with the underperformance of movies such as "Zoolander 2," "Teenage Mutant Ninja Turtles: Out of the Shadows" and "Ben-Hur," but "Star Trek Beyond" was a stronger performer and "10 Cloverfield Lane" a sleeper hit. A breakout for any of these fourth-quarter releases could be a savior for the studio, at a time when it's been seeking redemption.
As the reel ended, an on-screen message stated Paramount's philosophy. "Great storytellers. Great directors," it read. The scope of its slate backed up the claim, even if the commercial part of that equation remains open.
See the most-read stories in Entertainment this hour »
On Twitter: @ZeitchikLAT
---
The complete guide to home viewing
Get Screen Gab for weekly recommendations, analysis, interviews and irreverent discussion of the TV and streaming movies everyone's talking about.
You may occasionally receive promotional content from the Los Angeles Times.