The Redstones' war with Viacom ends: Philippe Dauman resigns, Tom Dooley elected new CEO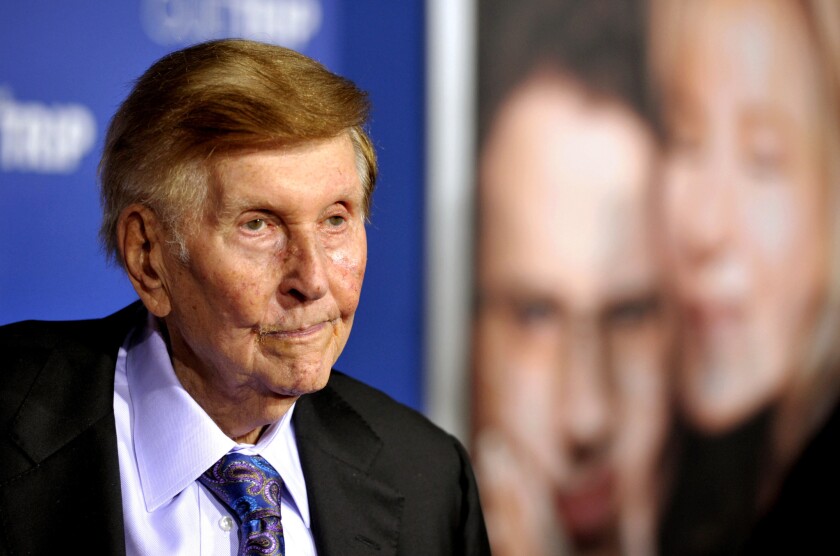 The boardroom war for control of Viacom Inc. ended in victory for Sumner Redstone and his family with the resignation of Chief Executive Philippe Dauman and the installation of new members to the company's board.
Viacom's board late Thursday approved a settlement agreement and elected Thomas Dooley as CEO. Dooley, 59, is expected to serve at least through the end of September and could stay on longer if Viacom's expanded board decides to support him.
Dooley has long been a popular figure among the rank and file of Viacom. He has worked 36 years for the New York media company that owns television channels MTV, VH1, Comedy Central, Nickelodeon and the Hollywood movie studio Paramount Pictures.
"I am looking forward to working closely with the board to develop a strategy to position Viacom for growth and success," Dooley said in a statement distributed by Viacom.
Thursday night's meeting culminated with board members unanimously approving a deal designed to end the rancor that pitted Sumner Redstone and his daughter, Shari Redstone, against Dauman and other longtime members of the board.
During the meeting, Dauman and Shari Redstone praised each other for their dedication to Viacom, according to a person with knowledge of the meeting. That was in sharp contrast to the public feuding that has engulfed the media company for the last three months.
Dauman thanked Sumner Redstone for his career opportunities, including serving as chief executive for nearly 10 years. Redstone hired Dauman, then a young corporate lawyer, in 1986 as the mogul was preparing his hostile takeover of Viacom.
"I care deeply for Viacom, which has been an important part of my life since I joined Sumner in the acquisition of the company 30 years ago," Dauman said in the statement. "I believe this agreement will give the company and its employees the best opportunity to continue a smooth evolution into the future."
Dauman will receive a payout of $72 million. The golden parachute was outlined in Dauman's most recent employment agreement, negotiated in early 2015.
Viacom's official announcement of its new leadership was delayed more than 40 hours — until Saturday afternoon. Lawyers needed to obtain signatures of multiple parties involved in the volley of lawsuits that were filed to contest the Redstones' moves to shake up Viacom's board as well as a trust that will eventually oversee the ailing 93-year-old media mogul's controlling shares in Viacom and CBS Corp.
The proposed settlement marks a significant victory for the ailing billionaire, who lives near Beverly Hills, and his daughter, who serves as vice chair of the board.
"By strengthening Viacom's governance and leadership, these changes will enable the company to embark swiftly on a strategy that strengthens its position as an industry leader," Shari Redstone said in a statement. "Viacom has extraordinary assets and people, and we look forward to taking the necessary steps to realize the company's full potential to the benefit of all stockholders."
The Redstone family demanded dramatic leadership changes at the beleaguered company that has seen its stock slide 45% in two years.
See the most-read stories in Entertainment this hour »
Next month, Viacom's board will consider a succession plan and weigh whether to keep Dooley in the top job. Dooley plans to begin meeting with five new board members, who were identified by Shari Redstone in June and formally elected on Thursday.
The five new members will have prominent assignments on the board. They will take their seats immediately — joining the old guard of the company's board of directors.
Four veteran board members likely will step down following the company's annual meeting early next year. For the next few months, Viacom's board will have 15 members, an overlap designed to ensure a smooth transition.
The proposed settlement, which must receive court approval, is expected to end the legal wrangling in Massachusetts and Delaware. The skirmish centered on questions as to whether the ailing mogul orchestrated a series of complex moves to shake up the company — or whether he was acting under pressure from Shari Redstone, who was estranged from her father until late last year. She has been a fierce critic of Dauman.
In the end, Dauman and other Viacom board members recognized that they did not have the staying power to battle Sumner Redstone and his determined daughter. The Redstone family holds the controlling voting shares of the Viacom and CBS Corp. — a $40-billion media empire that was built over three decades.
Dauman will serve as non-executive chairman of Viacom until Sept. 13.
"I will do my utmost to ensure an effective board and management transition in my remaining time as non-executive chairman," Dauman said.
Dauman was said to be pleased with the outcome, given that his longtime lieutenant, Dooley, likely will be given an opportunity to serve as the company's leader.
"I have very much enjoyed partnering with Philippe over many years and am grateful for the opportunities that have been presented to me by the Redstone family," Dooley said. "We share a strong commitment to Viacom's future and to guiding the Company through an orderly and successful transition."
Dauman won another small concession: He will have an opportunity to present his plan to sell as much as 49% of Paramount Pictures to an outside investor. However, the Paramount proposal must win the unanimous approval of Viacom's enlarged board, so that won't be an easy task.
Sumner Redstone doesn't want Viacom to unload such a significant stake of Paramount, which he won in a contentious bidding war in 1994. The studio once churned out culture-defining hits such as "The Godfather" and "Forrest Gump."
The tycoon from Boston got his start in the entertainment business managing his family's chain of movie theaters. The family believes that Paramount is core to the company's operations, and family members didn't want a new investor to complicate the picture, particularly if they eventually try to reunite Viacom and CBS into one media company.
According to people familiar with the matter, Dauman recognized that he would have to step down to resolve the impasse that has become a major distraction for the media company. The tussle with the company's controlling shareholders made it impossible for him to effectively run the company.
Both sides were motivated to find a compromise to end the squabble before a trial that was set to begin next month in Massachusetts.
The trial was expected to delve into whether Sumner Redstone was mentally competent or under undue influence of his daughter when he abruptly dismissed Dauman and another longtime associate, George Abrams, from a trust that will someday control his shares in Viacom and CBS. Dauman and Abrams filed a lawsuit in Massachusetts to try to reverse their dismissals.
"I am pleased to have worked with Philippe, Tom, Shari and other directors to arrive at this settlement and transition plan, which we believe serves the best interest of all Viacom stockholders," Viacom board member Frederic Salerno said in the statement. "With this agreement, we believe the Company will be well-positioned to move forward."
Viacom's proposed new board members are Nicole Seligman, who previously served as the president of Sony Entertainment Inc.; Thomas May, chairman of Eversource Energy; Ken Lerer, a managing partner of a New York investment firm whose portfolio includes BuzzFeed and Warby Parker; Ronald Nelson, executive chairman of Avis Budget Group; and Judith McHale, a former president of Discovery Communications.
ALSO:
Gawker.com will shut down next week
Ashleigh Banfield takes Nancy Grace's prime-time slot at HLN
Viewers may complain, but NBC isn't running more commercials in Rio Games
---
UPDATES:
7 p.m. Aug. 20: This article was updated to include information and quotes from Viacom board members.
This article was first published at 5:50 p.m. Aug. 18.
---
From the Emmys to the Oscars.
Get our revamped Envelope newsletter for exclusive awards season coverage, behind-the-scenes insights and columnist Glenn Whipp's commentary.
You may occasionally receive promotional content from the Los Angeles Times.