Adam Driver and writer-director Jim Jarmusch find the poetry of the everyday in 'Paterson'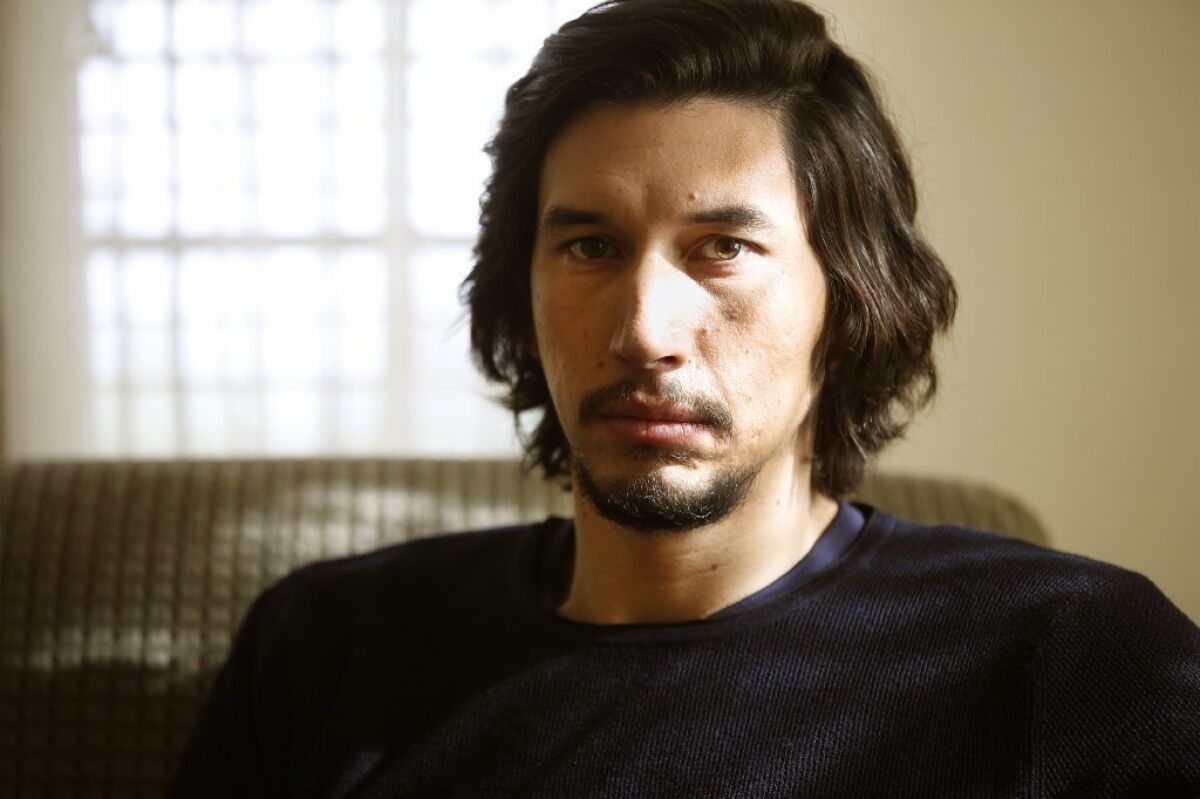 Jim Jarmusch does his writing in a notebook, creating page after page of text of varying sizes in different colors of ink, some ideas circled, others crossed out. He has two small notebooks placed neatly on a table in front of him during a recent interview. His cellphone is in a jacket thrown over a chair a few yards away.
If many people would likely have those objects in the opposite positions, wanting their cellphone within more immediate reach, Jarmusch's new film "Paterson" in part grapples with that tension between the connected anxieties of modern life and more lasting feelings of observant calm. It is about a poet who is also a bus driver — and it is also an exploration of the idea that no person need only be defined as one thing. The film isn't motivated by a sanitized nostalgia for the past but, rather, a melancholy for things left behind along the way.
"I don't want to say what the meaning of anything is," Jarmusch said. "But I will just say that people put too much importance on how modern things are, the advance of things, like technology. And I love technology, but all these things are tools. And what is very sad to me is when people abandon previously beautiful things because they don't happen to be new."
In the film, set in the town of Paterson, N.J., a man named Paterson (played by Adam Driver) drives a city bus, transforming the regimented drift of his job into an opportunity for observations he can fold back into his poetry. Where his life is dedicated to working his way through his daily routines, his wife, Laura (Golshifteh Farahani), has more exuberant creative impulses, an explosion of ideas in which one day she might pursue being a baker, the next a musician or printmaker. The film's cast also includes Barry Shabaka Henley as a local bartender; William Jackson Harper as a lovelorn actor; and a brief appearance by Japanese actor Masatoshi Nagase, who appeared in Jarmusch's 1989 film "Mystery Train."
"Paterson," now playing in Los Angeles, has garnered Jarmusch some of the best reviews in a career that has made him a towering figure in American independent filmmaking for more than 30 years. Writing for The Times, Justin Chang called it "wonderfully serene and beguiling," while in the New York Times, Manohla Dargis hailed the film's "visual precision and emotional restraint."
Adam Driver and Golshifteh Farahani star in "Paterson."
Driver recently received the actor prize from the Los Angeles Film Critics Assn. for his performance. (Full disclosure: I am a member of that group.) When "Paterson" premiered in the main competition at last year's Cannes Film Festival, Jarmusch was also at the festival with his documentary on musicians Iggy Pop and the Stooges, "Gimme Danger," which was released last fall.
Jarmusch first visited the city of Paterson some 25 years ago on a day trip from New York City. He can now extol the city's unusually vibrant history, how it was originally developed by Alexander Hamilton, was a home to the silk and textile trade and was an early hotbed of unionism. Or how writer William Carlos Williams – who published an epic, multi-volume poem titled "Paterson" – was a pediatrician who may have delivered the infant Allen Ginsberg.
Jarmusch often likes to describe himself as a "self-proclaimed dilettante," someone who purposefully dabbles in many different pursuits. (His musical group Sqürl contributed the ambient score.) So it shouldn't be a surprise to learn that when Jarmusch, 63, first moved to New York in the 1970s it was to study literature at Columbia University. There he would fall under the sway of the group known as the New York School, as his teachers included poets Kenneth Koch and David Shapiro, and he would also encounter the work of Ron Padgett and others. (Paterson's poems in the film are actually by Padgett, who wrote three new poems for the film.)
"The New York School are my godfathers because they don't take things too seriously," said Jarmusch. "Their poems are playful yet beautiful, they love playing with forms, they don't believe in shouting things from the mountaintop; every poem is like almost a letter to one other person."
If that sounds like an apt description of Jarmusch's films, and the gentle evocations of "Paterson" in particular, Jarmusch can only say he should hope so.
"I would be so thrilled if years and years from now when I'm gone, people would say, 'Well, yeah, that guy's films were kind of like the cinematic extension of the New York School of poets.' I would be very proud."
Since bursting to attention with his role on the HBO show "Girls," for which he has received three Emmy nominations, Driver has worked with an impressive list of filmmakers that now includes Martin Scorsese, Clint Eastwood, the Coen brothers, Steven Soderbergh and Noah Baumbach. His public profile has also risen tremendously with his appearances as villain Kylo Ren in J.J. Abrams' "Star Wars: The Force Awakens" and Rian Johnson's upcoming 'Star Wars: Episode VIII."
"My only game plan, or my only hope, is that I continue to work with really good directors," said Driver, 33. "I've been very lucky. Regardless of what the scale of it is, it doesn't matter where it is or what it is necessarily."
Talking about how he enjoys being part of a collaborative process, Driver interrupts his own answer at one point to circle back and add, "That sounds like actor propaganda doesn't it? I'm boring myself with that answer."
What is very sad to me is when people abandon previously beautiful things because they don't happen to be new.
— Jim Jarmusch
That may explain partly why Driver took to the part of the bus driver/poet of Paterson in "Paterson." The role gave him a chance to just listen.
"It's my favorite thing to do in movies," he said. "I often think things are way overwritten and want to cut lines more than add them, because listening is a powerful thing to watch someone do. Also, I'm surrounded by really great actors, like Golshifteh and Barry Shabaka, who plays the bartender, or William Jackson Harper; to get to sit and listen to those people all day long is great. I would have done that way longer than our scheduled shoot."
Writing in the New Yorker, critic Richard Brody recently noted of "Paterson" that "its world-building comes off as a credo, a belatedly laid and lifeworn cornerstone of Jarmusch's work, a quietly ecstatic vision of workaday perseverance and inspiration." Perhaps predictably, and inadvertently confirming the notion, Jarmusch brushed aside any idea that the film's dedication to the steady, persistent work of artistic pursuits was a personal manifesto or that this film was in some way more personal than his others.
"I don't understand that at all," Jarmusch said. "When I made 'Broken Flowers,' people said, 'This is your most personal film.' Then I made 'Only Lovers Left Alive' and people said, 'Obviously your most personal film.' Then I make this and they say 'This is your most personal film.' Like, wait a minute, you keep saying that but I have no idea how to answer that.
"They're all personal, and not auto-biographical to me," Jarmusch said. "And yet they are in some way, but not. I don't know."
SIGN UP for the free Indie Focus movies newsletter »
Follow on Twitter: @IndieFocus
'Hey, we're fighting bears here': Iggy Pop and Jim Jarmusch celebrate the Stooges with their new documentary 'Gimme Danger'
With '20th Century Women,' Mike Mills a portrait of people, a time and a place
---
Get our L.A. Goes Out newsletter, with the week's best events, to help you explore and experience our city.
You may occasionally receive promotional content from the Los Angeles Times.