Review: 'Pitch Perfect 2' brings more lowbrow fun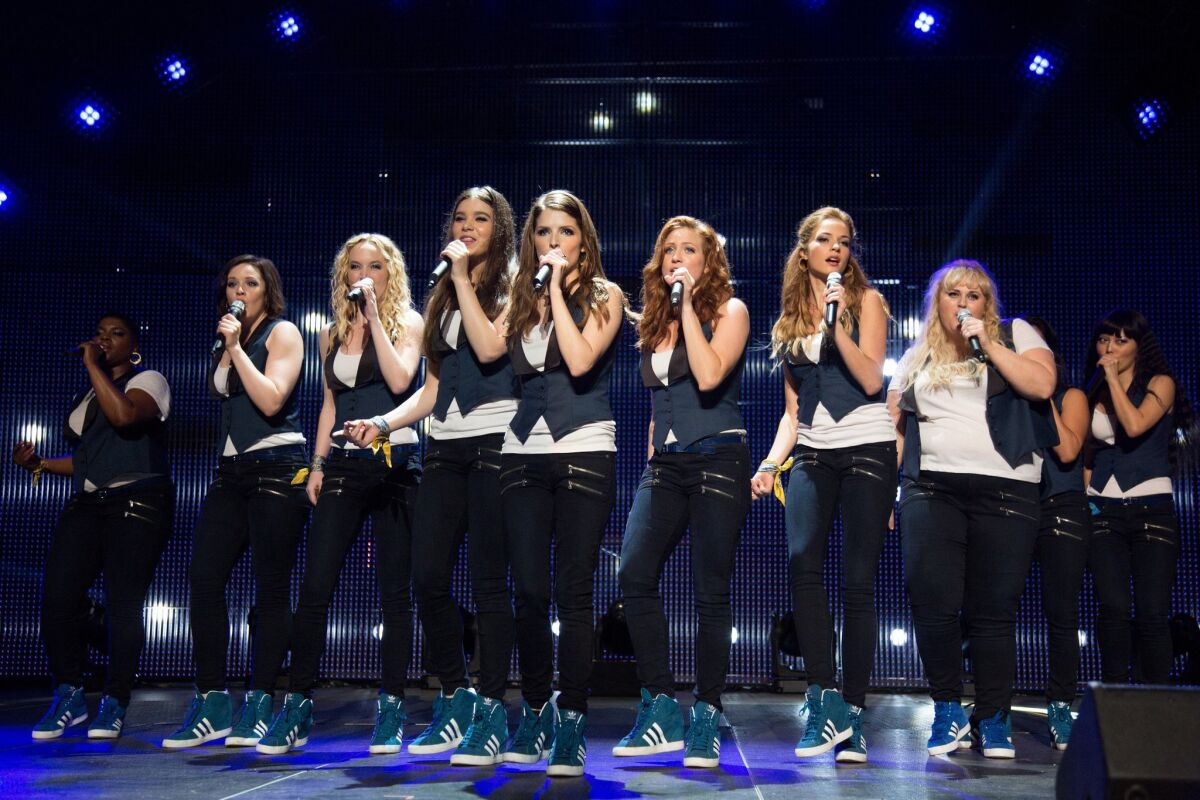 Los Angeles Times Film Critic
The comedy choir wars are more intense, more absurd and more lowbrow fun than ever in "Pitch Perfect 2." It is almost impossible not to be amused by the cutthroat world of competitive a cappella.
Watching the international battle royale that is at the heart of the "Pitch Perfect" sequel, the feints and jabs and trash talking are certainly more entertaining than, say, the recent Mayweather-Pacquiao match. Yawn.
The new "Pitch" is still securely anchored by Anna Kendrick, Rebel Wilson and Brittany Snow, who portray the defining members of the top-ranked college a cappella group, the Barden Bellas. Hailee Steinfeld proves a very good addition to the chorus line, and her Emily is key to freshening up a fairly predictable plot.
Basically for the Bellas, life may be lyrical, but it is also a constant cycle of fighting their way back from some kind of terrible mess. In "2," screenwriter Kay Cannon lets them start on a high note. The Bellas are the reigning national champions, and as such Beca (Kendrick), Chloe (Snow) and the rest are performing as part of a birthday celebration for President Obama. It is all razzle-dazzle until an aerial silk segment by Fat Amy (Wilson) ends in a pants-splitting overexposure.
Providing the play-by-play of that debacle and more are the a cappella pundits John and Gail, played John Michael Higgins and Elizabeth Banks, both excellent snipers and fully loaded with caustic lines.
Speaking of Banks, it was a smart move for the studio to let her slip into the director's chair too. She and her producing partner-spouse Max Handelman have been guiding forces in the surprise musical hit from the beginning. But certainly for Banks, her behind-the-camera role in "2" takes her impact to a new level.
It is an impressive feature directing debut, with Banks handling the high-octane chaos of "Pitch" with almost perfect aplomb. She sets a fast pace that is definitely needed to keep this kind of zany piece afloat. And though there are any number of scenes that call for humiliation, and the film is certainly not shy about poking fun at stereotypes, there is something comically apologetic in the way Banks goes about it that makes the offenses easier to take.
The film catches the Bellas at a major transitional point. Most of the group's members are going to be graduating — even Chloe, who has delayed her departure for many years since the Bellas are her life, her identity. It's not that "Pitch" goes deep, but it does in these offhand ways weave in some of the issues facing college grads.
One of the major ones is Beca's divided loyalties. Part of her is still very much invested in the Bellas, her creativity much of the reason for the group's success. But she's also got an internship at a recording studio, the first step in her dream of being a music producer.
Besides representing one of the film's flashpoints, the recording studio also provides a nice-sized stage for the very funny "Key and Peel" star Keegan-Michael Key (whom I first came to admire in "MADtv") to have some fun as Beca's acerbic boss.
Steinfeld's Emily enters the picture as a new freshman whose mother (Katey Sagal) was a famous Bella. That legacy status fast-tracks her acceptance in the group, while her style — she writes original music, gasp — creates controversy.
The narrative follows the Bellas as they try to redeem their rep by winning the world competition. There are many bumps on the road to the fateful face-off in Copenhagen. The enemy is a German group led by Kommissar (Birgitte Hjort Sorensen) and Pieter (Flula Borg), a duo so tightly wound you fear they might come completely unhinged.
There are romantic intrigues for Beca, Fat Amy and Emily — sweet singing guys played by Skylar Astin, Adam DeVine and Ben Platt. But really, it's all about the music. The versatile Mark Mothersbaugh, whose credits include many of Wes Anderson's films, was in charge of the music.
"Pitch Perfect 2's" song sheet is extensive and playful. Aakomon Jones' choreography is elaborate. And the underground a cappella slam, called the Rip-Off, hosted by a caftan-clad David Cross, might be the most memorable in the movie. Jim Denault is director of photography, Toby Corbett production designer, Salvador Pérez Jr. costume designer.
Kendrick continues to prove her comic and singing chops — her musical credits keep expanding, with her "Into the Woods" Cinderella among the more recent. Wilson's "I'm fat, get over it" shtick gets more screen time in "2" and is still funny — for now.
Steinfeld continues to turn up in the strangest places as she moves beyond her "True Grit" breakthrough. She's charming in "Pitch," which serves quite nicely while she finds her way to perfect.
------------
'Pitch Perfect 2'
MPAA rating: PG-13 for innuendo and language
Running time: 1 hour, 55 minutes
Playing: In general release
---
Get our L.A. Goes Out newsletter, with the week's best events, to help you explore and experience our city.
You may occasionally receive promotional content from the Los Angeles Times.