Transactions and transformations with Rachel Weisz in 'Complete Unknown,' 'Denial' and 'Plenty'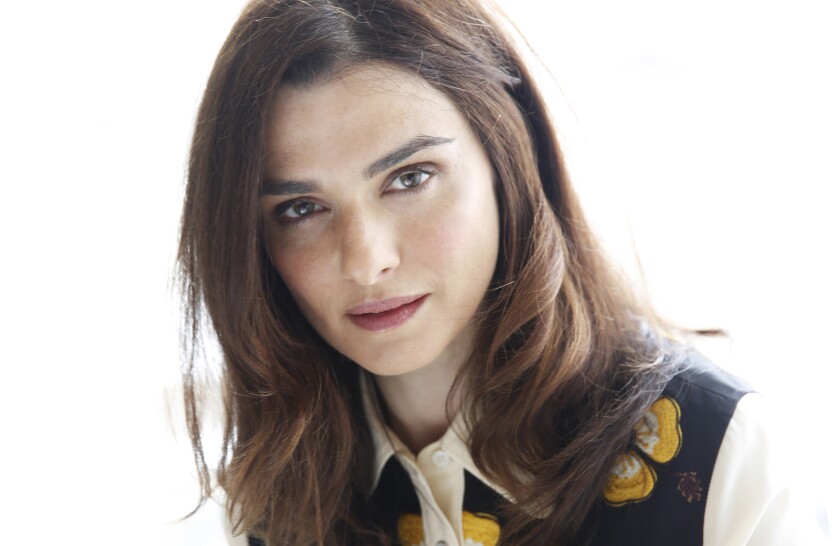 Rachel Weisz is that rare combination of both actress and star, the kind of performer equally at ease in offbeat arthouse films like "Youth" and "The Lobster" as well as big-budget movies like "The Bourne Legacy" and "Oz the Great and Powerful." It has remained fitting that the 46-year-old British-born Weisz won a best supporting actress Oscar for playing an enigmatic, predictably unpredictable woman in 2005's "The Constant Gardener."
So it also makes sense that in the new film "Complete Unknown," directed and co-written by Joshua Marston, she plays a woman who completely reinvents herself every few years with an entirely new identity — and in the process has lost track of who she really is. She manipulates her way into the birthday dinner party of a man (Michael Shannon) who knew her before she set off on this wild life of adventure. Over a long evening, she begins to rediscover her true self.
Weisz will also soon be seen in "Denial," directed by Mick Jackson and having its world premiere as part of the Toronto International Film Festival before opening in theaters Sept. 30. In the film, based on a true story, Weisz plays Deborah Lipstadt, a noted American historian who was sued for libel in a British court by a Holocaust denier. Co-starring Timothy Spall and Tom Wilkinson, the film is part courtroom drama, part defense of history over conspiracy and conjecture.
Weisz is also in the new "The Light Between Oceans" and will soon be appearing at the Public Theater in New York in a production of "Plenty." She recently found a few minutes to get on the phone to talk about this busy time.
In a way, "Complete Unknown" explores what makes a person a person. As your character adopts these new identities for extended periods, at some point she loses track of her real self. Is there any connection there to acting? Do you ever feel lost in between characters?
No. Absolutely not. I totally understand why you ask that question, but there is absolutely no similarity between the story of the film and acting. When you act, it's a transaction where everyone knows you're suspending disbelief with another group of people and you're telling a story that has a narrative, a beginning, middle and end. It's a bit of momentary madness if you like, but you know it's going to end and you'll go back to your life. People have been putting on plays for thousands of years, it's nothing strange about it. But this is … crazy, right? It's a crazy thing to do.
I like how your character has gone so far down the road with this idea of hers that she no longer understands how shocking it is to other people when they find out.
She doesn't question what she's doing, nor does the film. It's very weird. I kept saying to Josh, "Why does she do what she does?" And he wasn't really interested in answering that question. There's one line that I actually improvised that's like, "When everybody knows you, that's when they've got you trapped and you have to move on." And that's the only thing that even halfway begins to give you a sense of why she's doing what she's doing.
Right now you have "Complete Unknown," "The Light Between Oceans" and "Denial" all coming out and you're going to be onstage in "Plenty." From the outside it seems like a lot of work. Does it feel that way to you?
"Denial" and the play are major commitments. The play has only been performed once in New York, in 1982, it was written in 1978, and it's probably not performed very often because it's such a challenging play. It spans 20 years and my character goes through huge transformations and mental breakdowns and it's a big ole journey. I've been in love with the play for many years and I finally felt old enough to take it on. So that's a real massive commitment. "Denial," which is coincidentally also written by David Hare, the same writer as the play, was an undertaking because it was playing a real character, Deborah Lipstadt, who is from Queens and is just nothing like me. Physically, culturally, accent-ly, that was a real transformation. Those two things were challenging.
What interested you about "Denial"?
I think it's an important story and she's a very colorful character and interesting and a pain in the ass and no bull. She's larger than life and not a shrinking violet. She's complicated, she's a lot of things. I think David was inspired to write it really in response to Donald Trump. So people who are protected by the freedom of speech just lie and lie and lie and lie and lie and lie. There are situations where you can be held accountable for your lies, and this was one of them. There's a difference between a fact and an opinion. And the movie proves that. I hope that it inspires anyone, particularly young people, to stand up to bigotry and this casual racism.
There's a sequence in the film that was shot at Auschwitz. What was it like to shoot there? Had you ever been there before?
It's very hard to find the right words to describe it, because it's not like anything I've ever experienced. I've never been to Auschwitz before and walking around it, going through the museum and learning and seeing exactly what took place there, what struck me was the degree of organized, mechanized, industrialized. ... It was like the most efficient factory where nothing was left out.
I can understand a human in a fit of passion acting out in a visceral, primitive way, but this was not that. It was meticulously scientific. It's the coldness of it that you can't reconcile with being a human. I understand losing your temper, it's terrible and wrong, but I understand it. But this makes your mind not able to compute it.
You mentioned that David Hare wrote both "Denial" and "Plenty." Is there a connection there in how you came to the two projects?
There is no connection. I was offered "Denial" by the director and producer. I don't know if David had any say in the casting, but I imagine he would have said, "She's not really right for the part." I'm not an obvious choice for Deborah. And the play just happened because I've wanted to do it for a long time. I nearly did it in 2012 and then I didn't and it's just one of the plays I most love in the world. The character, Susan Traherne — I think she's one of the most interesting female characters in theatrical history. I hope I can live up to what he's written. I played Blanche DuBois in London a few years ago and I feel like this character is up there with Blanche.
SIGN UP for the free Indie Focus movies newsletter »
Follow on Twitter: @IndieFocus
ALSO
'The Girl on the Train' stays true to the novel with the use of sex as a weapon and medication
Chris Pine and Jeff Bridges celebrate the 'cowboy poetry' of modern western 'Hell or High Water'
Why Clea DuVall cast Melanie Lynskey and other pals in her directorial debut 'The Intervention'
---
Get the Indie Focus newsletter, Mark Olsen's weekly guide to the world of cinema.
You may occasionally receive promotional content from the Los Angeles Times.