New Sue Mengers biography a colorful glimpse of Hollywood agent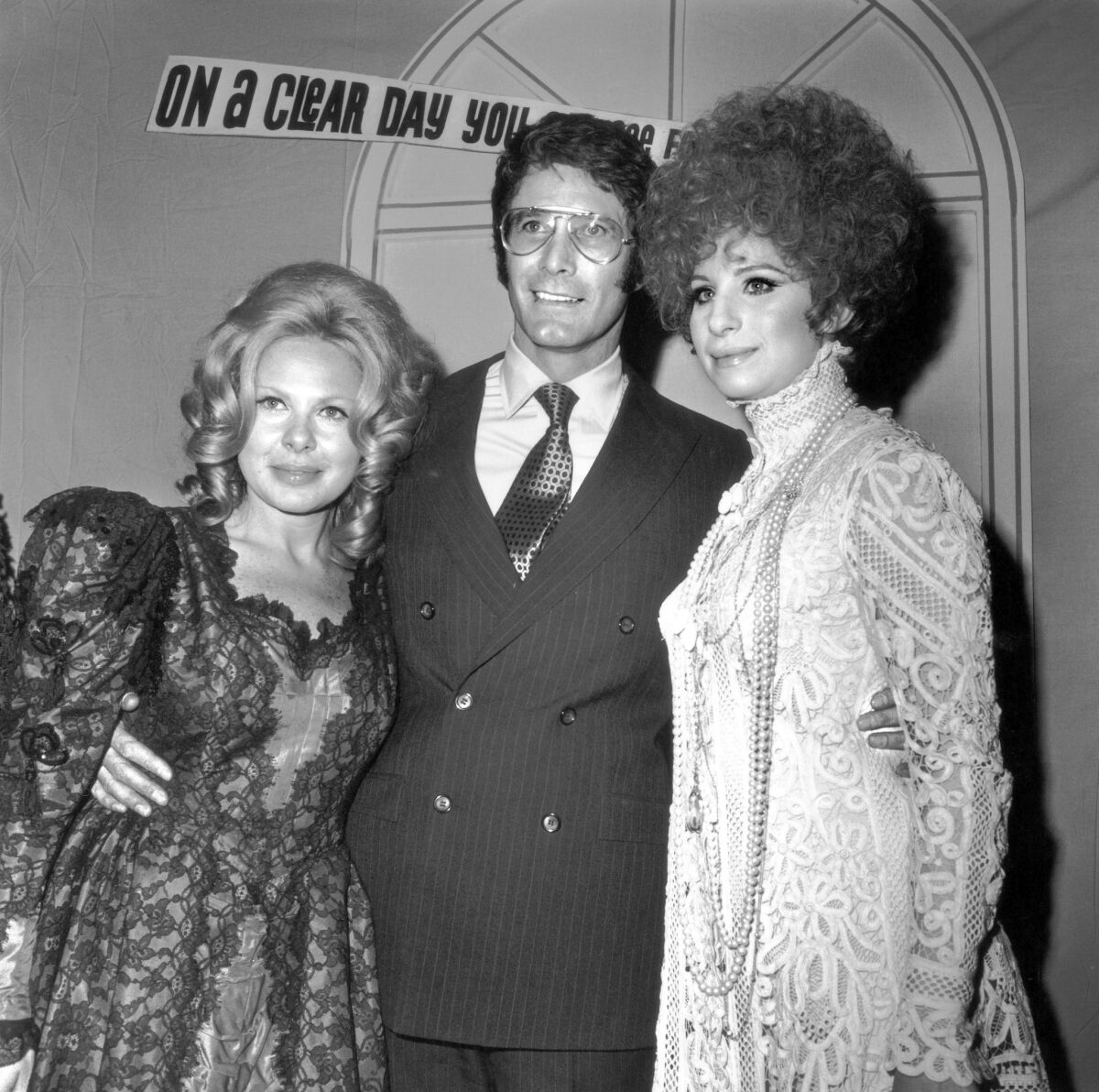 Super-agent Sue Mengers handled some of the hottest stars in Hollywood including Barbra Streisand, Ryan O'Neal, Ali MacGraw, Mick Jagger, Candice Bergen and Peter Bogdanovich. In her famed 1975 interview with Mike Wallace, a 38-year-old Mengers, then vice president of Creative Management Associates, shared over a glass of wine how she was able to lure such high-powered names.
"In the beginning it was through aggression," she said with a flirtatious smile. "Now it's through reputation — and a little aggression."
Brian Kellow's new biography, "Can I Go Now? The Life of Sue Mengers, Hollywood's First Superagent," derives its title from one of her favorite ways to end a phone call. As one of the most powerful agents in Hollywood for two decades — Time magazine described her as a "cross between Mama Cass and Mack the Knife" — Mengers was uncensored. She also was a skilled negotiator. And a trail blazer for women in the male-dominated field. And the host of star-studded parties where marijuana and cocaine were served up along with casseroles.
SIGN UP for the free Classic Hollywood newsletter >>
All of that has made Mengers the stuff of legend since her death in 2011 at age 79. Her friend Bette Midler scored a huge hit embodying Mengers in John Logan's witty 2013 one-woman show "I'll Eat You Last."
But Kellow initially was ambivalent about writing his book. Having just published the biography "Pauline Kael: A Life in the Dark," about the famed film critic, he wanted to write another biography about an author "because there are so many advantages — you have letters, often journals and diaries, all kinds of wonderful sources that writers tend to leave behind."
But his agent kept pressing him about Mengers, so he started to dig around. And he became intrigued.
"She was an amazing, colorful figure," Kellow said, though he did run into some early problems.
Mengers, Kellow soon discovered, didn't leave behind any kind of archives, on which he had counted for his research.
"Her assistant told me at Sue's instructions the archive was destroyed after she had died," Kellow said. "She didn't want anybody nosing through it."
As he got to know more about Mengers, he appreciated the fact that she left no archive.
"She was very private for the most part about her clients' relationships with her," the author said. "She wasn't a kiss-and-tell agent. I think most of her clients would probably back me up on that. She didn't want a lot of things known by the general public. She was very professional about that kind of thing."
So Kellow had to seek out interviews with her clients, friends and co-workers. Some were reluctant.
"Fortunately, I had some wonderful people who were my allies who began to open doors," he said. "Sherry Lansing [Paramount's former chief executive] and William Friedkin [director of "The Exorcist" and "The French Connection"] were wonderful. I was amazed at the cooperation I got. I did over 200 interviews."
His opinion of Mengers changed drastically throughout his research. "I really did have to get over myself a little bit at the beginning," Kellow said, adding that he eventually didn't care that she wasn't some lofty literary figure. Kellow learned that Mengers had "incredible intelligence, incredible charm, incredible loyalty, incredible anger, incredible softness, incredible depression and loneliness."
Born in Hamburg, Germany, Mengers came to New York in 1938 with her Jewish parents to escape the Nazis. Her father committed suicide when she was 11, and there was little love lost between Mengers and her abrasive mother, who, even after Mengers' success, was overbearing and critical.
Young Mengers was a little fish in a big pond when she began working in New York as a receptionist at MCA in 1955. By 1963, she had become an agent, and five years later she was in the agency's Los Angeles office.
"I think this will disappoint a lot of people when they read it," Kellow said. "I think she is seen as this huge feminist icon and in fact, I don't think she really had the time of day for feminism in the way we think about it. I think she had a very 1950s view of relationships between men and women. I think she thought what women really needed to do more than anything else was to find a man who would make them financially secure so they wouldn't have to worry, hang on to him and learn to make them happy."
Mengers married Belgian writer-director Jean-Claude Tramont in 1973 and stayed with him until his death from cancer in 1996. He was best known for directing the 1981 comedy flop "All Night Long," which starred Streisand. (Streisand parted company with Mengers after "All Night Long.")
According to Kellow, Mengers and Tramont had a turbulent relationship.
"Sue claimed to friends that the best part of retirement was the chance to spend more time with her husband, though he didn't always seem as keen on the prospect," Kellow wrote.
He quoted arts dealer Robin Hurlstone, who recalled: "When it was bad, they were like two acids bubbling away in the same bottle."
Professionally, Kellow said, Mengers came along at the right time.
"She could be the naughtiest girl in Hollywood," he said. "She could do and say all of these things at parties and it wasn't going to get out. In fact, she was very scrupulous about that. I think she loved being bad, but she had a real kind of old Hollywood sense of discipline."
-------------------
Brian Kellow
What: Author will sign copies of "Can I Go Now? The Life of Sue Mengers, Hollywood's First Superagent" and discuss the book
When: 7 p.m. Thursday
Where: Book Soup, 8818 Sunset Blvd., Los Angeles
Info: (310) 659-3110, www.booksoup.com
MORE:
In 1992, Martin Milner reflected on 'Adam-12,' 'Route 66'
Classic Hollywood: Laughing With Bob Newhart and W.C. Fields
---
Get our L.A. Goes Out newsletter, with the week's best events, to help you explore and experience our city.
You may occasionally receive promotional content from the Los Angeles Times.