Review: Jack Black cons his way into the audience's heart in 'The Polka King'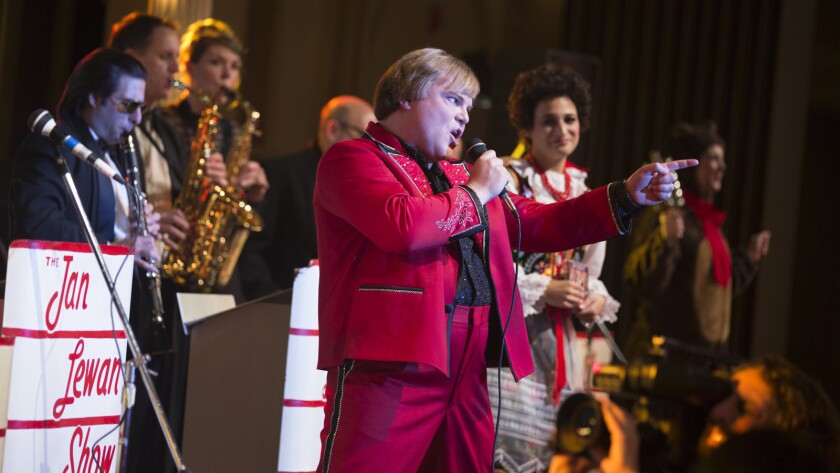 Film Critic
Playing con artists seems to bring out the best in Jack Black.
As a scheming music teacher in "School of Rock" and an increasingly desperate manipulator in "Bernie," he didn't just give his two most distinctive screen performances: Stammering and improvising and hustling his way from one merry falsehood to the next, he turned deception into a kind of irresistible madcap art. Another actor might have tried too hard to win us over, but Black never seems to be straining for the audience's approval. We're already in his pocket from the get-go.
There's some of that familiar Jack Black ebullience in "The Polka King," his latest rollicking fable about a lovable fraud pursuing his own warped vision of the American Dream. This one was directed by Maya Forbes, who made a winning feature debut with the semi-autobiographical "Infinitely Polar Bear" (2014).
For her follow-up, Forbes has turned to a true story of a less personal, more outrageous sort, tracing the modest rise and steep fall of Jan Lewan (Black), a Polish émigre and polka band leader who charmed many with his music but didn't make his fortune until he started scamming his unsuspecting fans.
"This really happened," we're told at the top, a guarantor of authenticity that may bring "American Hustle" and other exercises in cinematic truthiness to mind. When we first meet him in 1990, Jan (Black), who answers to both "Jan" and "Yan," is an irrepressible performer and an endlessly good-natured father, husband and businessman who lives in Hazleton, Penn., with his loving wife, Marla (Jenny Slate), and their son, David (later played as a teenager by Robert Capron).
Marla, a former teenage beauty queen, tries to support her husband despite the withering criticisms from her mother, Barb (a sensational Jacki Weaver), who never stops grousing about Jan's inability to make a decent living. His band's regular gigs, while lively and colorful (Vanessa Bayer as a dancing bear!), earn next to nothing, and neither his gift shop full of hideous polka-themed tchotchkes nor his regular pizza delivery runs have done much to bolster the Lewan family savings.
Only Barb seems suspicious when Jan begins collecting "investments" from his loyal fans, pocketing several thousands of dollars at a time and promising an astounding 12% interest (which he pulls, naturally, from the funds of future investors). When the government informs him he's running a Ponzi scheme and orders him to return the money, the hapless Jan is already in far too deep to turn back, especially when his fans are clamoring to up their investments.
Admittedly, that cash flow ensures at least a few stunning rewards, for the audience as well as those ponying up. Jan's most generous patrons get to enjoy his "Premium Pope Package," a trip to Rome for a private audience with the pope. It's an episode that plays out so strangely, and with so little explanation, you suspect it has to be true. For a while Jan is riding high — his band even scores a Grammy nomination — but his luck is doomed to run out eventually, and in this fleet 95-minute feature the clock starts ticking early.
Adapted by Forbes and Wallace Wolodarsky from the 2009 documentary "The Man Who Would Be Polka King," "The Polka King" doesn't have the dazzling ambition or energy of a great grifter classic. Instead she seems intent on nailing the details, on realizing Jan's milieu in all its tacky splendor, and trusting that our attention will follow. As in "Infinitely Polar Bear," Forbes has a gift for letting her production design tell the story.
That eye for detail extends to the performances, which ring true across a wide array of outsized accents and boisterous acting styles. Jason Schwartzman does a memorably Eeyore act as a polka clarinetist named "Mickey Pizzazz," as he rechristens himself when Jan starts making it big. And Slate, of "Landline" and "Obvious Child" fame, has some of the picture's most surprising moments as Jan's long-suffering polka queen Marla, who loves her husband but eventually grows weary of neglecting her own needs and desires.
Black's outsized energy all but ensures a smile on your face, even through the twisty, somewhat grisly details of Jan's downfall. But in Marla you see the truth of this story, if only for a moment, for the tragedy it was.
------------
'The Polka King'
Not rated
Running time: 1 hour, 35 minutes
See the most-read stories in Entertainment this hour »
---
Get the Indie Focus newsletter, Mark Olsen's weekly guide to the world of cinema.
You may occasionally receive promotional content from the Los Angeles Times.