Michael Winterbottom, 'Moonlight' studio among those with world-premiering works at Tribeca Film Festival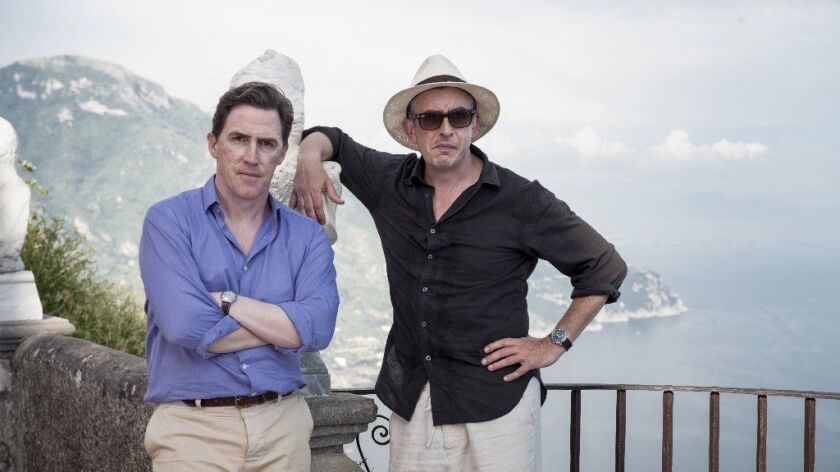 New works from Michael Winterbottom, Zosia Mamet and freshly minted best-picture studio A24 will have their world premieres at the Tribeca Film Festival when the New York gathering kicks off next month.
They anchor a slate of scripted and documentary movies that will be showcased by the Robert De Niro co-founded festival, now in its 16th year.
Winterbottom takes the wraps off "The Trip to Spain," the latest installment of his combo TV-film franchise that began in 2010 with "The Trip," a series that was edited into a feature. In it, Steve Coogan and Rob Brydon played meta versions of themselves on a culinary tour of northern England.
In the third installment (Italy came a couple years back), the pair find themselves in the land of paella and late dinners. The series hits British television in April, while IFC will release the film stateside.
Meanwhile, Sophie Brooks directs Zosia Mamet in "The Boy Downstairs," a story of romance and real estate set in New York, as the "Girls" star takes a thus-far rare lead role in a feature.
And in "The Lovers," indie auteur Azazel Jacobs' ("Terri") takes a look at a stale marriage that unexpectedly reignites. The movie stars Tracy Letts and Debra Winger; A24, the studio behind "Moonlight," is scheduled to release the picture in May.
It's hardly the only movie at Tribeca about a veteran coupling: French auteur Guillaume Canet directs and stars in "Rock'n Roll," a satire about an aging famous couple, playing opposite real-life partner Marion Cotillard.
"Flames," from Zefrey Throwell and Josephine Decker," is a scripted movie that loosely follows the filmmakers' real-life relationship through various paces over five years—and, by influencing how that relationship unfolds, creating an art-imitating-life-imitating art vibe.
And Oren Moverman — the writer of Love & Mercy" and director of "The Messenger" — will unveil "The Dinner" in the U.S. for the first time. Based on Herman Koch's bestseller, it centers on two brothers and their spouses (Richard Gere, Steve Coogan, Laura Linney and Rebecca Hall) in a story about family and politics.
A total of 78 movies will make their world premiere at the New York confab, organizers said. Of the 98 movies showing overall—about a 20% reduction from last year--a third are directed by women, they noted.
Tribeca had the advantage of being one of the first festivals to do the bulk of its programming after the election. Though many of the movies, particularly narrative titles, exist apart from the political landscape, they could have a role to play in the current complicated era.
"We're living in a moment when truth and objectivity seem unstable," said director of programming Cara Cusumano in an interview. "There's huge potential for art and storytelling to overcome that and helps things feel more true." While nearly all of the movies were completed before the election, many read differently after Nov. 8, she said.
Also on the world-premiere front, Ed Helms plays the title character in Dito Montiel's "The Clapper," in which Helms "stars as Eddie Krumble, a professional audience member who gains unwanted notoriety when a late-night talk show turns his life into a national obsession, threatening his budding relationship with gas station attendant Judy (Amanda Seyfried)."
In what is surely the most motley indie-film cast in some time, the movie features Tracy Morgan, Adam Levine, Rob Gronkowski, Mark Cuban and Alan Thicke in one of his last screen appearances.
And "Dawson's Creek" writing veteran Liz W. Garcia will debut "One Percent More Humid," a collegiate coming-home story starring Julia Garner and Juno Temple.
Making its U.S. premiere is "Chuck," in which Liev Schreiber stars as the real-life inspiration for Rocky Balboa in a film directed by foreign-language film Oscar nominee Philippe Falardeau. (The movie was called "The Bleeder" when it premiered at the Venice Film Festival in September).
While those films are largely apolitical, the festival will also world-premiere a number of documentaries, many of which touch on topical themes.
Sebastian Junger directs, with Nick Quested, the latest film about Islamic State and Syria, "Hell on Earth." The film, which takes both a personal and macro look at the war-torn region, follows Sundance notables such as "Cries From Syria" and "City of Ghosts." It reunites Junger and Quested, who worked together on the acclaimed 2010 verite hit "Restrepo" (co-directed by Junger and the late Tim Hetherington and produced by Quested).
In the same region is Till Schauder"s "When God Sleeps, " about the Iranian rapper Shahin Najafi, who provoked the anger of the country's clerics with his subversive protest lyrics.
Among the other documentaries making their world premieres at Tribeca with modern echoes, are Pacho Velez and Sierra Pettengill's "The Reagan Show," a formally unconventional movie that argues for the 40th president's TV savvy; "The Death and Life of Marsha P. Johnson," the latest work from "How to Survive a Plague" helmer and veteran journalist David France, here exploring the suspicious death of the titular transgender figure; and "A Gray State," Erik Nelson's look at the 2014 death of "alt-right" figure David Crowley, with Werner Herzog as executive producer.
Also noteworthy is Greg Kohs' AlphaGo, about the connection between an ancient Chinese board game and artificial intelligence, in a tournament setting.
Tribeca opens April 19 with "Clive Davis: The Soundtrack of My Life." A screening of Chris Perkel's documentary, based on the mogul's memoir, will be accompanied by a concert featuring Davis associates Aretha Franklin, Jennifer Hudson and Earth, Wind & Fire.
See the most-read stories in Entertainment this hour »
Twitter: @ZeitchikLAT
---
Inside the business of entertainment
The Wide Shot brings you news, analysis and insights on everything from streaming wars to production — and what it all means for the future.
You may occasionally receive promotional content from the Los Angeles Times.