'Venom' stars Tom Hardy and Riz Ahmed inhabit a superhero saga for our dark times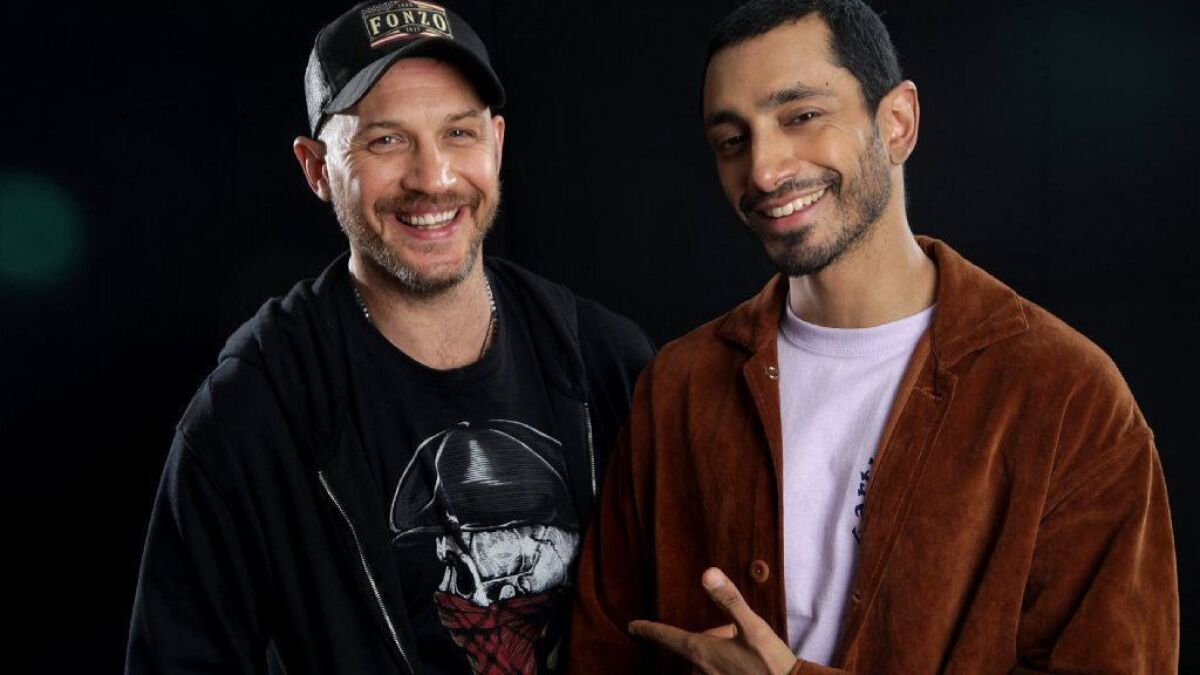 In Sony's Marvel action standalone "Venom" they battle it out as super-enemies over the fate of humanity as we know it. Last week in Beverly Hills, stars Tom Hardy and Riz Ahmed sat cozily side by side on a couch, embraced, and held each other for a beat.
"Have you been training?" Hardy, 41, exclaimed with a sly smile, gently squeezing Ahmed's bicep. Ahmed grinned, explaining that the decorated actors, two of the brightest talents of their generation, have known each other for over a decade — even if it took a $100-million comic book movie to bring them together onscreen.

For the record:
1:20 p.m. Oct. 5, 2018A previous version of this story misspelled the "Bronson" director's name as Nicolas Winging Refn. He is Nicolas Winding Refn.
"He's always been very helpful to me," said Ahmed, 35. "When I had my first lead role, 'Bronson' had just come out and I was, like, 'How does it work? There's a red carpet — do I need to get a suit?' I called him up. He'd had that experience before me."
The potential franchise-starter "Venom," produced by Sony's Columbia Pictures in association with Marvel, introduces the character best known from the comics as Spider-Man's razor-toothed, lizard-tongued, alien symbiote nemesis. While critical reviews have been lackluster, box office analysts predict a robust opening over the Oct. 4 weekend that would make "Venom" the biggest October debut of all time — not bad for a Spidey-less new origin saga unconnected to the Disney-owned Marvel Cinematic Universe.
That's not to say Venom doesn't have a nemesis in director Ruben Fleischer's film, and one who fundamentally mirrors and challenges his moral compass as the PG-13 carnage piles up.
Hardy plays rebellious investigative reporter Eddie Brock, who scours the mean streets of San Francisco digging up dirty doings by corporate villains — until, in his desperation to take down shady tech philanthropist Carlton Drake (Ahmed), a fateful decision ruins his credibility and makes a shambles of his life.
Then arrives Venom, an ever-hungry parasitic alien being from another planet who finds in Brock the perfect human host, merging with his body and giving the disgraced journalist superpowers and a renewed lease on life.
"They're both kind of parasitic in different ways," said Ahmed. "[Eddie Brock] has a messiah complex and is really self-serving. The ends justify the means. That's one thing that's quite cutthroat in how he goes about as a knight in shining armor. Venom is parasitic and feeds off of other people."
"But at least he's honest!" Hardy said and laughed, puffing on a vape pen.
When Ahmed signed on to the film to play Drake — a space-obsessed visionary who also happens to be unafraid to sacrifice a few unwilling test subjects for the sake of the human race — Hardy and Oscar-nominated actress Michelle Williams were already onboard. "He texted me and he was like, 'Yes, bro – really glad you're doing this!'" said Ahmed.
The pair first met in 2007, their friendship bolstered by a number of mutual acquaintances. Then came "Sour Times." A decade before he'd win an Emmy and a Golden Globe nomination for his work on "The Night Of," Ahmed, who is also a musician, wrote a spoken-word rap about terrorism and extremism and enlisted Hardy to costar in its music video.
Ten years later the two would reunite in "Venom," with a script by Jeff Pinkner, Scott Rosenberg and Kelly Marcel.
For Hardy, signing on to lead a comic book franchise was a careful choice, particularly after his genre favorite turns as the sinister villain Bane in Christopher Nolan's "The Dark Knight Rises" and the Wasteland hero Mad Max in George Miller's "Mad Max: Fury Road."
"You're going to be in this relationship for however many years … [and] nine times out of 10 with studios it's three-picture deals," he said. At least today's Hollywood stars don't have to sign exclusively to studios like their golden age predecessors did, he mused.
A range of acclaimed roles mark Hardy's last decade of work, running the gamut from his 2008 breakout in Nicolas Winding Refn's "Bronson" to "Tinker Tailor Soldier Spy," "Warrior," "Locke," "Dunkirk," an Oscar-nominated turn in "The Revenant" and the TV dramas "Peaky Blinders" and "Taboo," the latter of which he also co-created.
RELATED: Venom through history: A look at the origins and past iterations of the Lethal Protector »
How he chooses his projects — particularly the bigger, more demanding or time-intensive gigs — involves intentional diversification and good timing.
"For me, well, I'm 41 now. I'm not a door-kicker in the same way I was when I was a young buck coming up," said Hardy. "I'm not the first man in the room, pointing my weapon like, 'I'm hungry' – I'm sort of team-leading in some aspects now, I know my position and I know where I've got to step back [because] that's not my position to shine.
"I can't go back around and be an inauthentic young, hungry actor that's ambitious to show you what I've got," added Hardy, who was appointed CBE this summer during Queen Elizabeth II's Birthday Honours.
"I've got to move forward and evolve. So naturally that goes into thinking about whether I'll get involved in a franchise."
Ahmed also came up in the U.K. indie scene with award-nominated turns in films such as 2008's crime drama "Shifty" and the 2010 terrorism satire "Four Lions." Roles in "Nightcrawler" and "Jason Bourne" led up to Ahmed's 2016 blockbuster debut in the "Star Wars" prequel "Rogue One."
"Something that's in the ether [is] that there's a distinction between true art and entertainment, and there can be," said Ahmed. "But I think the real distinction between art and entertainment isn't so much scale or whether one's geared more towards commercial success."
He quoted an insight he'd read once from an unknown author that stuck. "They said that entertainment is going to confirm your assumptions about the world, and art is going to make you question them. As long as something's challenging you, and making you think …"
Hardy chimed in, exhaling a cloud of vapor. "You're looking for the hybrid though, aren't you? The hybrid is what we're seeking!"
RELATED: Comedy, horror and an unmasked Tom Hardy: How 'Venom's' director built a fresh 'Spider-Man' spinoff »
They both say that blockbusters like "Venom," in which antihero Brock and villain Drake are kindred figures driven by similarly noble ideals, help chart a moral framework for a real world in which life doesn't fall within a good versus evil binary.
"It's not just about heroes and villains," said Ahmed. "It's about the shades of gray."
"You're absolutely right," said Hardy and nodded. "The concept of morality, of the symbolism of good versus evil — thou shalt not kill ... unless. And in the 'unless,' we unpack the pragmatism of living in an ethical framework, as opposed to a cut-and-dry good and bad."
He chuckled. "You laugh along with them until he's biting off heads, and that's it — that's our hero! We've gotten to the point where that's OK, because there's some shiny virtue to him as well."
"I guess we're playing in a [real] world where no one's playing nice, people feel like they can't afford to play nice, and the gloves are coming off, aren't they?" added Ahmed. "The gloves seem to have come off, so it seems we expect that of our films as well."
It's within those gray areas of Eddie's soul where the fundamental conflicts of "Venom" take place. Mayhem and cinematic destruction, of course, abound once Venom is in the picture and at the helm of Eddie's body, making for CG-fueled action set pieces and some of Hardy's most impressive physical work to date.
But it's in coming to terms with the alien inside his head, Hardy says, that his character learns to see how his actions affect other people and becomes whole. In a way, Venom completes Eddie Brock.
"It's just like, hang on – you can't be half a gangster here," he said. "You're virtuous, and you care, and that has to spread 360 degrees from the center of you or you're actually just a massive hypocrite. Venom turns up and holds his feet to the fire on that."
What makes "Venom" resonate, the actors say, is that it is a superhero movie — or rather, an antihero movie — very much of its time.
"It feels like [when] we came into the new century it was dark times — the war on terror, the financial crash, people were looking for a kind of escape — so we started seeking this escapism, this wish-fulfillment of, 'Someone's going to come and save the day,' " said Ahmed, looking back on a decade-plus worth of Hollywood's superheroics.
"I think we're quite deep into quite a dark century now at this point, and the superhero genre is starting to evolve as well — confronting the realization that it's not necessarily someone in a cape who's going to save us and that we need to learn to live pragmatically in a world that's full of moral compromises," he continued.
Ahmed actually ad-libbed one of Drake's more contemporaneous moments, reveals Hardy, while filming a scene in which Brock lobs a slew of criminal accusations at the tech mogul during a filmed interview.
Drake's response: "Fake news," turning President Trump's favorite dismissive name for his journalistic critics into a line uttered literally out of the mouth of a comic-book villain.
"It just felt like that's what's going on right now," said Ahmed. "We're in an environment where the powerful, the politically powerful and the economically powerful, are trying to swallow up journalists and discredit them, so I think it is very contemporary."
"Art is a safe place to play," added Hardy. "If you can't negotiate your terms in art, then nothing is sacred, and where can you?"
Get our L.A. Goes Out newsletter, with the week's best events, to help you explore and experience our city.
You may occasionally receive promotional content from the Los Angeles Times.