'Get Out' wins big at the Spirit Awards — is Oscar next?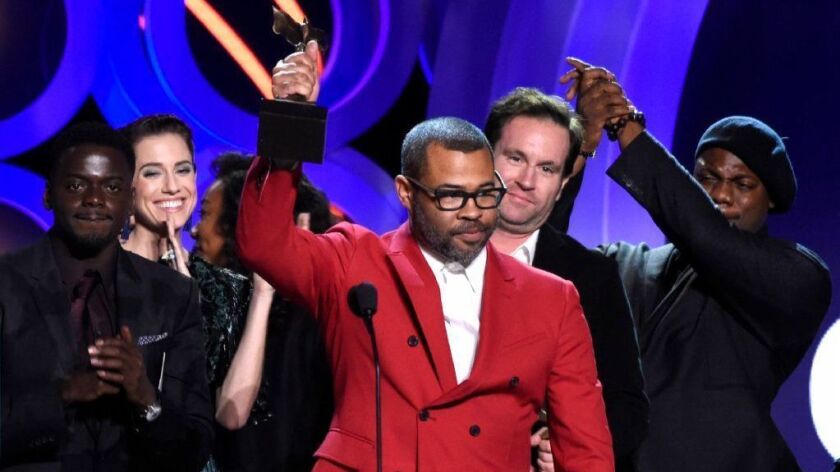 Satirical horror-thriller "Get Out" won the best feature award at the Spirit Awards on Saturday, where it also captured the director prize for Jordan Peele and left industry-watchers wondering if the annual independent film honors will predict Sunday's winners at the 90th Academy Awards.
There was tremendous affection throughout the show for the low-budget success story, an electrifying vision of race in America. The director prize was presented by Spike Lee, while the feature award was presented by "Black Panther" star Chadwick Boseman.
"This was a scrappy movie we had to make," Peele said backstage after winning the directing prize. "I had to put my heart and soul into it, I cried just about every night because it was so draining, and I got up every morning and brushed that off and I got it together and realized that this is the best time of my life."
The Saturday afternoon event took place in its now traditional location of an oceanside tent in Santa Monica. Run by the Los Angeles-based membership arts organization Film Independent, the Spirit Awards recognize films made for less than $20 million that exhibit a "uniqueness of vision" and "original, provocative subject matter."
Five of the past six winners of the Spirit Award for best feature have gone on to win the Oscar, including relative upstarts "Moonlight" and "Spotlight," after many years of diverging from the Academy.
Two films heavily favored to win best picture at this year's Oscars — "The Shape of Water" and "Three Billboards Outside Ebbing, Missouri" — were not nominated for the Spirit's top prize.
This year's Spirit Awards were one of the final turns of an awards season that has seen Hollywood struggle with how to navigate the accepted rituals of self-congratulation along with an added element of self-reflection stemming from the recent harassment and abuse scandals.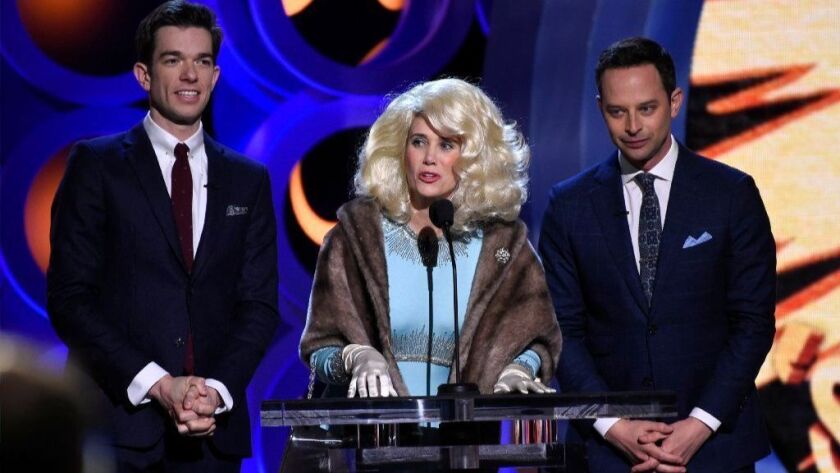 Comedians Nick Kroll and John Mulaney, hosting for the second consecutive year, acknowledged the unusual atmosphere right from the top.
Opening the show, they declared "this year we threw out the bad apples" before their monologue called out Harvey Weinstein, Brett Ratner, Woody Allen, Louis C.K., Kevin Spacey and Mario Batali by name, each the butt of individual jokes, garnering a raucous response from the crowd of celebrities, nominees, journalists and industry pros.
Comments from the stage turned directly political when Mulaney described President Trump as "a demented game show host." In introducing the international film prize (which went to Chile's "A Fantastic Woman"), actress Salma Hayek Pinault took a swipe at one of Trump's most infamous comments and said, "This award has never gone to a 'shithole nation,' because there are no 'shithole nations.' "
Other prizes given out Saturday favored presumed Oscar frontrunners, including Allison Janney, who won supporting female for "I, Tonya," and Sam Rockwell won supporting male for "Three Billboards."
Rockwell's co-star Frances McDormand continued her winning streak as well, taking the female lead award, and delivering an acceptance speech peppered with her signature sardonic flair — and a few choice F-bombs, which are more welcome at the breezy Spirit Awards than at tomorrow's Oscars ceremony.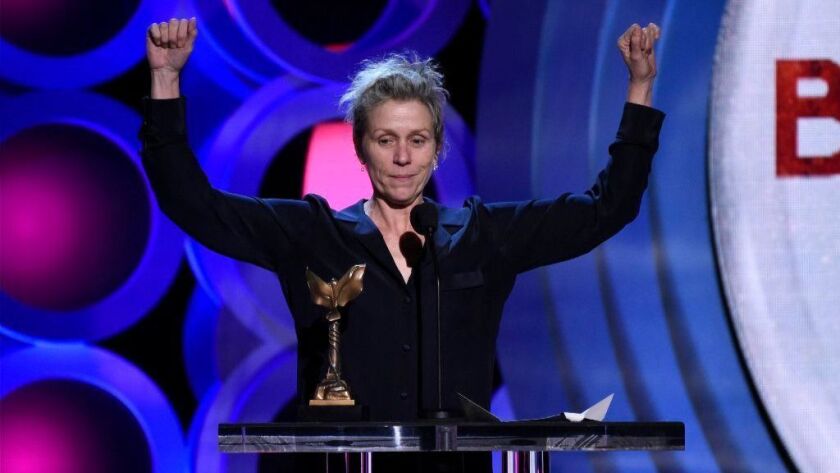 One prize where the Spirits may distinguish themselves: Timothée Chalamet won male lead for "Call Me By Your Name," in a category where his award season rival Gary Oldman was not nominated.
Greta Gerwig won screenplay for "Lady Bird." The award for editing went to Tatiana S. Riegel for "I, Tonya." The prize for cinematography went to Sayombhu Mukdeeprom for "Call Me By Your Name"; he was one of the few major winners not nominated for an Academy Award.
The Spirit Awards also give out a number of prizes for which there is no analogue at the Oscars.
Winner of the first feature prize was "Ingrid Goes West" — a dark comedy about social media starring Aubrey Plaza and directed by Matt Spicer. Oscar nominees Kumail Nanjiani and Emily V. Gordon took home the award for first screenplay for "The Big Sick," based on their own real life romance. The John Cassavetes award for a film made for under $500,000 went to writer-director Antonio Méndez Esparza's drama "Life and Nothing More."
The previously announced Robert Altman award, given to an ensemble cast, went to Netflix's period drama "Mudbound," starring Carey Mulligan, Jason Mitchell, Garrett Hedlund, Jason Clarke, Rob Morgan and Oscar nominee Mary J. Blige.
In accepting the award, director Dee Rees gave a powerful, impassioned speech that was a sharp rebuke to anyone skeptical of films distributed by the streaming giant. Celebrating the actors in her cast and the craftspeople behind the camera, Rees emphatically declared, "'Mudbound' is cinema."
Best documentary went to "Faces Places." The film's co-director JR had stolen the spotlight during awards season toting around a life-sized cardboard cut-out of collaborator Agnès Varda, who lives in France. This time it was he who nearly missed the show due to travel delays, making it to Santa Monica just in time to join the 89-year-old Varda onstage to accept the documentary award.
Later backstage, Varda, flanked by JR and her daughter Rosalie, who produced the film, was asked if French director Jean-Luc Godard, part of a key scene, has yet seen the film.
"I sent him the DVD," she said. "So far no word."
SIGN UP for the free Indie Focus movies newsletter »
jen.yamato@latimes.com | Twitter: @jenyamato
mark.olsen@latimes.com | Twitter: @IndieFocus
ALSO
Why #TimesUp will 'stand down' at the Oscars
How the Oscars preferential ballot turns the best picture race into a celebration of the 'least disliked'
---
Inside the business of entertainment
The Wide Shot brings you news, analysis and insights on everything from streaming wars to production — and what it all means for the future.
You may occasionally receive promotional content from the Los Angeles Times.