Review: Heartfelt 'Ilo Ilo' slowly builds a powerful emotional connection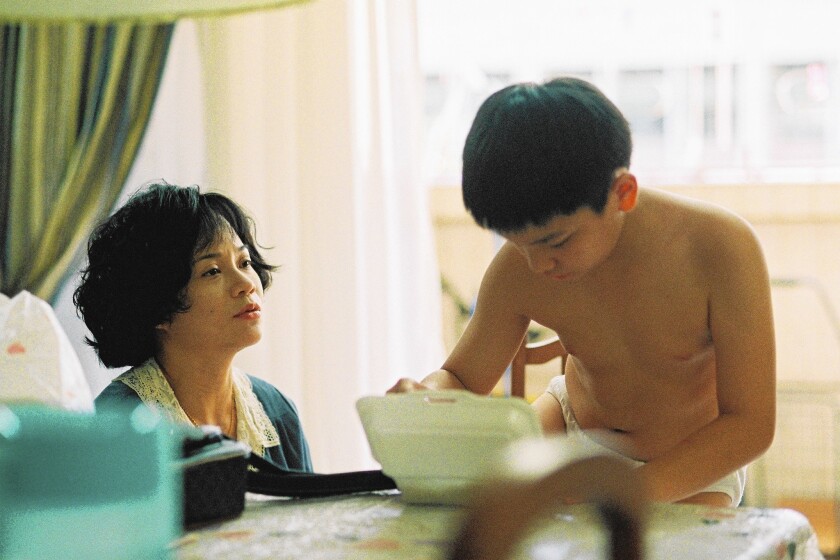 "Ilo Ilo" is writer-director Anthony Chen's first film, but breathtaking intimacy in storytelling is already second nature to him. Winner of Cannes' prestigious Camera d'Or for best debut feature, it quietly demonstrates that in the right hands even the familiar stuff of everyday life can move us deeply.
"Ilo Ilo" is inspired, like the similarly affecting "The Maid" from Chile's Sebastian Silva, by the filmmaker's experience being raised by a maid in his native Singapore because his middle-class parents had to work.
Created in a sensitive, neo-realistic style, "Ilo Ilo" deals with how emotional connections are made and frayed, with the different ways individuals become important to us and how that dynamic plays out in the lives of children who are essentially powerless over their personal situations.
PHOTOS: Box office top 10 of 2013 | Biggest flops of 2013
"Ilo Ilo" takes place not only in a specific place but a specific time as well. The year in Singapore is 1997, and the spreading Asian financial crisis, the worst in a decade, is grinding at the family at the center of the film, making adult life difficult and straining the parents' marriage.
The wife and very pregnant mother (Yeo Yann Yann) works for a shipping firm that is laying off people left and right. Her husband (Chen Tianwen) is out of his depth in his personal stock market investing and has a sales job that is even more tenuous than his wife's.
Nine-year-old Jiale (a marvelous Koh Jia Ler) knows nothing of any of this. Rather a willful brat, he's been used to getting his own way and running roughshod over things, not because he's a bad kid or his neglectful parents don't care but because they are too absorbed in their own crises to focus much on him.
Aware of their time crunch, the parents hire Filipino nanny Theresa, familiarly known as Terry, to help out. ("Ilo Ilo" is named after the province in the Philippines that was the home of Chen's real-life nanny, whom he tracked down after the film won at Cannes.)
Beautifully played by Angeli Bayani, Terry is nervous and uncertain at first in her backbreaking job, which involves cooking, cleaning and childcare. Not only her nationality but her language and her Catholic religion are different from those of her employers, who have no choice but to communicate with her in English.
BEST MOVIES OF 2013: Turan | Sharkey | Olsen
Not consulted and not happy at all about any of this is young Jiale, whose default position is always acting out. And so he does, treating Terry as the hated enemy and tricking her into a series of uncomfortable, even humiliating situations.
Yet one of the great strengths of "Ilo Ilo" is that this relationship does not remain static. Terry is not without resources of her own, and she is capable of pushing back. When she does so, that signals not that the tide has turned but that the potential for change exists.
Because Terry is the only adult who has time for Jiale, the two of them are thrown together more and more. But within a family, especially one under financial strain, nothing is ever simple, and what sounds like the end of the story is in many ways only the beginning.
The great joy of "Ilo Ilo" is that, aided by naturalistic acting by all concerned, including young Jia Ler, as well as Chen's finely controlled writing and direction, everything is allowed to happen believably in its own space and time, pulling us gradually but deeply into these people's lives. It is difficult to overstate how real and touching all this feels and how much it ends up affecting us.
PHOTOS AND MORE
PHOTOS: Faces to watch 2014 | Movies
ENVELOPE: The latest awards buzz
DOCUMENTARIES: 10 best of 2013, and a new crop in 2014
---
The complete guide to home viewing
Get Screen Gab for weekly recommendations, analysis, interviews and irreverent discussion of the TV and streaming movies everyone's talking about.
You may occasionally receive promotional content from the Los Angeles Times.