Heart and high jinks mix in the raucous summer comedy 'Rough Night'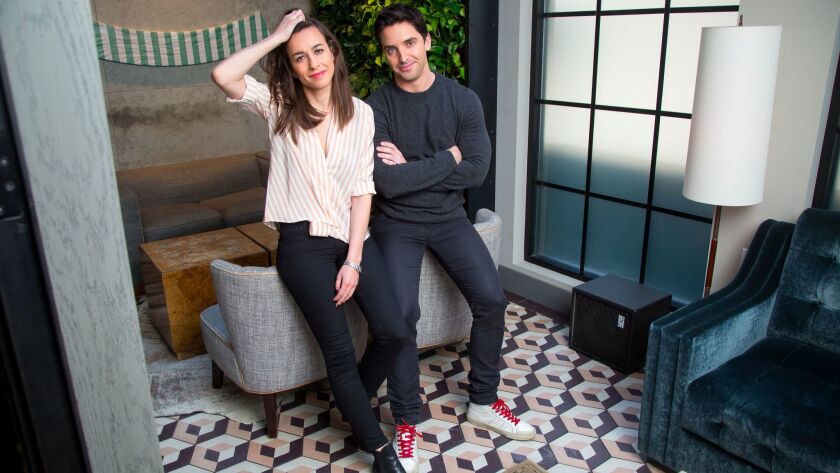 When Lucia Aniello and Paul W. Downs first started dating, neither was certain the relationship had long-term potential. They were in their twenties, just out of college and met in an improv class at New York's Upright Citizen Brigade.
"We were like, 'We're making comedy, and we're hooking up! Haha!' " Aniello, now 34, recalled. "We were young, and I don't think we were assuming that it was going to be this long-term relationship and writing partnership — no offense."
She turned to look at Downs, 35, who was sitting next to her in their joint New York hotel room. Yes, a decade after meeting at UCB, they're still partners — both in romance and comedy. Since 2012, the couple have worked as co-producers and writers on Comedy Central's "Broad City," the popular show starring Ilana Glazer and Abbi Jacobson as two adventurous, marijuana-loving BFFs. Aniello also has directed over a dozen episodes of the show, and Downs stars in it, playing Abbi's boss-turned-love-interest, Trey.
See the most read stories this hour »
But before the program's fourth season returns this August, Aniello and Downs will have another milestone to celebrate. (No, not their wedding — they're happily un-engaged.) On June 16, the first feature film they collaborated on, "Rough Night," hits theaters.
The R-rated comedy — which, like "Broad City," was co-written by the pair, directed by Aniello and co-stars Downs — follows a group of girlfriends (Glazer, Scarlett Johansson, Kate McKinnon, Zoe Kravitz and Jillian Bell) who head to Miami for a bachelorette party. But just as the festivities get underway, the ladies accidentally kill a stripper they've hired to entertain them in their luxe beachside mansion.
Which, yes, is kind of an insane premise. But Aniello and Downs tried to go for heart in addition to high jinks, exploring how the dynamic with old friends can shift over time.
"These are the friends who saw you throw up at 3 a.m. on yourself on the steps of a frat house," said Aniello, who lives in Silver Lake with Downs but was video chatting with him from New York, where they'd spent the day location scouting for "Broad City."
"They defibrillated you," Downs said, causing Aniello to crack up laughing. "No, we obviously like writing for funny women because we know and love a lot of them, but the real impetus was our experience of having great friends who you share so much with — but when you're not in the same place, it's kind of hard."
Aniello, who studied film at Columbia, always hoped to work in the movie business. But she said she and Downs have always tried to work in mediums that best serve their ideas
"We have ideas that are like Web series," she said.
"Or, like, 'That would make a great two-minute comedy sketch,' " added Downs, a New Jersey native who graduated from Duke.
"It's a great Instagram story," Aniello joked.
No matter the script, though, the partners always start with the same unique writing process. First, on Google Docs, they break story together, coming up with an outline, figuring out story points and mapping out some major jokes. Then, they go their separate ways and individually write their own versions of the same scene. When they're done, they swap drafts, highlighting what they like and ultimately combining the two scripts into the best possible version of the scene.
"We write 15 pages a day that way," Aniello said.
"Don't say that. That sounds insane," Downs said.
"Why not? I'm an open book," she replied. "I'm a source code. Take the code."
Even so, it would probably be difficult to replicate the partners' brand of humor, which landed the "Rough Night" script on the Black List and sparked a bidding war before the project landed at Sony Pictures.
"They have a very specific tone and ability to write brilliant female characters — grounded characters in slightly outrageous situations," said Matt Tolmach, the producer who brought the film to Sony. "As a man, it's a movie that appeals to me because it's about people who have lost themselves. It doesn't matter that the characters in the movie are five women."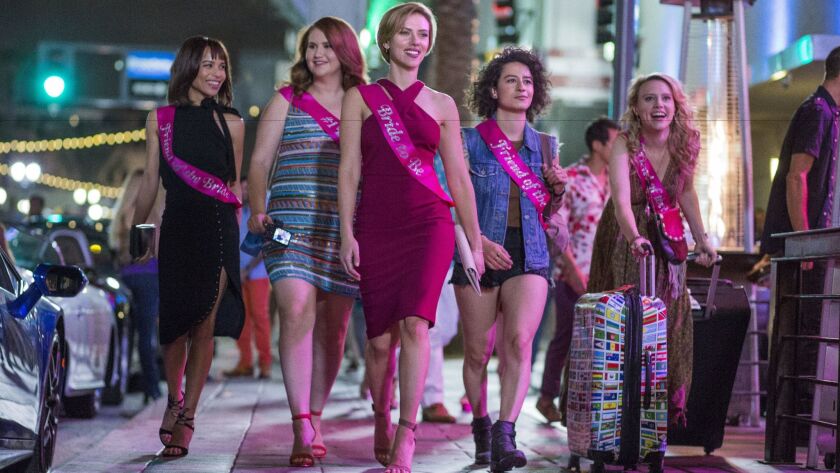 Indeed, because both "Broad City" and "Rough Night" star women, Aniello and Downs acknowledged they're still primarily offered female-driven projects. They even wrote a female-led spinoff of "21 Jump Street," though that script has yet to be made.
"I don't mind us being associated with that genre, though it will be interesting when we do something that isn't with a female lead, how open people will be to that," Aniello said.
"We don't write for women, we just write a joke that if a man or a woman said it, it would be funny," Downs said. "But slowly, you're getting more realistic portrayals of women, so I get why people are like, 'Wow! These are women that are dimensional and aren't just talking with a guy or squabbling with each other. They have fun and are horny and smoke weed.' "
"Maybe it's just weird," Aniello countered, "that people don't already know women like that."
---
The complete guide to home viewing
Get Screen Gab for weekly recommendations, analysis, interviews and irreverent discussion of the TV and streaming movies everyone's talking about.
You may occasionally receive promotional content from the Los Angeles Times.