Greta Gerwig and Jordan Peele: The fresh voices the Oscar directors race needs right now
Eight years ago, Kathryn Bigelow and Lee Daniels earned Oscar nominations for director. Bigelow ended up winning for "The Hurt Locker," the exhilarating action movie about the war in Iraq. Daniels' moving, inspirational drama "Precious" took two Oscars that year for Geoffrey S. Fletcher's screenplay and Mo'Nique's searing supporting turn.
Why the history lesson? Because in the Academy Awards' 89-year history, just four women (Lina Wertmuller, Jane Campion, Sofia Coppola and Bigelow) and four black men (John Singleton, Steve McQueen, Barry Jenkins and Daniels — no black women, yet) have been nominated for director.
The numbers in both those absurdly small groups should tick up this year. Greta Gerwig ("Lady Bird") and Jordan Peele ("Get Out") have directed two of the most acclaimed movies of 2017, films that have steamrolled through critics groups awards this season after dominating the cultural conversation upon their theatrical release.
"Get Out" director Jordan Peele says, "The sunken place is this metaphor for the system that is suppressing the freedom of black people."
Could both Gerwig and Peele still be shut out? Sure. It just happened, in fact, three weeks ago when the Hollywood Foreign Press Assn. nominated Guillermo del Toro ("The Shape of Water"), Martin McDonagh ("Three Billboards Outside Ebbing, Missouri"), Christopher Nolan ("Dunkirk"), Ridley Scott ("All the Money in the World") and Steven Spielberg ("The Post") for the Golden Globes.
Reaction to that slate was swift and severe, with naysayers basically calling for a plague of locusts to descend upon the HFPA's press junket spreads for all of eternity. (Or words to that effect.) And, yes, nominating Scott seemed like a stunt pick, a way of letting the world know that they'd seen the almost-finished, Kevin Spacey-free "All the Money in the World" before anyone else. Or a way of saluting Scott for scrubbing Spacey from the movie in the first place.
Scott's last-minute decision to reshoot Spacey's scenes with Christopher Plummer after sexual misconduct allegations surfaced against Spacey will likely net the 80-year-old director a few Oscar votes for sheer audacity. But "All the Money in the World," a dramatic thriller centering on the kidnapping of J. Paul Getty's grandson, tanked commercially, and its reviews were generally more respectful than enthusiastic.
So, no, it's not on the level of "Thelma & Louise," "Gladiator" and "Black Hawk Down," the three movies that earned Scott Oscar nominations or, for that matter, "Blade Runner" and "Alien," two films that did not.
WATCH: Video Q&A's from this season's hottest contenders »
Meanwhile, Spielberg, the other lauded veteran on the HFPA's list, has earned just two Oscar nominations following his win for "Saving Private Ryan." Since the academy expanded the best picture field, two Spielberg movies — "War Horse" and "Bridge of Spies" — have earned Oscar nominations without any corresponding love for the director. Spielberg hustled "The Post" into theaters quickly — he began shooting the film May 30 — and the movie works well as an entertaining thriller. But it also suffers from Spielberg's impulse to underline his message, in this case, lessons on gender inequity and the importance of a free press. I suspect voters will again pass him over.
That means the nominations for director will look something like this: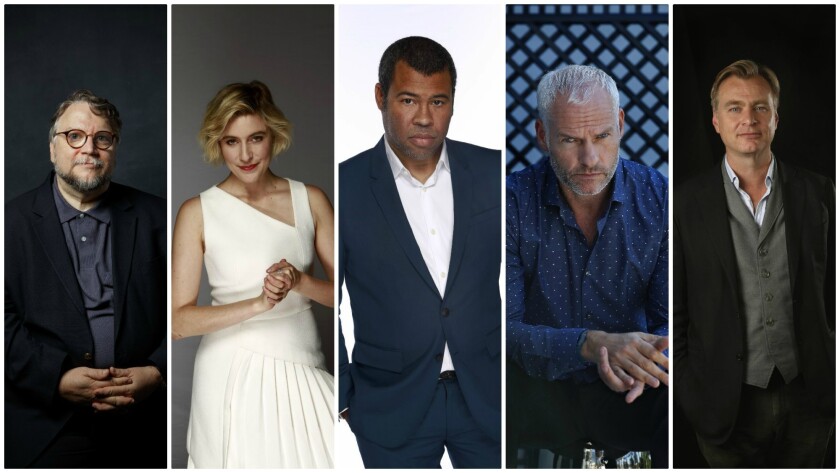 Christopher Nolan, "Dunkirk"
Guillermo del Toro, "The Shape of Water"
Greta Gerwig, "Lady Bird"
Jordan Peele, "Get Out"
Martin McDonagh, "Three Billboards Outside Ebbing, Missouri"
If Nolan doesn't earn his first directing nomination for the ambitious, intricately structured "Dunkirk," he's probably never going to be nominated. This would be the well-liked Del Toro's first nomination too, putting him on a path to possibly join Alfonso Cuarón and Alejandro G. Iñárritu as the third Mexican-born director to win this Oscar in the last decade.
Peele and Gerwig, we've covered. Peele's screenplay has piled up the plaudits but his direction is every bit as good — agile, innovative, aware of the audience's anxieties and able to exploit them to maximum effect. Gerwig does so many surprising things with the coming-of-age genre in "Lady Bird"; every frame of the film is smart, considered and fresh.
I have McDonagh in the fifth slot, but it could just as easily be Luca Guadagnino for "Call Me by Your Name." (Or Spielberg. By no means am I writing him off.) "Three Billboards" and "Call Me by Your Name" each have their fans. For Guadagnino's film, it's the intimacy; for McDonagh's, the anger. Given the outrage that permeates our times, I'm giving the edge to anger.
Twitter: @glennwhipp
---
From the Emmys to the Oscars.
Get our revamped Envelope newsletter, sent twice a week, for exclusive awards season coverage, behind-the-scenes insights and columnist Glenn Whipp's commentary.
You may occasionally receive promotional content from the Los Angeles Times.