'Blue Is the Warmest Color' raises passion, emotion off-screen too
The romantic story "Blue Is the Warmest Color" premiered at the 66th annual 2013 Cannes Film Festival. Lea Seydoux, left, and Adele Exarchopoulos plant kisses on the film's Tunisian-French director, Abdellatif Kechiche.
(Valery Hache / AFP/Getty Images )
The French film "Blue Is the Warmest Color" went home with Cannes' highest honor -- the Palme d'Or award. And the award went not only to the movie, but to the director and main actresses, pictured.
(Guillaume Horcajuelo / EPA)
The romantic drama "Blue Is the Warmest Color" is titled "La Vie d'Adele -- Chapitres 1 & 2" in French, or "The Life of Adele -- Chapters 1 & 2," in English. Here, the film's director, Abdellatif Kechiche, from left, poses with French actress Adele Exarchopoulos and French actor Jeremie Laheurte during an event for the film in Italy.
( Claudio Onorati / EPA )
In a solo Q&A session, actress Adele Exarchopoulos, right, said "Blue Is the Warmest Color" director Abdellatif Kechiche is "a genius, he's tortured."
(Juan Carlos Hisdalgo / EPA )
Actor Jeremie Laheurte, from left, director Abdellatif Kechiche, actress Adele Exarchopoulos and actress Lea Seydoux attend the "Blue Is The Warmest Color" premiere at the Toronto International Film Festival 2013.
(George Pimentel / WireImage)
Lea Seydoux, left, told an interviewer from the Daily Beast that filming "Blue Is the Warmest Color" was a "horrible" experience. Adele Exarchopoulos said "there was a kind of manipulation, which was hard to handle," referring to director Abdellatif Kechiche and the many graphic sex scenes the pair had to act out. Both actresses said they would not work with the director again.
Then, during a news conference with the Hollywood Foreign Press Assn., director Kechiche fired back with a nearly 20-minute rant against the actresses, saving especially strong comments for Seydoux.
(Jonathan Leibson / Getty Images for Variety)
Director Abdellatif Kechiche said the film's shoot was originally scheduled for 2 1/2 months, but he ended up spending double that time to get the performance he wanted from Lea Seydoux, pictured. The extra time, Kechiche said, cost him more than 1.5 million euros out of pocket. He also said he gave Seydoux ample opportunity to quit, even during production. Seydoux said she didn't let the director faze her.
(Al Seib / Los Angeles Times)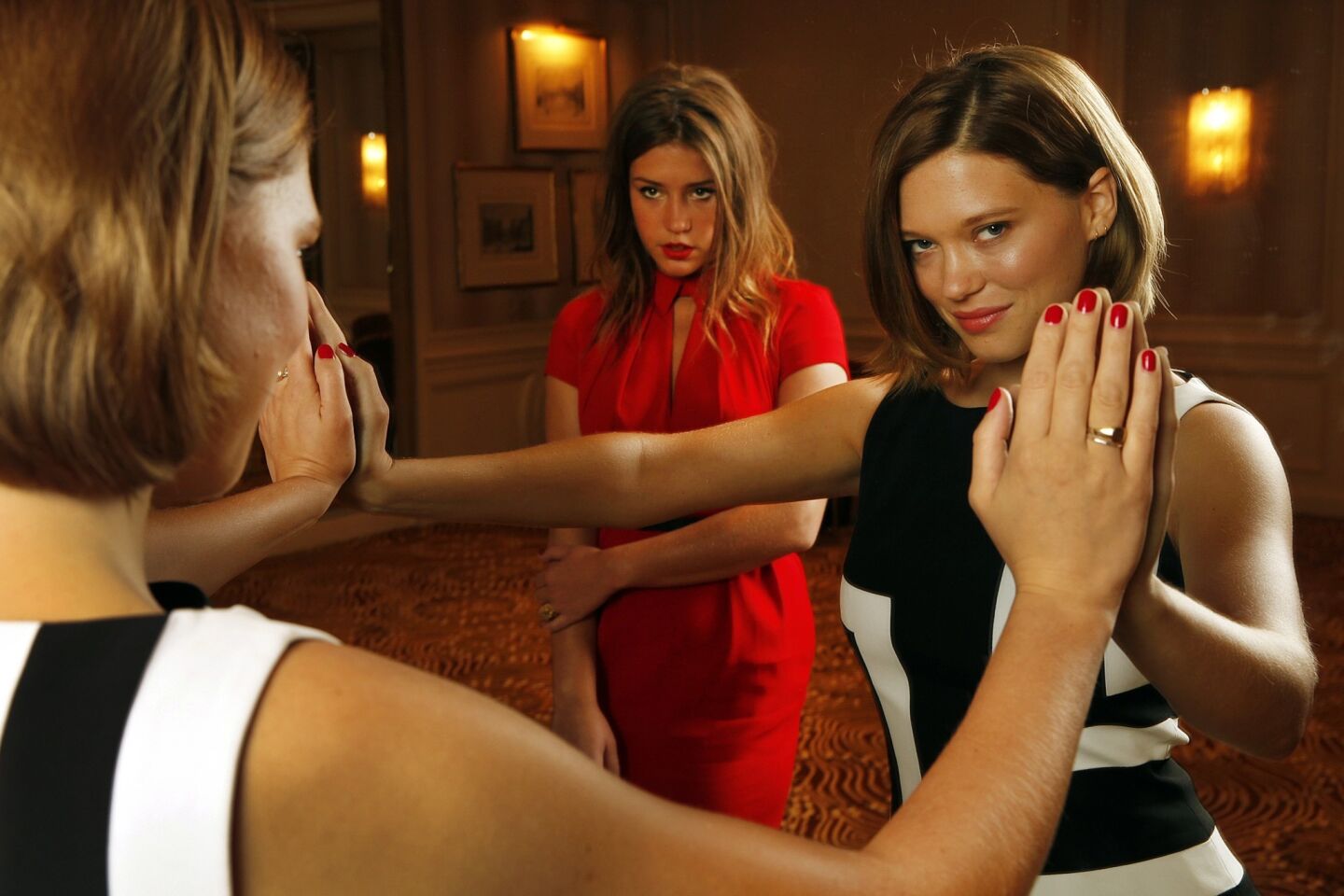 Lea Seydoux, right, comes from a privileged background with several family connections to the French film industry; two of her relatives are CEOs of major French studios. Director Abdellatif Kechiche used these facts to suggest her family motivated her to criticize him.
Then, during a news conference with the Hollywood Foreign Press Assn. and in between tears, Seydoux said of her family: "It's difficult for me to be here and to defend the film. And I gave so much to the film. My family never helped me. You can ask them. I feel there is something very unfair, and anyway that's all I can say."
(Al Seib / Los Angeles Times)
When choosing Adele Exarchopoulos, pictured, as one of the film's leading ladies, director Abdellatif Kechiche said his casting process was based on instinct. "When I meet actors, I need to have a sense of complicity with them," he said, adding, "my casting process is very much based on intuition."
(Al Seib / Los Angeles Times)
Reflecting on her casting experience, Adele Exarchopoulos, pictured, told the New York Times: "In France, you always see the same actresses, and that's great; they're good in different movies as different characters. But at castings, you feel like you have no chance. [Director Abdellatif Kechiche] takes people like me and tries. It was a huge adventure, up and down, really intense."
(Al Seib / Los Angeles Times)
The love story "Blue Is the Warmest Color" was written, produced and directed by Abdellatif Kechiche. It was released too late in French theaters to be eligible for a 2014 foreign-language Oscar. The award-winning film arrives in American theaters Friday.
Days before the film was set to debut in American theaters, director Kechiche issued an
open letter
on French website Rue89, declaring actress Lea Seydoux an "arrogant, spoiled child," who continues to chastise him with attempts to secure her rebel image and further land the covers of magazines and newspapers.
(Al Seib / Los Angeles Times)
Passion. Triumph. Heartbreak. Betrayal. Renewal. This describes not only the story told in "Blue Is the Warmest Color" but also in many ways the tempestuous, topsy-turvy saga the French film's director and two lead actresses have themselves faced since the movie's world premiere at the Cannes Film Festival in May.
The film, opening Oct. 25 in Los Angeles, is an epic-length telling of a most intimate story. With a running time of nearly three hours and a story that spans some five years, the film explores the relationship between a young woman named Adèle (Adèle Exarchopoulos), who wants to be a schoolteacher, and a slightly older, more worldly aspiring artist named Emma (Léa Seydoux). The two come together, fall in love and fall apart, with an emphasis on Adèle's burgeoning sense of self.
Adapted from a graphic novel by Julie Maroh (with a screenplay credited to director Abdellatif Kechiche and Ghalya Lacroix), the film is dense with themes and ideas regarding romance, personality, family, friendship, class and the power of erotic attraction to scramble the senses. Where Maroh's source material is deeply concerned with how homosexuality is accepted in French society, Kechiche pushes the adaptation toward more universal ideas.
PHOTOS: 'Blue Is the Warmest Color': The women, the scenes, the director

"Before anything else I wanted it to be a love story. My job as a director is not to make a statement about homosexuality but about these two characters and their profound love story," said Kechiche in Los Angeles last month. "This is not a political statement, this is about two people loving. Anybody can identify with this, a man or a woman."
The Tunisian-born, Paris-based Kechiche, 52, though perhaps little known in the United States, is a major director in France. His films "The Secret of the Grain" and "Games of Love and Chance" both won best picture, director and screenplay at the Cesar awards, commonly referred to as France's Oscars. Seydoux, 28, is a rising international star who has appeared in such English-language films as "Inglourious Basterds," "Midnight in Paris" and "Mission Impossible: Ghost Protocol." Exarchopoulos, 19, has played small roles in a number of films, including the recent American indie "I Used to Be Darker," but this is without question her breakout role.
In an unusual move, Cannes' prestigious top prize of the Palme d'Or, presented by a jury headed by Steven Spielberg, went not only to Kechiche, per tradition, but also to Seydoux and Exarchopoulos.
In the months since their unlikely triumph, though, Kechiche, Seydoux and Exarchopoulos have come to seem like a trio of former lovers who have shared something intense and now don't quite know how to behave around one another.
PHOTOS: Billion-dollar movie club
At Cannes, the film's graphic, extended sex scenes had critics buzzing, both pro and con. Maroh herself after the festival decried the film's depiction of lesbian lovemaking as "not convincing at all … ridiculous."
Various controversies and intrigues, some overhyped, have followed. The film not surprisingly received an NC-17 rating from the MPAA as its American distributor, Sundance Selects, declared it would release the film uncut. The film's October release date in France, in place even before Cannes, placed it outside the cut-off date to even be eligible to be France's submission for this year's foreign language Academy Award, prompting dismay from some awards watchers. (Last year's Palme winner, "Amour," also won the foreign language Oscar.)
Things really began to break loose as the film hit the fall festival circuit. At the Telluride Film Festival for the movie's first screening in North America, Seydoux and Exarchopoulos gave a widely quoted interview in which they called the experience of making the film "horrible" and declared they would not work with Kechiche again.
Days later, in a brief stop in Los Angeles, the director refused to sit for a photo with the actresses and then angrily exploded during a solo press conference with the Hollywood Foreign Press Assn., with particular vitriol in his comments regarding Seydoux. In her own solo HFPA appearance moments later, Seydoux broke down sobbing.
PHOTOS: Hollywood backlot moments
The accusations have since seemed to flow back and forth, with festival interviews along with articles and interviews from France being translated into English and given headlines aimed at maximum controversy and shock value.
"I think it would be cowardly to blame the press for things that were said and put out there. Now that they've been said, they've been said," said Kechiche in early October while in New York for the film's appearance at the New York Film Festival.
Much of the confusion and disagreement seems to stem from Kechiche's working methods. In an extended preproduction process, he worked over the screenplay with the actresses, refining the characters to fit them. (Exarchopoulos' character's first name was changed from Clementine in the book to her own.) Then the production itself took on a free-form atmosphere, with the director pushing the performers onward during scenes while shooting upward of a hundred takes. Production stretched on for months and months, with the actresses saying the film's major sex scene alone took 10 days to shoot.
"You can't get there without this intensity. It's the same process I've used for every film," said Kechiche, "taking the actors and pushing them to a place where you get beauty and something real.
PHOTOS: Celebrities by The Times
"I would say that I push the actresses toward what I've imagined. Sometimes one encounters resistance and then you have to figure out a way to break down the barriers to get to the result I am looking for. And sometimes when you can't get there you discover something else."
In an interview together in Los Angeles in September, the actresses said they both knew of Kechiche's unusual production process and were excited by it, even if giving themselves over to him entirely was a challenge.
"He really wanted to adapt the script to ourselves, our personalities, our strengths, our weaknesses, to make it more realistic," said Exarchopoulos. "It's not my life, even if my character has the same name, but it's kind of like he tries to touch you in your real feelings even as you are still portraying fiction. It's contradictory, but it's true."
"He really has his own way of making films," said Seydoux. "I knew that with this process you can go very far in the intimacy and the emotions."
SNEAKS: Movie trailers, full coverage
The film had the strongest debut of any homegrown film this year in France. Yet Kechiche in particular seems unable to let go of the intense feelings the film and its ongoing media saga have stirred up. Just this week — cannily just ahead of the movie's stateside opening — Kechiche published a long open letter in which he struck out at the media, the French film industry and again at Seydoux, seeming to even threaten legal action for her comments.
In some ways the controversy that has followed "Blue" has reframed it as not just the explicit sex film it largely seemed to be from its reception at Cannes. Even as its principals struggle to reconcile their varying perspectives, their tension highlights the degree of passion and emotion as well as erotic intimacy in the movie.
"What can he say? Can he say it was not tough on us? When you see the film you see the truth," said Seydoux. "It's true that the process was extremely difficult, and I think Abdellatif is a very tortured man. And we suffered on the film."
"But him too, I think," added Exarchopoulos. "He doesn't accept it. It's very difficult for him to say, 'yes, it's difficult.' But the result is so, so great."
Get our L.A. Goes Out newsletter, with the week's best events, to help you explore and experience our city.
You may occasionally receive promotional content from the Los Angeles Times.